Beginning sketch concept for a town map and associated buildings. This is an attempt to unify the numerous small sketches in some of my notebooks, many from as far back as 10 yrs or more. In this case I imagined a small railroad stop town in a fictional place, somewhat Anglo or American, and drew up a town center arranged favorably at a prominent rail stop and station, with taller townhouses and storefronts, and dozens of other cottage and estate homes scattered on smaller and larger lots, on meandering streets with pedestrian paths, alleys, pocket parks and other greenery, and sections of the town near the railroad reserved for light industry and warehousing.
Architecture is rather colorful, slightly whimsical and "cute," cottage-style, English vernacular, American storybook, Tudor, a bit of other influences. This is a good place to put a lot of my eccentric and complex home concepts that are not likely to be built "in reality" but are entertaining to look at!
This is also a test bed to check scale, look at density, relationship of buildings to each other, street size and purpose, lot size (small in town and larger as you get away from the center,) and many other factors crucial to developing a solid town plan.
SO I'm sure I'll be modifying, adding on to, changing, adding, subtracting, etc this particular file as I try to assign individual buildings to particular streets and locations. For now, here's a glimpse at the beautiful town of "Emerald Grove." Enjoy!
Emerald Grove, other links: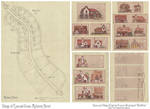 Note: File Changed out 4-28-2020
Image details
Image size
5336x3304px 6.61 MB