Latest version of House Plan #326, a storybook cottage. Perspective sketch in pencil, hand-drawn, of course, and 3D model of interior by me, shows the unique courtyard format with rear-located garage.
This house is officially under development for a client in Pittsburgh, pretty much as-is with minor changes. In fact, the reflecting pond and hot tub are his ideas! I like it, easy living, the good life! There will be a strong music theme to the home as well, including a grand piano up front.
As for second floor, we will get a loft bedroom over the left side of the front of the house, with a fully-vaulted ceiling over the living area. Might put a third bedroom in back some where with additional stairs, we will see. Might also call the study a "bedroom."
File updated on 4-22-2017, Enjoy!
Plans and other links to House 326: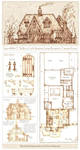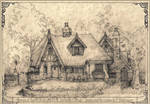 Youtube video animation:
www.youtube.com/watch?v=9nq705…
Image details
Image size
1892x2440px 6.67 MB