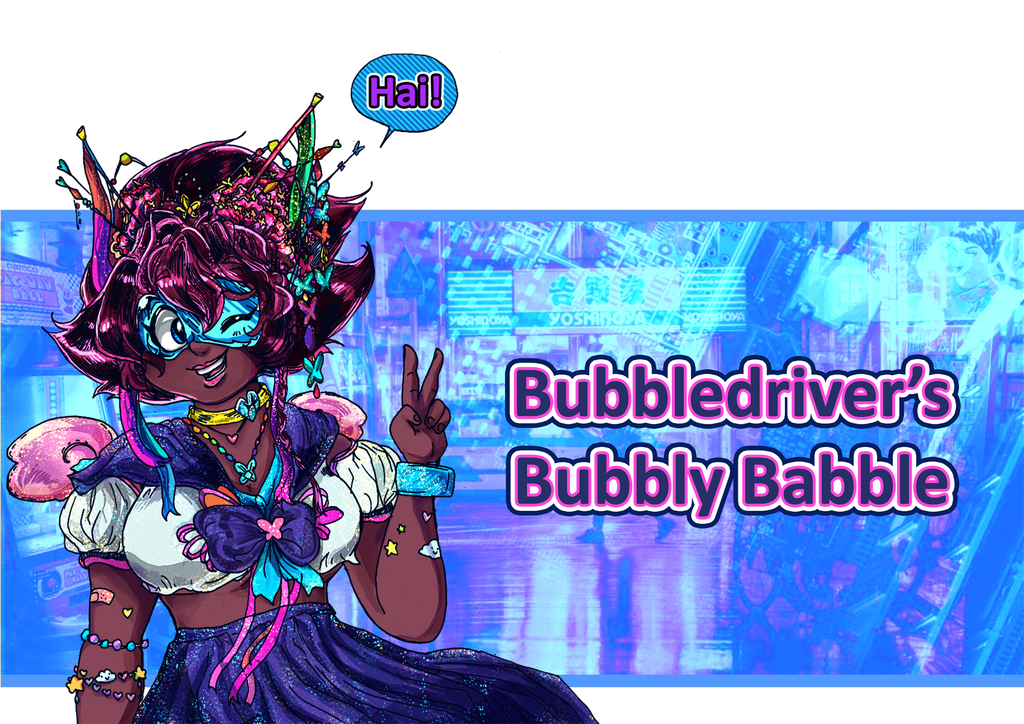 My name is Bubbledriver, but you can call me Bub.

I live in Singapore.
I really like drawing comics! <333





A lot of you guys who have watched me since I came here know I have problems with my Mom's side of the family. I'm gunna condense this shit but it's got a lot to do with REALLY manipulative people who I am unfortunately related to. What I am opening this journal and possibly a forum on Help with Life forum is how to deal with Manipulative family members.

Now, to start with this. My aunt who married my Mum's younger brother. She always felt an inferiority complex, a trend repeated in themes with her daughter and me towards my mother who was her polar opposite. My mother was a school teacher and this lady had never been educated. To be fair, my mother was partly at fault now I muse on it as she always looked down on my aunt and would comment on her lack of literacy to me from an early age. My aunt was kind to me however growing up although like my mother, she was very strict towards her own daughters , bordering abusive although it was verbal and she never struck them not like my mother who would beat me (extremely brutally. I was hit with a bamboo pole, chicken duster and all manner of sticks)) if I went out of line. I grew up with her family as neighbours and I was extremely close ironically to this family. I gave them (all my three cousins ) tuition, and babysat all three of my them and saw them as sisters I never had. I had dinner over there, it was a second home for me to crash and I had friends to watch stupid movies which all four of us loved.
At that time I never noticed it though it was pointed out quickly by my best friend and cousin, Mika who was the same age as me whenever she hung out as Mika and I were inseparable and by that it meant she came into regular contact with C, the afforementioned cousin. "C's pretty jealous of you, isn't she?.

At the time she and I were 12 and C was 11 . C had gone off to get her toy dog which matched mine , only hers was a rainbow one and mine simply a dalmation to show Mika after I had shown her my new toy.
I shot Mika a confused look. 'She's only 11, Mika. No one's perfect and sides, she's little."

Mika just gave me this look I could not read back then and said," Oh c'mon, she threw a temper tantrum when your Mom bought you that dalmation and she wanted the exclusive and rare version of your dog. She always tries to copy your artwork and get your Mom's attention since we were like, 7. I noticed and can't believe you didn't." I folded my arms, not happy at the way as it seemed Mika was being jealous of my younger cousin whom I saw as a little sister and trying to budge in. " Look, let us just forget about it and get some icecream together , okay? My treat?" I shared the trait of being a people pleaser with my mother and while I saw Mika's logic, I liked C too much to confront her on what I believed would be stamped out with age and maturity. I also did not want to butt back to Mika whom despite being younger was arguably more streetwise and savvy than me.

Mika shrugged ."I'm just saying, B. You need to watch your back or you will have trouble."
It was pretty ironic years later, one day.

Mika would be patting my back , tears pouring down my cheeks, hyperventilating , I would whisper to her . "-You were right."

Because the saddest thing about betrayal is that it never comes from an enemy.

And that Mika was nearly always right.

---
My love had blinded me on a number of occasions to C's behavior.
C had a skin problem that was rather terrible and got worse. She was always insecure about that and her weight too. I had the same skin condition but it was not as serious.

Mika and her clashed several times as time went on Mika began to judge her rather condescendingly on C's telling us on supposed multiple boyfriends as though has it was some kind of achievement then get angry when Mika and I discussed about our grades which (later revealed to be) were higher than hers always to the extent the pair would stop meeting up totally and I would juggle time between the pair when Mika would drop by.
It never mattered much to me , grades and boys it is. Mika while a delinquent was however proud of her marks , C had a love hate relationship with her grades but was arguably more obsessed with boys and I? I was obsessed with comics and anime, making me a neutral party.

As time went on, my aunt was frequently frustrated with C, and would compliment me continuously in C's presence, using me as an example , asking C why she could not be more like me , as I never ran off with boys and was studious and never barked back at my mother and thus was in my aunt's eyes , a model daughter.

I suppose I should have seen it coming, but I felt sorry for C and thus kept quiet when the following events happened.
C began to tell me her friends thought I was fat and ugly. To I who was already insecure about my weight and appearance and bullied terribly then and from an early age , was so ashamed that I may have hurt my cousin by being there , would panic whenever anyone of my cousin's or brother's school friends came over to the extent I ran off when Mika wanted to introduce me to her secondary school friends.
When I told Mika after she wanted answers, her rage knew no bounds. Mika was violently protective of me always , to the extent she physically attacked an uncle who laughed at me for my weight at a gathering when we were just 14 and later broke off ties with him and refused to attend even his funeral.

I had to beg her to not send her gang after C as she had connections everywhere.

I told her it was a misunderstanding, but then Mika angrily pointed out, C could have kept quiet on her friend's supposed opinions. It was clearly meant to hurt me.

And that struck something in me.

After that, C would report and gossip to my mother on me as I was a teenager at the time, that I would swear , but so did C. I did it because C used it so often I felt out of place when we conversed and I desperately wanted to bond with her, sensing a chasm between our once solid relationship.
When I pointed it out to my Mom C swore too, Mom confronted my aunt for some reason on this and I know she was punished. C stopped swearing but so did the chasm I felt , grow.
Then one day, my grandparents both took ill. It was decided that as the son, my uncle and family would care for my grandparents. But my grandfather despised my aunt for some reason , and hated her cooking. To the extent fights broke out frequently in the house and my mother would rush in to stop it whenever she got a text or call from my uncle.

Grandpa one day took Grandma, Po-po ( The one ho had just passed.) and came to our house. They clearly were much happier and more comfortable here. But to my aunt, this was what broke the camel's back. She being extremely traditional, even my Grandparents voluntarily wanting to come over and not wanting her home, was a sign of disrespect towards her as she was the son's wife and the son was supposed to care for my grandparents. Even though Grandpa would verbally abuse her and she treated them as second class citizens in their home, according to my Grandpa, only serving them after her children has been served when Uncle was not around. And treating them coldly when the son was not around.
Like my mother, my aunt was and is fixated on what people thought of her.

She would gossip and spread rumours of my mother being manipulative of convincing my Grandpa to go over and of being cruel to her . To everyone of her friends, the shopkeepers of the small community and town we lived in.
She also influenced her three daughters who while bound by duty to not attack their elders took their anger of seeing their mother in such a state by gossiping about me to the other cousins and relations, glaring at me whenever we passed by , and talking quietly and I knew they were talking about me.

C blamed me , I heard also for encouraging the her two younger siblings to chase their dreams and when those dreams went awry, as in they could not find work in their intended fields, blamed me. Even though I myself was paying for that same mistake. See, I studied animation but would switch jobs many times into other fields and suffered verbal abuse from my bosses and a low salary and overworked .

They drove us effectively from town, my father unable to take the suffering of his wife and daughter, moved us out far away to another place and while this ultimately did not have the intended effect , as my grandpa decided he would fare better in his own house with a maid to care for them than set foot in my uncle's home.
I nearly committed suicide from the pain of this betrayal and stress of finding a job at the time.

To have three people I once considered my younger sisters turn against me in such a fashion...It broke me. Sorrow over the lost bond, then rage that they could not see my suffering and for blaming me for their own choices. I hated them, then I hated myself for hating them because I had been raised to protect them from when they were babies, each of them as my mother thought it would be great for me to have three sisters even not by blood.

These two emotions would war inside me constantly me.
I stopped going to meetings with my mother's side of the family. It disgusts me to see how the three of them had turned out. Over the years, after we moved into this property, as it was land given by my paternal grandmother and was bequeathed to us on her passing which Dad seized to renovate and was free-hold as in it would belong to me and my brother forever.

She and her sisters attempted to weasel and gain entry into our home. Constantly commenting on the two empty bedrooms and how convenient would be for them if my mother would let them have it because it was so near to the private university one of them was going to . Whether they implied they would pay rent or that by merely related and god daughters of my mother meant they felt entitled to the bedrooms, both enraged and gave me a huge panic attack.
Mika happened to drop by after she had rushed home to see me after completing a semester at Australia. When I told her the whole shenanigan , she stormed down to confront my mother and I thank the gods nearly everyone on the maternal side had left and declared as my father's chosen god daughter, she had more right to the bedrooms than her god daughters and would pay five times the amount for BOTH bed rooms if it would save me from her (my mother's) idiocy , from the abuse I endured. Mika's dad was rich and she could afford to go without work for life, but she wanted to earn her own keep.

Mika and Mom have not talked since.
But my mother finally reluctantly decided also to gain money , put the rooms up for rent and my Dad later reassured me he would neve rlet any one of the three cousins be willed any part of this house.'
I would be lying if I did not admit I feel resentment towards my mother for ignoring the abuse I endured, for telling me to be empathetic and be the bigger person even after being hurt so badly, to excuse her obvious sympathy for C as the both of them share the advanced stage of skin problem.

--
The past two days of funeral have been ...Not as bad. I was thankfully left alone to mourn and pay respects to my grandmother. But I was clearly a pariah. In the time I had spent away hiding from the trio, their religiousness and piety in the eyes of my maternal side was seen as a sign of their goodness. I had become the black sheep.

And it irritates me to no end they are seen as such even though they clearly have not suffered half as much as I did when I had to care for my paternal grandmother when she was dying. They were spared for that and not only caused the weakened bond within the family , continuously lying to my relations on me , painting me as a bad guy....They had the audacity to keep praying , even building a shrine to their god in their home as though it was a dang stage and they were the actors.

My aunt instead of caring for my grandparents, my grandmother when things got bad, went on expensive spiritual journeys with other practitioners of her faith. Was praised as a sign of her holiness and piety. Instead of caring for her sickly mother in law and clearly grieving father in law.

When C bitched on the whole of the maternal side despite their obvious kindness to her and her family that they looked won on her for her occupation and her mom for being a housewife on INSTAGRAM, it was swept under the rug, poor baby, she clearly was under so much stress . Wah-wah, pity her, she has a skin problem, and is the baby in my maternal family's eyes. Even though she is 26 . When I have had to deal with that and while being polite to everyone, due to C's lying gossip has me painted as hard hearted and 'stealing' my mother away even though SHE(C) and her family were the ones who drove my family and me out with THEIR issues?

That they are constantly excused due to people thinking pious people are good and somehow can be excused for being horrible people to their own kin just cuz they worship their god suuuuper well?

So there I would sit. Alone as my parents could attend to others .

The only people I talked to were one of two younger cousins who were too young to talk to C's side.

To my Dad's side who dropped by to visit and pay heir respects. My Dad's friends.
---
So I wanna know is this. I need advice and maybe some sharing on your experience with dealing with terrible family members? Especially when you are stuck at family gatherings like funerals with no way out for hours at an end. With people who have hurt you badly. Maybe even share your own experiences (if you wanna) so we all can not feel so alone in this together?

Take care!

<3 Bub.