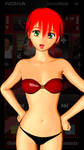 Meet Noa. She was created as moe anthropomorphism of my cellphone. Back in 1997 when I bought a cellphone, it was a Nokia 8110 nicknamed "the banana phone". I simply called it Noa as abbreviation of the brand. Noa was short lived. In around 2000 it had to be retired since the network operator no longer support it, means it no longer able to connect to the GSM network.
Later when I changed my phone, I always use Noa as device identity, but with a number added as suffix. Noa II, the second Noa was a Nokia 6210 Cyber Silver edition, bought around 2000. It was the longest lived Noa, served me for 10 years. The battery was still in good performance on the day I retired her. Quite surprising considered it was heavy duty usage everyday for 10 years. The reason I retired her because of mechanical failure, the power button damaged so I could not turn it on anymore. That end the glorious 10 years of service.
The 3rd Noa, called NOA III was Nokia 5530 XpressMusic, bought as emergency replacement of previous Noa. It was the first touch screen phone I ever use, and I like when it came with a stylus. The music player was a real deal, nothing can beat it. Also many built-in features as a phone integrated on it which I've never seen the similar function in Android. It was my best experience smart phone ever, and I missed it. It served me for 8 years and was still in good condition when I retire it. The reason was the same as the original Noa, the network operator changed to 4G LTE which cause this 2G only phone could not connect to the network on many areas. People often asked me why I was still using a Symbian phone when everybody has already using iOS and Android phone. My asnwer is simple: I need a phone to make a phone call, not another pocket computer or application platform since I already had iPad and Android tablet for that purpose. For me, cell phone was strictly for making a call, other functions was done in the tablet including WhatsApp. So, it the network were still support 2G, maybe I would still using it by today.
Another reason I hesitated to replace it because Nokia was ceased making cell phone around 2014. For a fanboy like me, my cell phone must be a Nokia, and since no more new Nokia cell phone, I left out with no option. I'm not fans of Windows Mobile, and I did not prefer to use Microsoft phone. An iPhone was nice and since I was already familiar with iOS, but many things in iOS I does not like. Indeed, iOS for me like "if ain't jail-broken, it ain't fun". I also considered switching to Android phone but still none that I liked. Samsung was nice and I already used its tablet, but still like iPhone, something was still missing. I once dreamed if Nokia would make a come back with Android inside, it seemed like a Mission Impossible to me, until HMD Global came into the stage.
The Nokia come back in Android flavor was long awaiting. The moment I heard the news I was rejoiced. This was the answer of my prayer, I thought. I had to wait another 6 months until the products arrived on the market here. That last 6 months I was struggling with network connectivity issues that I had with my 5530. Luckily, I had an Android tablet with me so some sort of communication like messenger and network call could be done on it. So, technically I just needed a simple phone to make a call, and the entry level should have been adequate. I've chosen Android since it could share the contacts and other data, so I did not need to manually enter phone book, which is painful when you have hundreds of entries with address and emails attached along the numbers.
I bought the very first Nokia Android available on the market on the first day release. It was a Nokia 3, the first and only available model on that day. It was the birth of Noa IV, the current Noa I bought early this year. It was beyond expectation and surprisingly very satisfactory. Although I only used it to make phone call and text in the beginning, now it also being used as driving navigation and music player. Gradually, more functions shifted from my tablet to Noa, like electronic membership application, discount card application, e-wallet, navigation map, smart TV remote control, e-banking, and development test for my own application. It still running smoothly, and I'm quite surprised. I hope it can last long like the previous generation Noa, and I hope there will be another 5th Noa someday.
These are my commemorative of having Noa for 22 years. These images currently installed as my home wallpaper, rotated randomly every minute. I hope you also enjoy it as much as I enjoyed it.