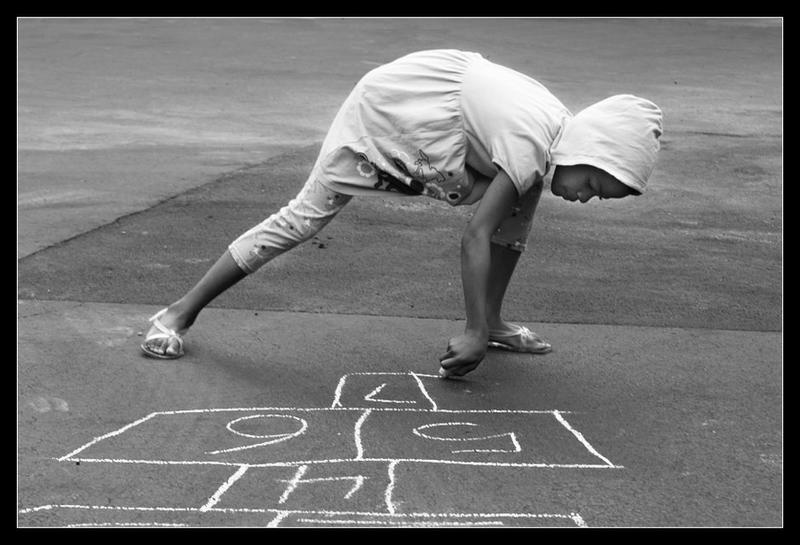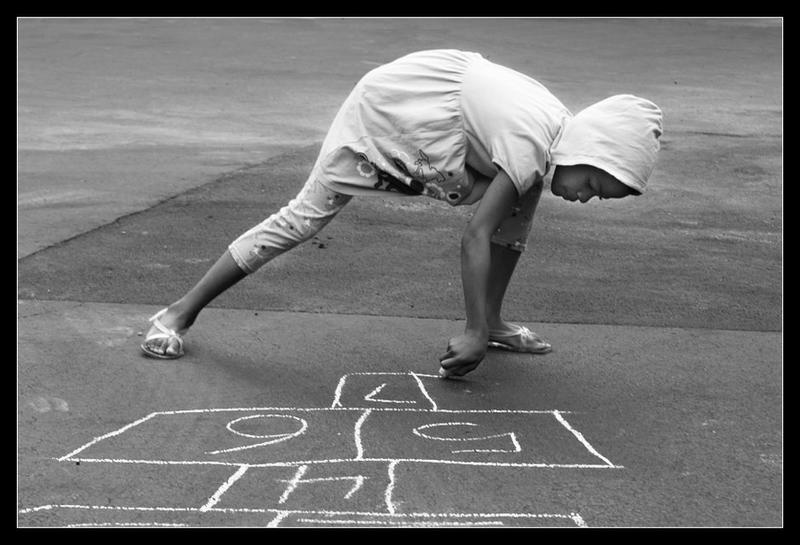 Watch
taken at this thing i went to. girl drawing a new hopscotch game. not sure if i like this image or not, but eh, whatever...

Excellent!
in Argentina this game is named "Rayuela"
very popular and one of our best writer's (Julio Cortazar) best sellers is titled "Rayuela"

Rayuela Chapter 7 (english version):
"I touch your mouth, I touch the edge of your mouth with my finger, I am drawing it as if it were something my hand was sketching, as if for the first time your mouth opened a little, and all I have to do is close my eyes to erase it and start all over again, every time I can make the mouth I want appear, the mouth which my hand chooses and sketches on your face, and which by some chance that I do not seek to understand coincides exactly with your mouth which smiles beneath the one my hand is sketching on you.
You look at me, from close up you look at me, closer and closer and then we play cyclops, we look closer and closer at one another and our eyes get larger, they come closer, they merge into one and the two cyplopses look at each other, blending as they breathe, our mouths touch and struggle in gentle warmth, biting each other with their lips, barely holding their tongues on their teeth, playing in corners where a heavy air comes and goes with an old perfume and a silence.
Then my hands go to sink into your hair, to cherish slowly the depth of your hair while we kiss as if our mouths were filled with flowers or with fish, with lively movements and dark fragrance. And if we bite each other the pain is sweet, and if we smother each other in a brief and terrible sucking in together of our breaths, that momentary death is beautiful. And there is but one saliva and one flavor of ripe fruit, and I feel you tremble against me like a moon on the water."
by Julio Cortazar
Reply

i would say this is nicely shot
Reply

Childhood innocence. Harkening back to one's childhood. The simple pleasures of childhood. Childhood can still be fun without electronics. All themes that can be gleaned from this image. I like that the composition focuses in on the child and her hopscotch drawing. No visual clutter to detract from your image. Its an expressive, candid pose that implies movement. She's has a look of concentration and looks deliberate in her task. I think its a good shot.
Reply

thanks and thanks for the fav... heh, had to remove some of the extra lines on from the parking lot but i think it came out well

i'm just still not sure if i like it though, idk something seems slightly off to me...
Reply

The only thing that stands out to me (personal preference), I would have centered the girl more vertically. Make her more the center of attention. But you may have very well wanted to make the drawing the center of attention. Right now it seems the center of attention is caught between the girl and the drawing.
Reply