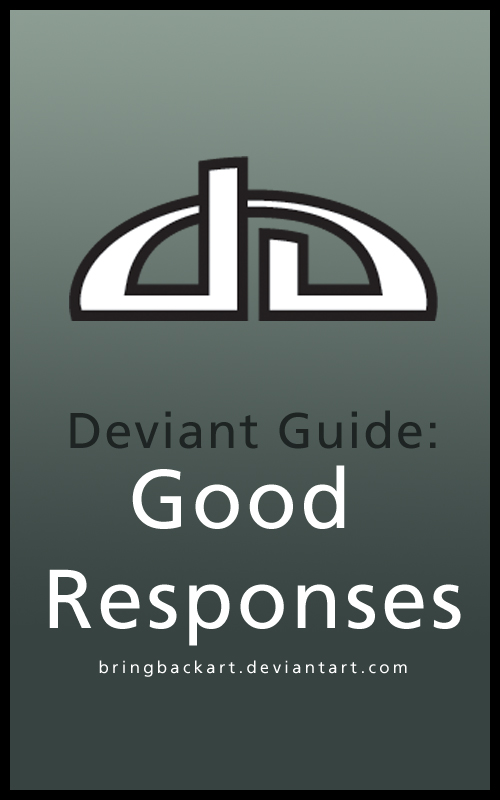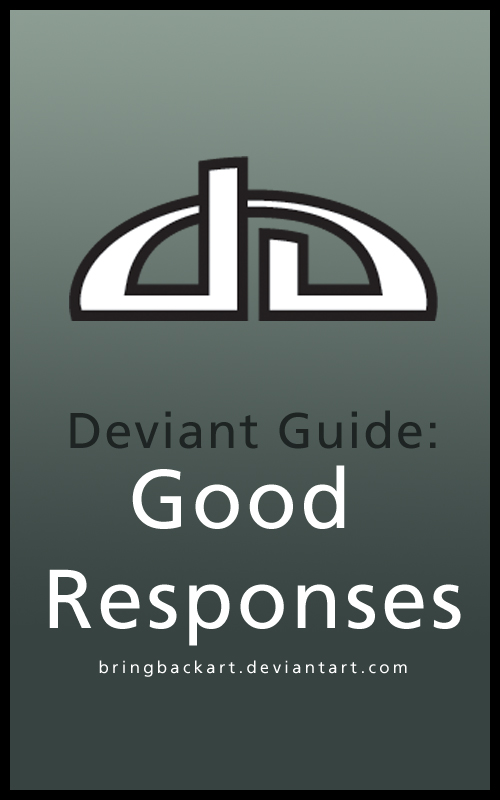 Deviant Guide: Good Responses
Most deviants will think they already know how to answer a comment. Open the message center, click on one of those beloved little packages of joy, read about how much somebody loves (or hates) your work, and return an appropriate comment, whilst trying to seem like you're the nicest person on earth. It seems like such a simple practice, right?
Wrong.
One day, a comment is going to appear in your inbox that you weren't expecting. Something that requires just that little bit of extra effort that you've never had to deal with before. A comment that explores every your piece of art to depths and reaches emotions in you that you never knew existed. Critique.
Why Does It Concern Me?
Even during the shortest stay here, almost every deviant has come in contact with some form critique, maybe without even realizing it! Critique is everywhere in this community, and to survive for long here on deviantART, you're going to have to get good at receiving critique.
How To Receive Critique
A good way to respond to a comment always involves asking yourself three simple questions, and receiving the critique positively:
W
as the comment helpful?
H
ow did it make you feel?
I
s the advice going to change the way you next attempt your work?
By using these simple questions, you can not only encourage a deviant to return to your work, and give you the honor of more critique, you can further your own skills by receiving their comment the right way.
Whenever you next receive critique, ask yourself "WHI", pronounced "why". You're going to ask "why" the user has given you the critique.
Was the comment helpful?
When you first look at a critique on your work, it's often tempting to just automate a reply with a thank you and carry on.
However, you must use the critique in a way that is going to help you in a positive way. Asking yourself if the comment is helpful is a good place to start.
Look at the comment and answer the following questions, which all check to see if the comment is helpful or not:
Does the comment give reasoning for likes or dislikes?
If a comment doesn't show you exactly what you're done right or wrong, it's often not very helpful. After all, how can one improve if they don't know how?
Does the comment raise concerns in a polite way?
This is a touchy question to ask, as most people will first see critique as somebody whining about their work. However, you have to ask yourself honestly if the comment is written in a polite way. If the comment is too polite, the deviant may have watered down their concerns, but if the comment is too harsh, it's going to make you angry. You need to make sure there is a balance.
Is it actually relevant?
Every so often, you will get a comment that really, has absolutely nothing to do with your work. If you feel it is not relevant, trying to adapt to their suggestions is going to leave you more confused. Make sure the comment actually means something to you and your piece.
How did it make you feel?
Now it's time to actually start responding. A good critique on your work will leave you wanting more. As a golden rule of thumb, it's important never to take a critique personally
If somebody posts a critique on your page that makes you angry and upset, responding to it right away will only make you tempted to carry that anger into your reply.
Ask yourself these questions before responding to any critique:
What emotion does the comment make you feel?
Does it make you happy, sad, angry, or joyous? Is there any reason that this emotion may make you tempted to be angry with the poster of the comment? If so, take a deep breath, and re-read that comment as many times as it takes to see the comment without any emotion, because surely, the best response will come without anger or flattery.
Are your feelings honest?
Is there any reason whatsoever that you may be shy to post what you really feel? If there is, stop before you post anything. A good response will never shy on any details, but instead will let them know your opinion on the matter, without being rude, or without making anything up.
A good response will start by outlining how their comment made you feel, without being over emotive.
Is the advice going to change the way you next attempt your work?
A good response will tell the poster how you feel about each comment they made. If you can justify a technique or part of your work that they disliked, tell them why you feel it should stay that way!
However, remember that passing everybody's comments off this way will mean you never show any improvement. A good response will give all suggestions a go!
Ask yourself these questions:
Am I looking at this with a positive attitude?
Launching into a response and an action without a positive attitude will only result in heart-break. Make sure you're committed to change, and that you really believe you can give it a go. If you don't feel you can do it, just say so! A good response will be honest, because after all, the critique gave you nothing less.
Will I really give this a go?
If you say you're going to give it a go, and you've decided that you're honest about it, how long before you decide it's too hard and you give up? Giving something a go, is giving it a fair run. Don't be tempted to give up after one deviation or two. It takes any good artist years to refine his technique. It'll take you just as long.
Do I know exactly what they mean?
If you don't get a part of their critique, or don't understand exactly how they want you to try something, ask! Too many people shy away when they don't understand, and discount themselves from ever being able to pick up concepts slightly more difficult. Don't ever be afraid to expand your knowledge. After all this is an art community and we're all here to help each other get better!
Length
If the critique you've received is enormous, and your response isn't even close to it, don't fret! Quite often the best response require being succinct and to the point, and won't be long at all!
Just because a response is short, doesn't mean it's not a good response, and vice versa for a long response. Length means nothing. It's the content that counts.
Is That It Already?
You better believe it! Making good responses is really that easy! Just follow the steps provided, and you're on your way to making responses that everybody is going to love you for.
Remember one important thing though: always be yourself. No matter what formula you use, nothing means more to a deviant than to receive an honest response from somebody who shows that they care about what they've just read.
Happy responding everybody!
Nathan
(~kle0012)
and Kitty
(~kittysyellowjacket)
Daily Deviation
Given 2007-06-22