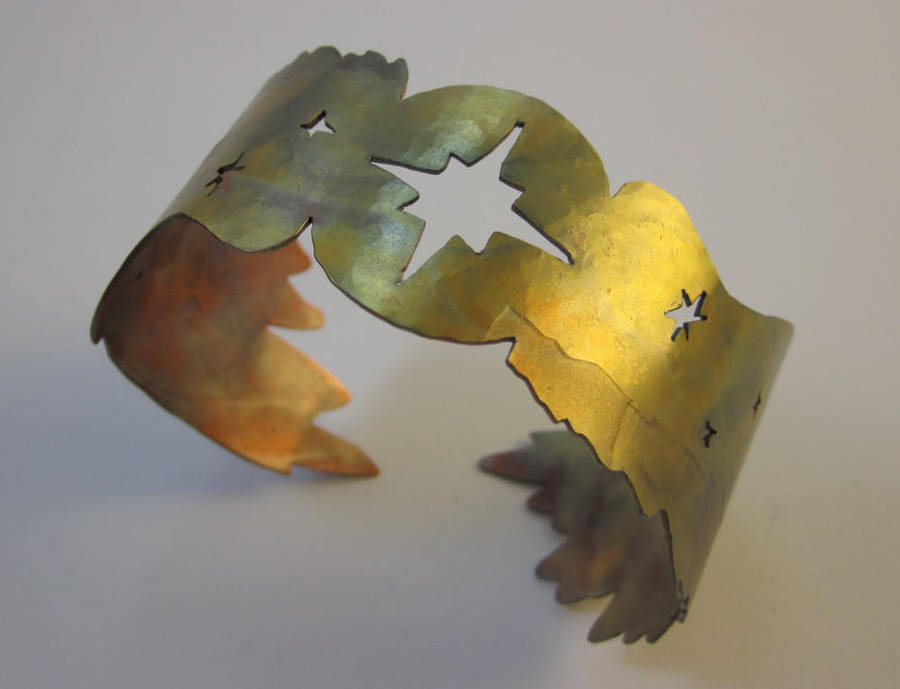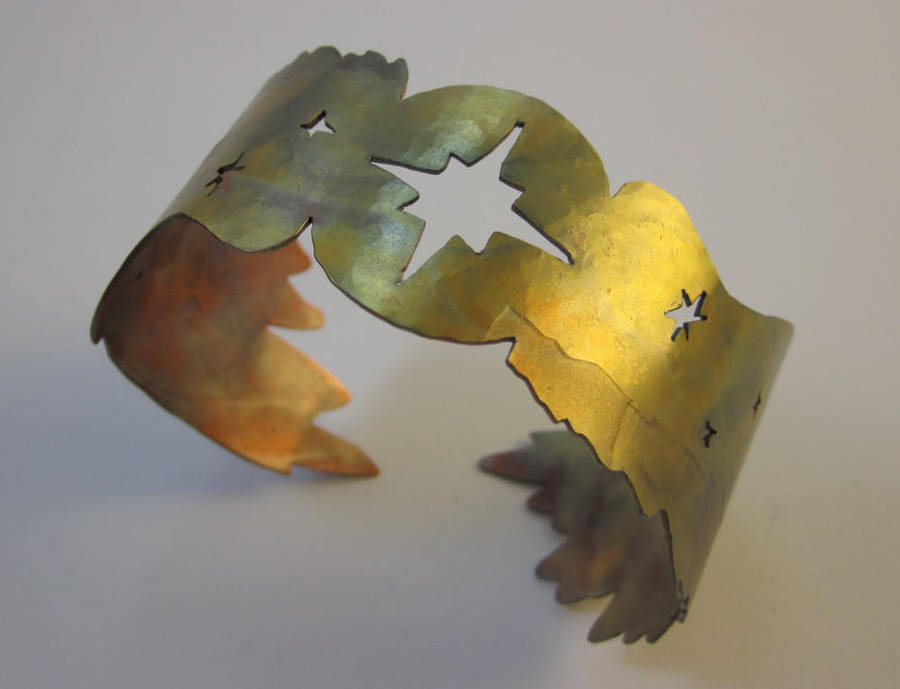 Watch
A personal piece from a weeklong summer course at Haliburton earlier this year, Jewelry Fabrication. Silver was ridiculously expensive so a number of us opted to play around with copper and brass/bronze for some of our projects.

My wingling cuff is actually made from copper sheet. The texture on the wings was from running it through a press with carefully cut and aligned pieces of sandpaper. There was lots of hammering and detailed sawing and sanding as well. It took ages to decide what the centre design should be. I ended up going with very simple stars because my fancy compass rose design was just not looking clean enough.

I don't wear bracelets like this very often but I figured if I was going to make one it may as well be a design I love.

The colours are from heating the metal. I kept getting all these gorgeous hues when I torched it to be able to keep working it further and decided to heat it a final time to see what colours I could keep. Its sprayed with a clear coat to keep the colour from oxidizing further.

I took the photo playing around with my newly built lightbox. Sadly I can't upload much of anything because my computer is still in the shop. Felt like sharing something though!

This is so fantastical!! gosh I love it!
Reply

I have some scrap (not-silver) metal left over from the course actually, I should totally mess around with some new designs or somthing...

Thank you!!
Reply

Fantastic craftmanship! (Also I waved hi to you today driving past, didn't have time to stop by sadly)
Reply

Thankies! There's actually a bit of a weak point right in the centre when you put it on or off because of the central design. I'll have to keep that in mind for future designs but I still really like this one.

Reply