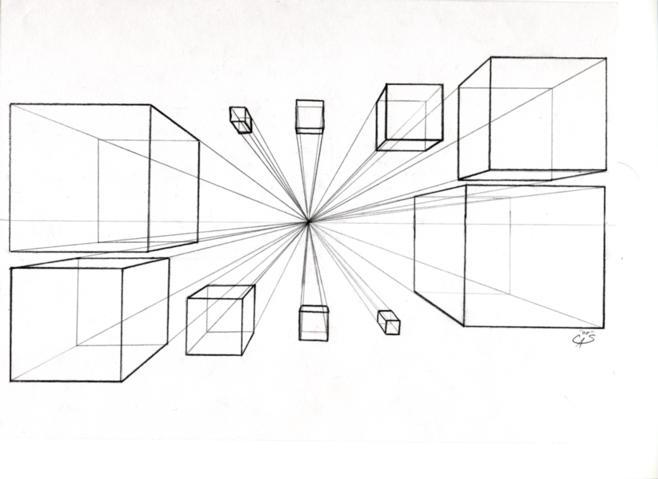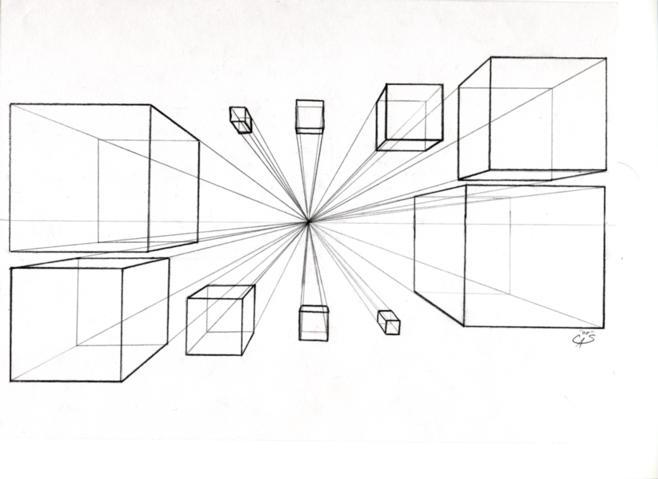 Watch
For our first assignment in Perspective, we were told to draw boxes on, above and below the horizon, and leave the guidelines in while darkening the outlines of the boxes. Fron the submissions I've seen thus far, I can tell some of my classmates have never tried it before, so I thought I'd post my example here, in case some of you have never dealt with it either.

If you use a straight edge and draw a line diagonally from the top right hand corner of your paper to the bottom left, then the top left to bottom right, you'll have a Vanishing Point where the two lines intersect. Draw squares in various sizes wherever you like on the page, then connect each corner of each box to the vanishing point. For each box, draw a paralell line connecting the two diagonals at some place above the original, depending on how large you want the box to be. You can finish the other three sides of what will become a box by connecting paralell sides and bottom in proportion to the original lines.

Oh no! It's a whole Borg armada! lol
Nice perspective work.

Reply

Nice work.

Reply

I had to do this exact same thing. Haha you wouldn't happen to go the Art Institute would you?
Reply

I do indeed, Art Institute of Pittsburgh Online! How long have you been a student, what's your major? I find more fellow students just posting my homework, lol.
Reply

I've been a student for 4 quarters now. I go to the Art Institute of Californis-Los Angeles. I'm majoring in Graphic Design, you? I think I'll start posting up my homework too.
Reply

Nice! I've been a student since 11/05, and I started out in GD, but I'm in Media Arts & Animation now, found out I was in the wrong major for what I want to do. Good luck to you!
Reply

how is that program? I've been thinking graphic design is wrong for me too. What are the differences? What was it that you wanted to do?
Reply

Oh, it's awesome, grueling schedule, but so worth it. Differences are that it's a bachelor's vs. associates degree, you have to have a portfolio and submit an essay to be considered for the program, it's animation/game design courses vs marketing/typesetting, and of course, the program is designed to get you familiar with both 2D and 3D software, so you can create animation for the web, tv, and film, and even dip into game design.

I'm an animator. Graphic design is really more for marketing, be it in print or on tv. What do you want to do?
Reply

ahh yes, I remember doing this in drawing class as well... only we had to make a building of it afterwards
Reply

I had to do this exact same thing last year in Art..

I think I still have the paper somewhere. I remember, 'cause I doodled all over it and drew stuff on one of the boxes.
Reply