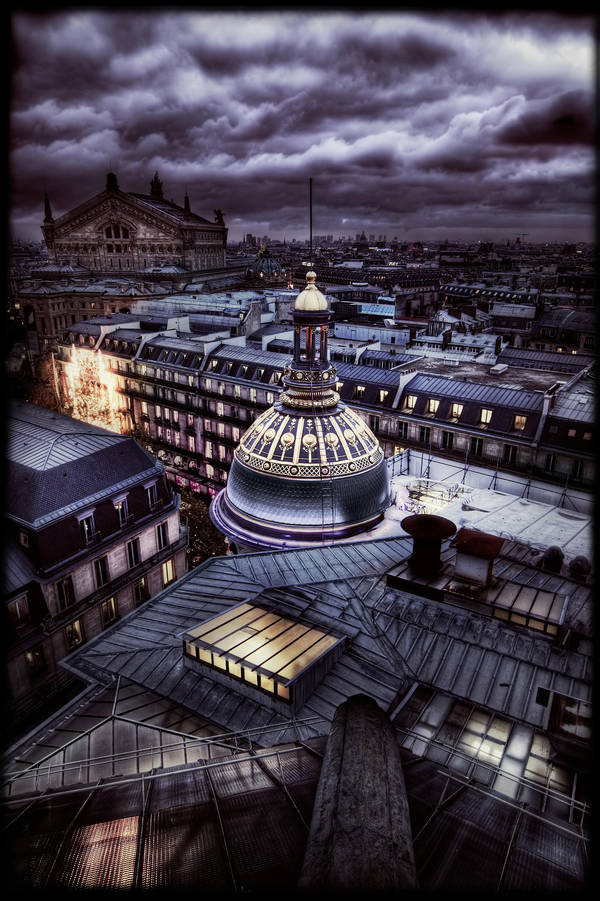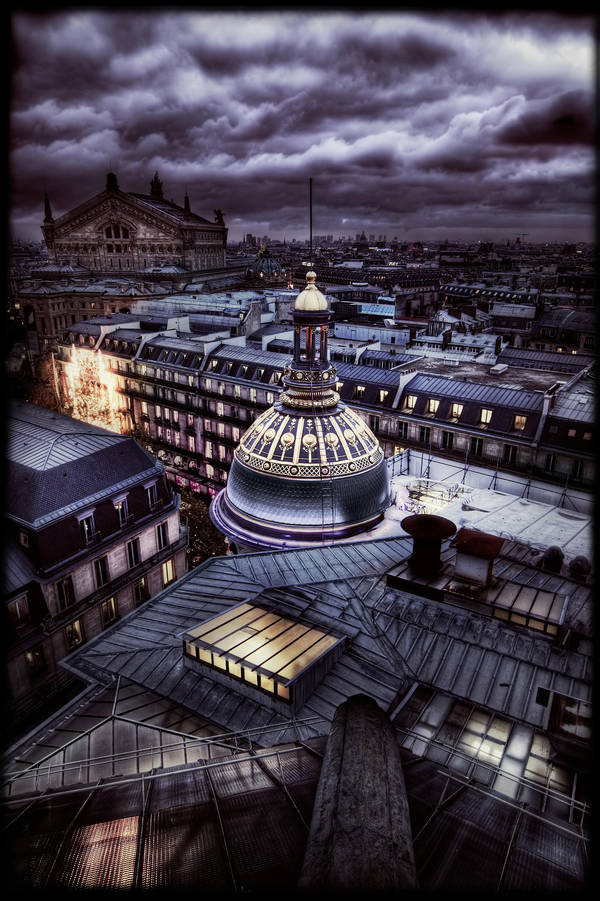 Watch
Have you ever wondered why, even though we can go everywhere we want, we spend 90% of our time in less than 10 places? What is freedom worth when we fail to use it?
Catwalk takes us to dangerous places, high above the ground, sometimes covered with litter and not very sturdy. Catwalk requires us to be agile and fast, stealth and resilient if we fall. And we will.
But the accomplishment of freedom is rewarded with the contemplation of beauty. And for this, catwalk is not only the way but also the destination.
__________________________________________

EDIT: So THIS is what it feels like to wake up one morning with a Daily Deviation! I usually never say wow but... Wow! Many thanks to existentialdefiance for suggesting this photograph as a Daily Deviation and to zerocomplex for feturing it!

Many of you have asked me where I took this photograph (in Paris from a rooftop behind the opera), with what material (Canon 40D and Canon 14mm lens) and how I worked it in postproduction (it is an HDR of 5 HDRs, created with Photomatix Pro 3.1 and then assembled with layers and masks on Photoshop CS3).

I wrote a detailed tutorial explaining all this and more, which I hope will prove useful to you. Catwalking: Making of Catwalk. Enjoy it and please don't hesitate to share with me anything it has inspired you to create, it always makes my day!



Daily Deviation
Given 2008-12-12
The suggester writes, "This photograph works well on so many different levels. The overall composition, with its geometric zig zags and patterns, is somewhat whimsical but one finds oneself getting lost in the detail." I agree, so much detail in
Catwalk
by *
CharlieMacBell
, one can find it hard to grasp the spaces being occupied. Take a look, a fantastic image for such a season. (
Suggested by existentialdefiance and Featured by zerocomplex
)
Many things come together in creating a stunning, high-impact scene like "Catwalk"...

It seems clear that Charlie knew what he wanted to get out of this shooting from a technology point of view well before he went out to take the actual pictures - multiple exposures of an interesting motif right in his neighbourhood. Paired with an excellent concept - "What is freedom worth when we fail to use it?" - he is set to animate people to look behind their garden fences, or backalleys, respectively. It is as inspiring as it gets -- I see no other way than to call "Catwalk" a big winner in the "Vision" department.

Originality - wide angle shots are a common craze recently but here it is done right. Showcasing an epic, unusual view of a city that is portrayed in so colorful a way yet set at dark -- breathtaking, really. Mean viewers would say it is just another sight of a city from a rooftop - but in my opinion, the scenery is remarkable, the dome, the opera, the shopping street and the long-distance view generating a feast for the eyes.

As you can read in the "Making Of" there was quite a bit of post-processing involved. "Catwalk" would not have been possible without the extensive use of Photoshop, Photomatix Pro & Co. - Charlie clearly showed that he can do great things with three exposures, creating a mother of high dynamic ranges. Nitpickers would grope for mistakes in lighting, as in the clouds where they simply appear too dark or an unnatural looking pod in the central bottom. I believe this would be a disgrace to the whole package. In contrary, I figure our fellow deviant has done a great job in using overlay & multiply techniques to his advantage, developing interesting contrast and pleasing vibrancy. The one thing I am not sure about would be the border, or lack thereof respectively. A solid black border would have been better than the soft, plainly uneven margin.

It's telling that its border is the biggest gripe I have with this deviation. It conjures phenomal impact.

This is why I call "Catwalk" one of the best of the best deviations on deviantART and have chosen it as my first object to write a critique on. Five out of five!
The Artist thought this was FAIR
33 out of 33 deviants thought this was fair.