Hi everyone, I am happy to announce that we are FINALLY getting
World of Grey
out there for you to see. Until a dedicated website is completed, you can catch all of the heart pounding, suspense, mystery, plot twists and non stop action here on Deviant Art. Head on over to my World of Grey Folder in my Gallery:
brianvander.deviantart.com/gal…
I will continue to post pages so you can read the story! Feel free to comment, good or bad! Constructive criticism is important for any creator so fire away. Or if you really like it and think its the best thing you've ever read, a nice note saying as much is a good thing as well! Either way,thank you for taking the time to follow my work, but pin ups, commissions and my World of Grey passion project.
To give you a brief pitch on the
World of Grey
: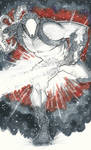 (Grey)
Jonathan Grey (Grey) - The titular Character in the book. Grey starts the story of completely unaware of what is going on, so you as a reader can relate with him, you learn together as the story unfolds. Grey finds that he suited with a High Tech A.I. with untapped potential. Who this A.I. is, how and why this has happened is unbeknownst to Grey. The world he wakes up in is far more advanced than the one he remembers. At one point, Grey finds out that his life has already been lived.....
BY SOMEONE ELSE
. The ripple effects of this are
THE
reason the world is what it is. Along the way, Grey meets various characters such as Kate Ambers, who has her own motives, as he searches for the truth.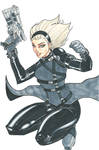 (Kate)
So come along for the ride, share in our story
Take care
Brian