Deviation Actions
Daily Deviation
January 19, 2012
Neuton Font Family by =
brianskywalker
A wonderful typeface, coming in a variety of weights and styles, even with an
additional
cursive font, taking its italic relative to the next step.
[Resources & Stock Images / Fonts]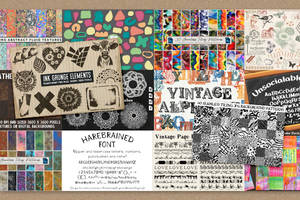 HG Designs Subscriber Area
Lots of high resolution goodies for graphic design including textures, photoshop brushes, seamless patterns and more.
---

Description
My little project. More variants coming soon!
Thank *
MSDesigns
for the excellent promo image here!

Neuton is licensed under SIL OFL and is free for commercial use. However, donation is highly appreciated - you can donate
on dafont
or
here on dA
.
Let me know if you use it!
In the zip:
FONTLOG.txt
OFL.txt
Neuton-Regular.ttf
Neuton-Bold.ttf
Neuton-Extrabold.ttf
Neuton-Light.ttf
Neuton-Extralight.ttf
Neuton-Italic.ttf
NeutonCursive-Regular.ttf
Neuton-ExtralightItalic.ttf
Neuton-SC-Bold.ttf
Neuton-SC-Extrabold.ttf
Neuton-SC-Extralight.ttf
Neuton-SC-Light.ttf
Neuton-SC-Regular.ttf
NeutonAlt-Italic.ttf (This is the old version of Neuton's italic.)
src/ (Where .sfd source files and .otf versions are.)
Basic Font Information
=================
Neuton is a clean, dark, somewhat Dutch-inspired serif font which reminds you a little of Times. It has a large height, short extenders, and a compact width for better screen use, and economy of space.
The family will comprise a regular, italic, and cursive, each in five weights and with smallcaps. Two italics — one called "italic", and the other "cursive" — are uncommon, but very useful. Ever tried emphasizing something already emphasized? Beyond that obvious example, there are other uses.
Sometimes a text needs a different flavor or feel. While one roman can work for a variety of texts, the companion italics don't always. In more classical or personal documents, a stiff, sober, modern and down-to-earth italic will never work. And in many essays, some of the fancier italics look ridiculous. Who said a roman needs only one companion?
Neuton is in continuing development and will come to have:
* 5 weights, from Extralight to Extrabold
* Italic and Smallcaps versions
* A cursive variant
* Extended width versions
More previews:
[link]

Edit:
A DD! Thanks everyone! Such a pleasant surprise.