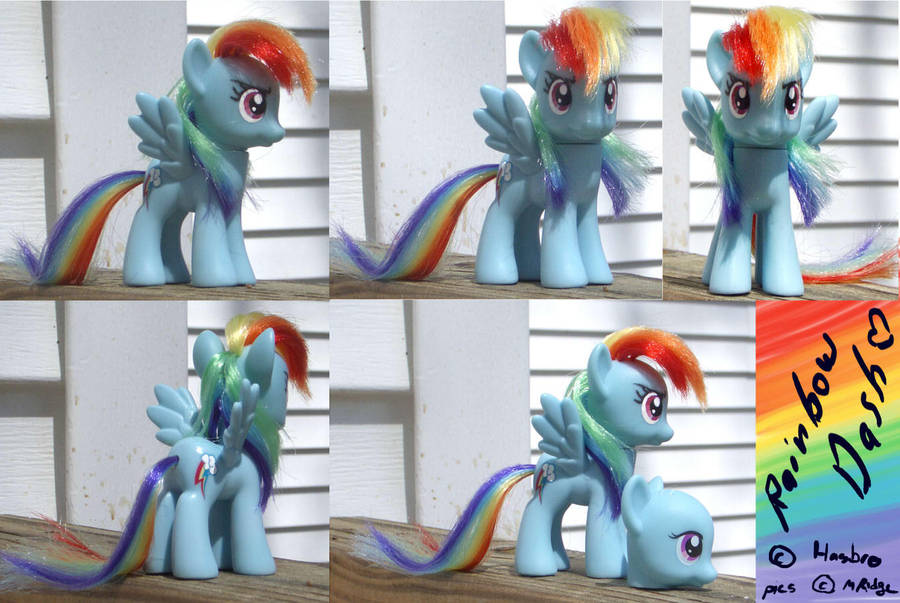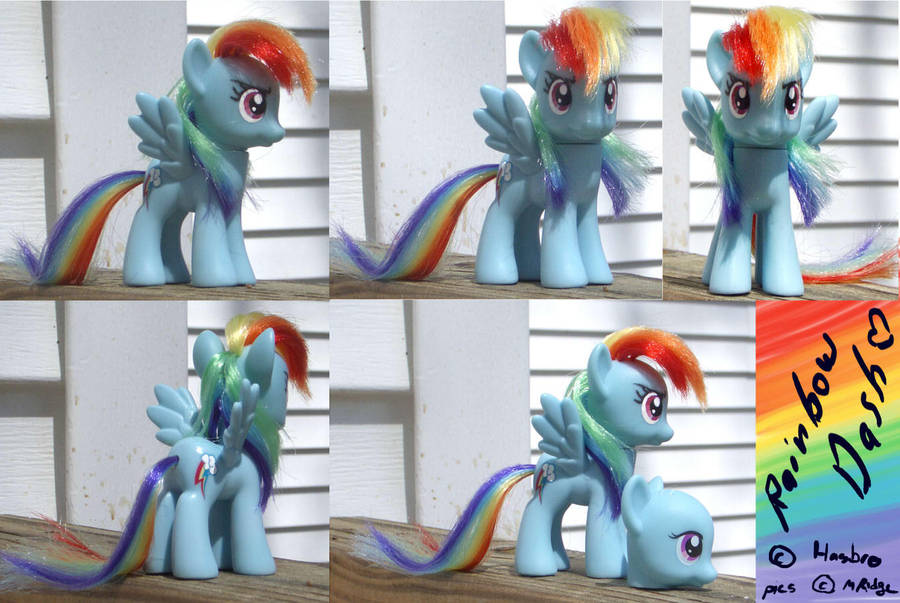 Watch
So, pretty much everybody's seen the latest My Little Pony incarnation, right?
Well, if you're a fan, you're probably rather painfully aware of how much the toys don't really look like the ponies they're supposed to represent?
Anyway. Rainbow Dash is my favorite character on the show. And she probably has the most inaccurate toy of the bunch. So, I decided to fix her. This is how Rainbow Dash SHOULD look. I customized her myself. She is re-haired with all her own original hair, except the red, which was too short for me to re-use. So I got some "Pomme d'Amour" Dollyhair, which was almost a perfect match to the original red, and used that instead. I also touched up the pinkish-maroon in her irises and reshaped the eyelash line to look more like Dash and less like Fluttershy, and tried to give her that "determined" look. I also had to touch up all the white on her, in her eyes and on her cutie mark. The decapitated Dash head there (which will belong to my ponysona) is there for comparison.
So, fillies and gentlecolts, I'd say this is at least 20% cooler, wouldn't you?

No, she isn't for sale. And I don't really have plans to mod and sell them because this took a lot of time and I have a real job and a life and other hobbies.
Lauren Faust is one of the few people that I would GIFT one of these girls to, though, for making such an awesome show. She's free to ask for one at any time.

sorry about the edits if you're seeing them all. It's been so long since I uploaded anything that I realize I keep forgetting stuff like the keywords and things...
ADDENDUM:
Okay, unfortunately, I have to reiterate this. While I appreciate that other fans like this mod,
No, I am not selling this toy, and
No, I do NOT do commissions for these, and I do not plan to.
There was only ever one exception, and that was at a different point in my life, so please do not ask.
Thanks.