Get the high resolution and working files on this piece through my Patreon here! www.patreon.com/BrentJohn
Oh 2016! You just gave me an
AMAZING
present for my birthday. SJWs and far leftists getting their asses handed to them.

If you followed the 18-month bitch-fest that was the 2016 U.S. Presidential Election, then you know what it was like. The choice ended up ultimately being between a corrupt, lying, and criminal politician, and a crass, vindictive, temperamental, callous, and totally underqualified celebrity as President of the United States. Regardless of the outcome, America was pretty much fucked either way.
But regardless of your political stance, you have to admit that the media was
overwhelmingly biased
when reporting on the candidates. Yeah, Trump has said some pretty stupid shit throughout his campaign, and he was rightfully ridiculed for it. However, just about
NOBODY
in the mainstream media talked about or really criticized Hillary to the degree that Trump got, especially with the deleted emails she was ordered to present to the FBI.
Within the coming weeks and days of the election night, the media and Hillary supporters (not
EVERYONE
, but in general) were not only confident that she'd win, but they were quite possibly the most smug motherfuckers of all.
"98.1% chance Clinton will win the election!"
"There's not going to be a 'President Trump'!"
"Trump supporters are about to get DESTROYED!"
"It's going to be AMAZING when Hillary wins!"
And after the election results came in, the immediate reaction, along with the coming days, was
FUCKING PRICELESS!



The
VERY SAME PEOPLE
who criticized and mocked Trump for saying that we wouldn't accept the election results "unless he wins" and that the system was "rigged" did the
EXACT SAME THING!
Not only that, they doubled-down on their insults and attacks towards anyone and everyone who supported Donald Trump or thought he was the better candidate.
While I'm not a fan of Donald Trump being President of the United States, given the
INSANE
backlash, I honestly think that he was the better choice. Showing people who the
real
racists, sexists, and bigots are on that level
alone
almost makes it worth it.

So enjoy this
MILD
exaggeration of the 2016 Presidential Election.

Here's my next piece of the 2016 Election: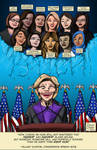 Image details
Image size
3150x2025px 4.93 MB