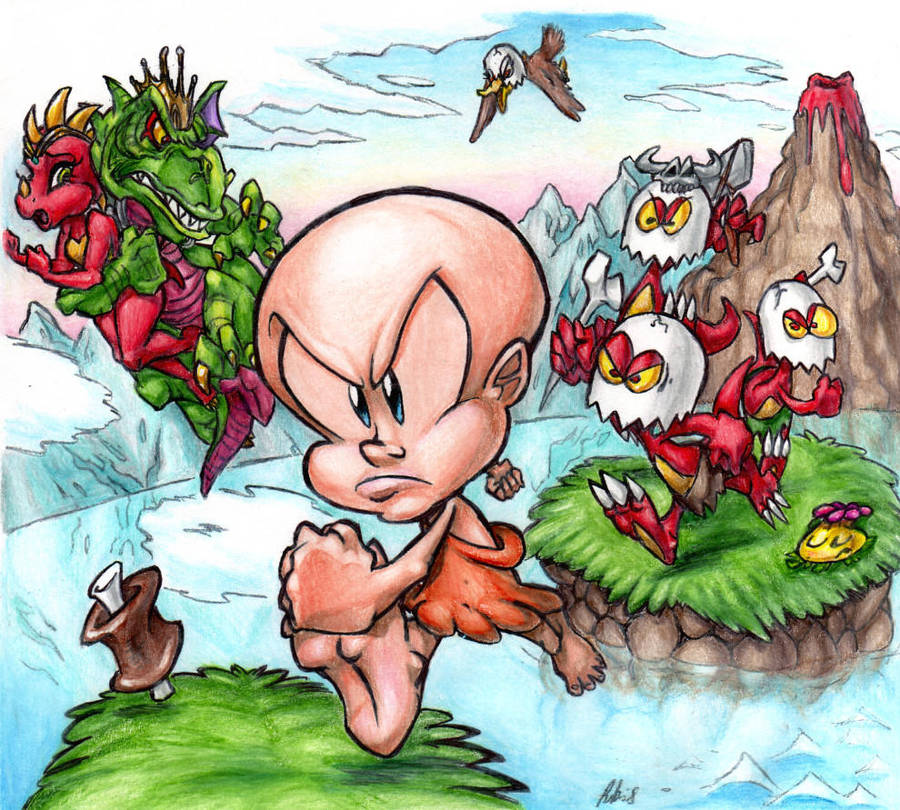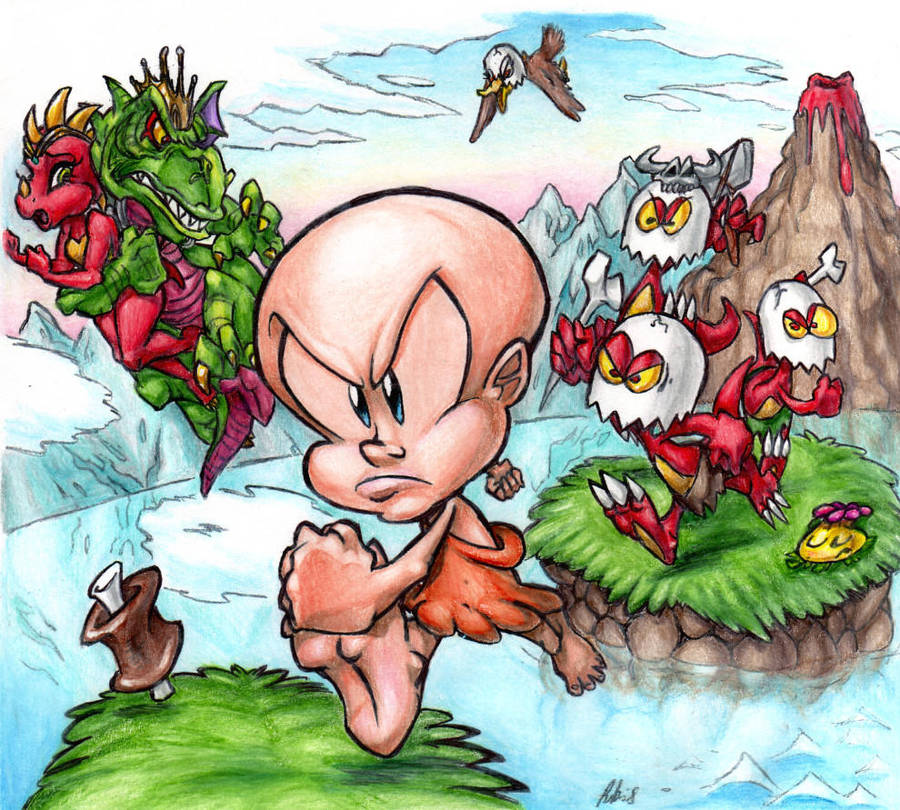 Watch
A drawing of Bonk's Adventure for the NES & Turbo Graphix 16.

Wow! That is a cool picture to devote to in regards to an underrated video game character-especially in regards to the turbografx-16!
Reply

Thanks. Bonk is classic! I can't believe how forgotten he's become

Reply

Same with Gex. Though to be fair, Gex has it MUCH worse than Bonk.
Reply

Yeah, Gex has been forgotten. I liked it for a bit. It was a pretty good game.
Reply

Same with Bonk. I wish that Brink of Extinction wasn't canned. I remembered reading about it in an issue of Nintendo Power-looked really promising. It sucks that Konami bought out Hudson Soft. after they lost almost all their remaining yen from all the damage in that earthquake in 2010. Gex 4 was planned for Gamecube & Playstation 2. But as of today, it's stuck in Limbo. To this day Gex seems to be getting virtually NOTHING but negative reception for the fact he was once the mascot for 3DO. What kind of factor does the character have in confirming a game's quality? As long as it's fun at the end of the day, does it really matter?
Reply

Seeing that Konami was willing to release a Bomberman game on Switch gives me some hope for Bonk's future, especially with Bonk's Adventure being added recently to Wii U eShop, but it's still very doubtful.
I've noticed that Gex has been getting a lot of hate, too. It seems people are trying to make him another Bubsy, yet Gex's games were actually quite successful back in the day. Sure, the 3DO bombed, but his PS1 career was met with very good reviews, especially part 2. Unfortunately, unless a character or franchise stays consistently relevant over the years, it seems people will just label it trash and try to reduce it to meme fuel or something.
Reply

I haven't played any of these games before, but I've heard about them and I'd like to try them out. They look fun. I will admit, I'm curious about what age Bonk is. I always interpreted him as being a younger age, like, probably a child. How else would one explain the big head and the small body?

This certainly looks different from a lot of your other works, possibly because of the hand coloring, which looks great.
Reply

Bonk is likely a child, being that the Japanese title for the series roughly translates to "BC Kid". The games are a lot of fun. I highly recommend them. They're just a bit too easy, though.
Reply

Ah, ok. I've been making a list of video game characters and series that I feel deserve another chance, and I put Bonk on that list, since he's a fan favorite to quite a few people. Shame some of those new ideas involving him never came into being.
Reply

Sadly, being that Konami purchased Hudson Soft years ago and recently canceled production of IPs, we'll likely never be able to see a new official title for Bonk, Bomberman, Adventure Island, and several other classic series.
Reply

Yeah, I don't need to be reminded of that. The people at Konami have really lost their brains as of late.
Reply

Absolutely gorgeous! I've been wanting to see some Bonk art in the usual cartoonish style but with greater detail, and this certainly delivers that. The backgrounds evoke the world of the game, but more than that, they capture the epic scope of Bonk's journey. The enemies look delightfully nasty, especially with their great attack poses, and King Drool is just frightening with that baleful gaze. The coloring is terrific as well, juicy with brightness and variety.

Most of all, Bonk himself looks awesome. You've given him an appropriately oversized cranium without making the rest of his body look wimpy, and that determined look on his face is almost inspirational.

My only criticisms lie with Princess Za. She's far too big - almost the size of King Drool - and her limbs don't look right.

Thanks for sharing this wonderful piece of work! It's a tragedy that Bonk dropped off the scene and never made a fifth generation appearance; what I wouldn't give to be able to play a Bonk game on my Saturn. But that also makes tributes like this all the more appreciated.
Reply

Thanks so much. It's rare I get a comment on a Bonk piece, and even more rare that somebody draws Bonk art, so I'm glad you enjoyed it. Thanks for all the compliments. I agree that Za looks a bit awkward, mostly because all characters had to be squeezed into the same bookmark, hence the awkward limbs. The heights are also a mess. I had to shrink and grow certain characters to allow the viewer to really see them. When I first put the picture together, Za was much smaller but you couldn't see the detail on her very well and it created an awkward emptiness in the spacing of the characters, so I grew her. Kongo Zilla and Punchy Pedro had to be drastically shrunken down to fit on the bookmark as well.
Well, thanks a bunch. I too wish a newer Bonk title would surface, but sadly the world seemed to forget about these great games. In Japan there was a "remastered" version of Bonk's Adventure on Game Cube, but nothing since then has actually reached a release date.
Reply

Looks awesome, the characters look great in your style.
(I especially like your more feminine-looking Princess Za redesign to.)

The background's very well done to, and recaptures the different environments from the game.
Cool hand-coloring, as well. Especially the sky's fading colors.
Reply