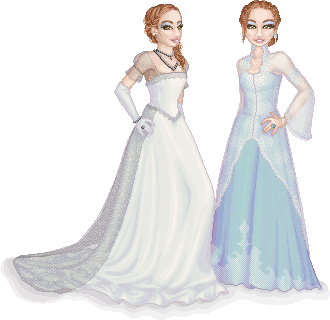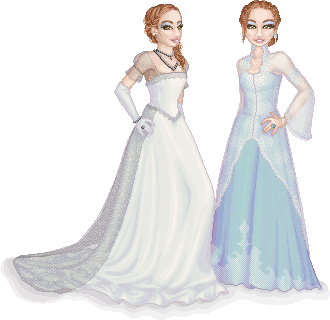 Watch
Miss Russia for round 3.
Export: Natural Gas and Coal. I didn't add the coal when submitting because ...people... were having trouble grasping the coal part.
Commonwealth: I did a Baju Kebaya which is worn in Singapore.
1. I'm still mindfucked I made it into round 3.
2. I'm tired of looking at her. She turned out exactly as I wanted.
3. I've already submitted her because if I didn't I would have scrapped it and started over because I'd have convinced myself it was bad.
Thank you to everyone who helped and gave CC. There's too many to remember you all D:
Those that really helped were


and I belieeeve it was

that pointed out wrong I shaded the export dress originally XD

woah I love those dresses

Reply

Amazing! I just adore both dresses, they are really smooth and delicate

And it's pixeled... woah
Reply

Beeeeautiful! I am totally in love with the gowns they're wearing, they're so soft and ethereal looking.

Reply

Reply

Lovely dresses. Very well done.
Reply

Well you know how I feel about this. Good luck and please don't kill me in this round!!
Reply

Nah, you're so far ahead the rest of us, I'm pretty sure you could enter her in a paper bag and you'd still win xD
Reply

Oh, I just love it when you stroke my ego!
Reply

Reply

The paperbag comment sounded like a dare to me

paperbags could be an export ya know...
Also bree, your dolls remind me of Cinderella

Reply

Wait what ;-; Cinderella??
And it totally was

I hope she takes it. Then the rest of us have a slight minuscule chance ;D
Reply

hey! I can't help it!
It's the colors you used and the dress designs, and even the hair!

I'm taken you're not a fan of cinderella stories then?

Looks like she didn't take the challenge

Slightly disappointed now!
Reply

Really amazing work on the dress patterns. Seriously, its beyond awesome

Reply