I fell into the hobby of cosplaying almost by accident. I've always been a bit of a closest-geek and I decided to give cosplaying a one-time go, but then I was hooked


Contrary to popular belief, for most cosplayers the hobby is not a means of "becoming someone else" but embracing who they already are. Many cosplay characters whom they deeply admire or who reflect their own personality.




One of my goals is to make the conscience choice to always cosplaying for myself, not for attention. We should let the hard work of others inspire us, work together and remember that everything in life is a process.

Thank you everyone for your support and kind words! I will keep challenging myself to do my best

Cosplay on, and always remember to

breathe life in deeply!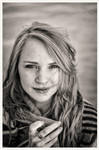 I am a teacher and a cosplayer from the great white North (Toronto, Canada)

www.facebook.com/breathlifeindeeply
------------