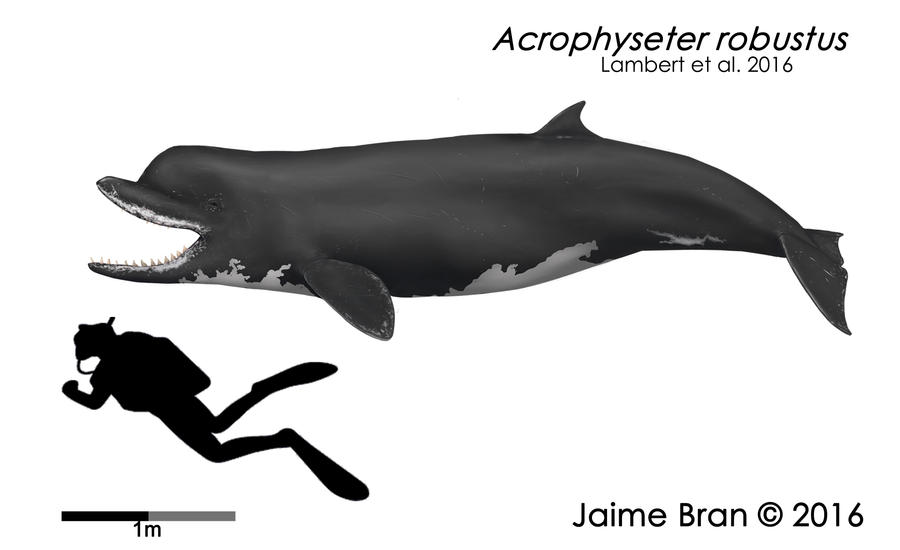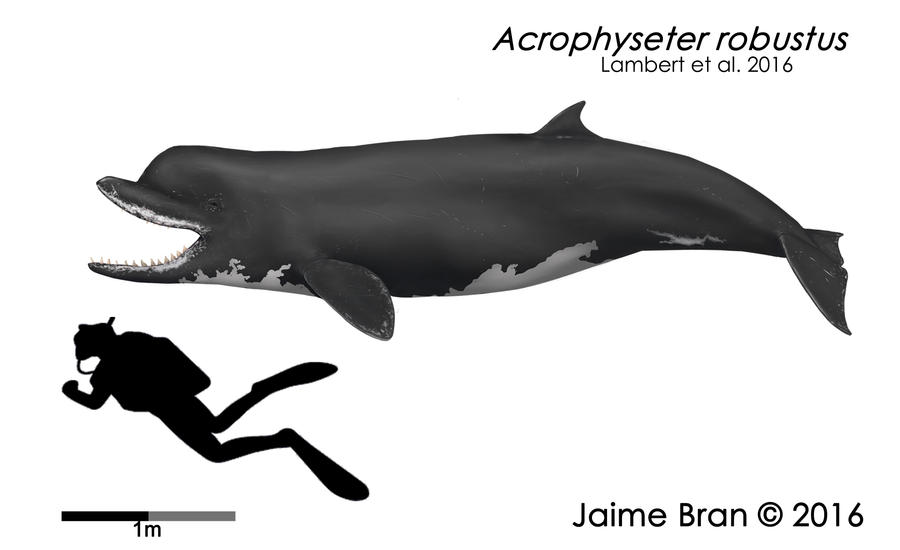 Watch
Más material sobre Acrophyseter incluyendo una especie más al género, Acrophyseter robustus que habito la costa peruana durante el Mioceno, hace unos 9 millones siendo la más antigua. La anatomía de estos cachalotes estaba adaptada a ejercer mordidas muy potentes como sugiere el nuevo material siendo depredadores ápices en su entorno.
Referencia:
Reedicion de Acrophyseter sp, version anterior: bran-artworks.deviantart.com/a…
-Lambert, O., Bianucci, G. and De Muizon, C. (2016), Macroraptorial sperm whales (Cetacea, Odontoceti, Physeteroidea) from the Miocene of Peru. Zool J Linn Soc. doi:10.1111/zoj.12456
-------------------------------------------------------------------------------
More material on Acrophyseter including a new species to the genus, Acrophyseter robustus, that lived in the peruvian coast during the Miocene, around 9 million years ago being the oldest of the two, another posible species is also mentioned represented by a skull and mandibles. The anatomy of these stem spermwhales was adapted to excert powerful bites as the new material suggest, being apex predators of that time.
Reedited from my Acrophyseter sp previous illustration:bran-artworks.deviantart.com/a…
Reference:
-Lambert, O., Bianucci, G. and De Muizon, C. (2016), Macroraptorial sperm whales (Cetacea, Odontoceti, Physeteroidea) from the Miocene of Peru. Zool J Linn Soc. doi:10.1111/zoj.12456

Cool, hadn't heard about this one getting discovered. Nice work!
Reply

Thanks, was discussed in a paper in 2014 as A.sp but finally gets a species name and is completely described

.
Reply

Ah, very nice, I knew you would do one!

Man you have so many great ancient whales here, I wouldn't wonder if you would publish a book with them one day!
Reply

Thanks Joschua! actually thats my idea one day,

l have slowly started to gather information on many of the ancient whales, it could take some years but is something i really want to do (although many of those cetaceans remains a very scrappy).
Reply

Great! I hope to be to publish one day a book about my dragons, but it's still a long way to go.
Good luck with that project

Reply

mas chacalotes! iba a decir ballena asesina, pero creo que eso entra en la característica de un mamífero marino cuyas extremidades aun son patas palmeadas (como un basilosaurus) esto ya es un cachalote bastante actual a pesar de ser antiguo.
Reply