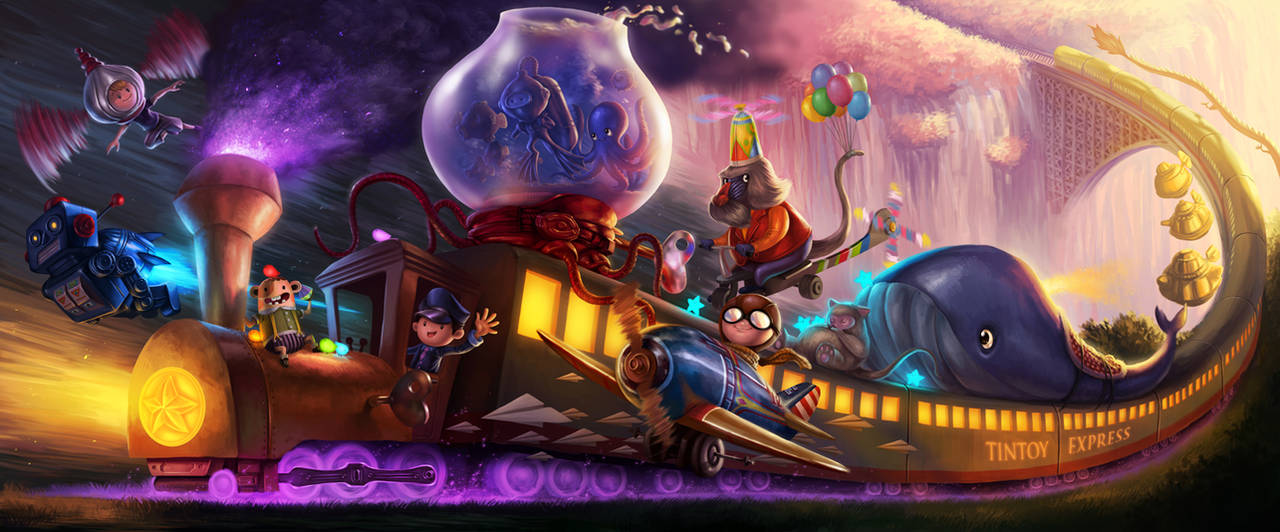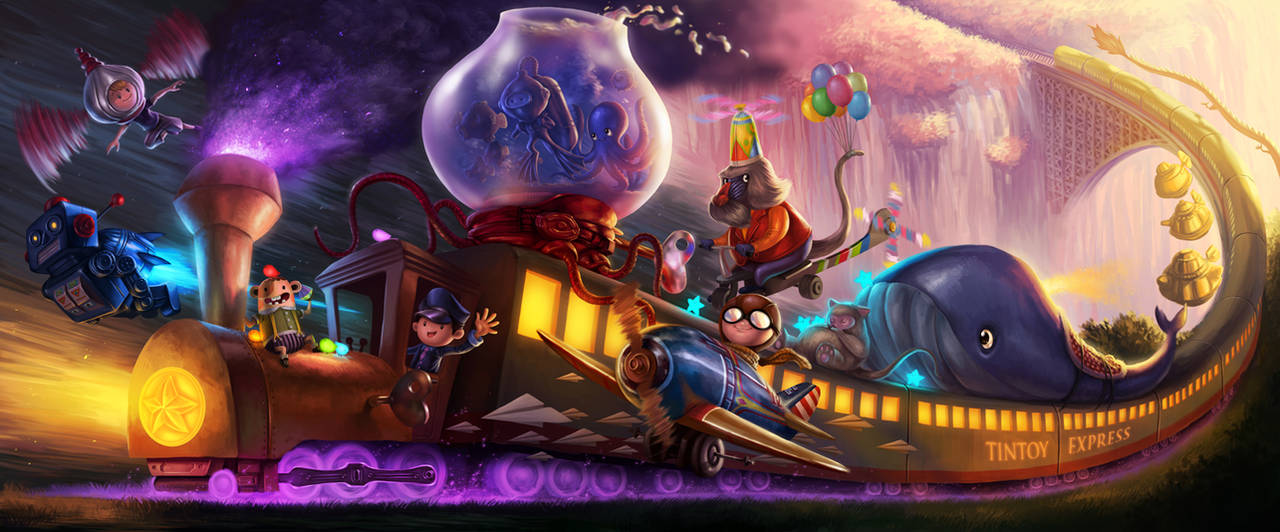 TinToy Express, a painting that really reflects my thoughts and art styles. I reused some of the characters from my previous artwork, for instance, Papu Papu from the series
[link]
the Baboon Gentleman and Chinese Dragon from Flying Parade
[link]
as well as the Glowing Chicks from Farmland Parade
[link]
. Besides that, there is also a boy character with a helmet that will help him fly like Dumbo ( inspired by a friendly joke made by my friend on me ) and Mr Hamster created by a good friend of mine
[link]
.
Thank you very much for viewing, I hope you guys will like this painting that took me 2 weeks to finish. Have a nice day and be prepared because TinToy Express might come to house to pick you up soon

The magic of childhood imagination. It has given us the ability to search on quests for princesses, travel around the world on a giant robot and even appear in places that we could only find in our wildest dreams. Truly, it was an amazing gift to have had. "TinyToy Express" by *bramLeech, is the pinnacle of childhood imagination and has shown us some forgotten things both wondrous and out of this world.
If there's one thing that just screams out at me, it has to be the amazing use of colors. There is a rainbow's worth of color on display and its all eye-popping in such a way that it makes it hard to pull your gaze away from it. From the glowing lights out of the windows of the TinyToy Express to the fluorescent stars and the rocket booster behind the toy robot, it all just catches your attention and never lets go. In addition, its hard to overlook the great detail placed into this piece. Everything just look amazing and you'll even find yourself looking through the piece again and find things that you may have missed on a first glance. You can almost imagine the train cruising leisurely along the track on glowing wheels with its many acquaintances that are also along for the ride.
TinyToy express truly embodies the great power of childhood imagination and manifests itself before you as if to let you know that it will always be there for you, even if you don't know. A stellar piece from first glance to the last. Good work.

The Artist thought this was FAIR
54 out of 55 deviants thought this was fair.
From the twilight of childhood memories comes the TinToy express; chugging along the tracks of dreams and the wildest of innocent flights of fantasy!
A riveting piece with a myriad of details merged together so seamlessly, that they seem to blend in and perfectly fit into each other..
The TinToy express seems to be literally powered by the magic of a child's faith in his dreams and it pulls you into a world where anything is possible! A whale that has hitched a ride, a small jet accompanied by flying paper planes, small spaceships like contraptions with flying robots and a bubble with magical creatures from the deep and a dragon whom we cannot fully see; have all come together for the ride of a lifetime ~ and one can't help but be charmed by wondrous appeal of it all.
Be careful, watch your step... its an Adventure! ~ You may find yourself aboard the TinToy Express if you are gazing at it for long...


The Artist thought this was FAIR
23 out of 23 deviants thought this was fair.