Site Updates and How to Welcome Them
This article was written due to the recent uproar from some groups of the community because of the new username symbols.
Change is something handled differently by everyone. Some people accustom to change very quickly, others may take a long time or may not adjust to change at all. In regards to deviantART Site Updates, it's important to know ways to welcome change and embrace it. You are not expected to love every feature that is released, but giving it a chance before bashing it is a right step forward.
Before reading on
, please note that this article is not directed at any one individual, but as a community as a whole. All views expressed in this article are mine and mine alone and do not reflect the views of deviantART.com.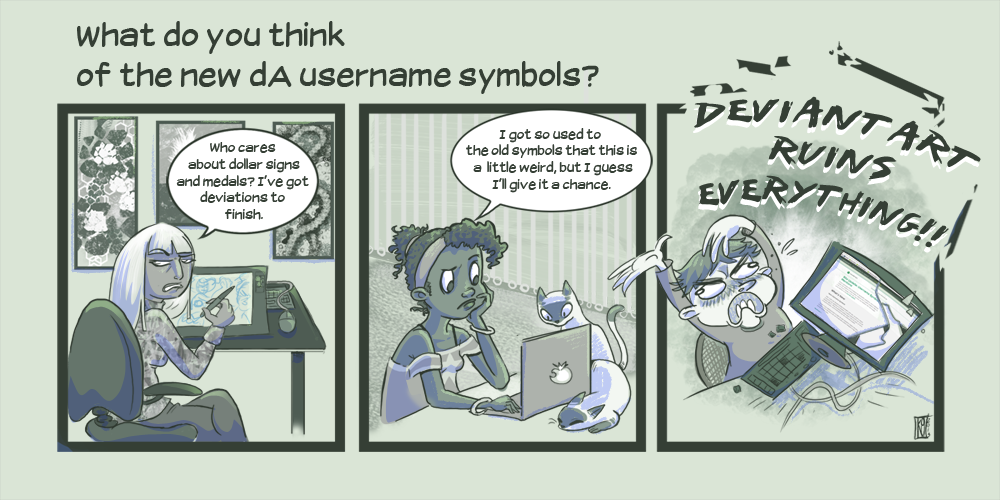 The Change
When a new feature is released, most deviants give their first impressions of said feature. Some may even react like this:
This is completely normal, especially with extreme changes (like the new username symbols). It
is
perfectly fine to be upset about it - but at the same time, you do need to give the new change a chance.
Over-reacting is something that is common with change. Deactivating your account in protest will not make the feature go away. If anything, it will make a statement about yourself to others (positive or negative, it depends on the person). And of course, if you deactivate, how are you going to provide any feedback about the new feature?
Providing Constructive Feedback
Providing feedback to Staff Members is a good thing to do. Providing
excellent and constructive
feedback is even better. Saying "I don't like it" is not proper feedback. All feedback should be posted on the feature's official announcement article (or if in BETA, then :devdevbug:'s official article). You can also choose to use the
Suggestions Forum
.
Here are a few bullet points to help you provide constructive feedback:
Elaborate. Say what you don't like about it. If you just say "I don't like it" that is telling Staff Members nothing. How can they improve anything if they don't know what to improve?
Suggest Improvements. What can they do to make you like the new feature better? Are there any compromises you are willing to make in order to be more happier with the feature.
Mock-ups. Creating mock-ups of what you want to see is one of the best things you can do. It helps others visualize exactly what you are thinking of.
Remember:
just because you give feedback, it doesn't mean anything will be changed. Most changes deviantART implements are for a very good and thought out reason.
>> For more read
Katy-L-Wood
's
A Guide To Creating A Suggestion for DeviantART
Things to Think About
Over the years that I've been on dA, I've noticed a common trend with comments on Site Updates. The comments mostly say the same thing every time, and usually these comments are over exaggerated.

"dA doesn't care about us."
They do. Believe it or not, but deviantART Staff Members do not go out of their way to annoy you. New features and updates aren't made because they want you to get all flustered. They only do things that are the best interest for deviantART.com's future as a company and YOU. It is important to remember that there aren't many websites where you have DIRECT communication with every single Staff Member.
"Don't fix things that aren't broken."
If society lived by this motto, we would not be getting anywhere. Technology evolves, it's the way the world works. We would still have big box televisions, messenger pigeons, Windows 98, etc if these products weren't improved on. The message I'm trying to get across is, how is anything supposed to evolve over time if nothing should be "fixed when it isn't broken"?
"Everyone hates this new feature. Take it away!"
Speak for yourself and yourself alone. Sorry to put it bluntly, but there are 28 MILLION members on deviantART. To say everyone hates something is extremely delusional. It is a fact that people who don't like a new feature are more likely to express their opinions than someone who does like a new feature. So keep that in mind before playing the "every comment has been negative" card.
Conclusion / tl;dr
Key points you should take away from the article:
Everyone reacts differently to change.
Try not to overreact when it comes to change. The way you act reflects YOU as a person.
Provide constructive feedback is encouraged. Your feedback is always read when it's posted in the right place.
deviantART Loves You.
Protip:
If you are still in doubt of a recent change, listen to
I Love It by Icona Pop
. By the end of the song, you will love it.