UPDATE
: Because Borderlands 3 was released earlier than expected on Steam, I'm going to move the spoiler content ban lift to
June 2020
. This should hopefully give Steam users enough time to catch up. The criteria is the same as it is below, so make sure you check that out before you submit Borderlands 3 content.
Now that we've had a couple of DLCs released on top of the main game, I'm going to put a mild spoiler ban on those as well. For now, I'll plan on lifting them at the same time as the base game spoiler ban, just to play it safe.
FOR THE DLCS (Moxxi's Heist of the Handsome Jackpot AND Guns, Love, and Tentacles):
Allowable Spoilers
Existing/canon character appearances (so long as they have been revealed in the trailers)
New character designs
Boss designs (excluding final boss designs)
Locations
Banned Spoilers
Plot twists
Anything that spoils the ending of the DLC (including final boss designs)
---
With the release of Borderlands 3 just around the corner, it's time to cover an important topic: spoiler content.
After some debate, I've decided that I will not be accepting any deviations with content that spoils the story of the game until
three months after the Steam release
. This means the group will be open to spoiler submissions in
July 2020
. This is to give those who want to wait for the Steam release a little leeway so they don't end up getting spoiled during their six month waiting period.
I will allow some minor spoilers, as this is a very long wait for those who are playing on consoles or via the Epic store, but major spoilers will not be allowed.
Allowable Spoilers
Boss designs
Locations
Banned Spoilers
Character deaths (or any sort of major dismemberment)
Plot twists
Content related to the finale of the game
For those who are playing the Steam version and want zero spoilers whatsoever, however, I recommend unwatching the group deviations until you've played the game. This can be done by clicking the "Watching" button on the main page and deselecting the deviations checkbox, as seen here: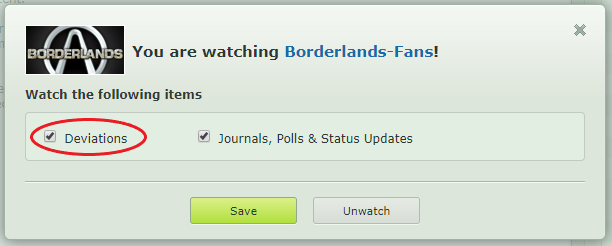 If anyone has any suggestions or comments, please feel free to let me know down below! I'd be interested in hearing opinions on the waiting period, and if you think it should be shorter or longer, as well as thoughts on what content constitutes as a major or minor spoiler.
Cheers, and happy vault hunting!
---
Additional Note:
I myself am going to be playing the Xbox version of the game the moment I receive it, but to reduce the chance of spoilers for myself (in case someone doesn't read this journal, for example, and submits a spoilery piece), I will not be logging into deviantArt to accept submissions to the club until I finish the game. My goal is to finish it in at least 1-2 weeks, circumstances willing, so rest assured your deviation submissions should not expire before I return. The submission expiration timer will remain set at 3 weeks, so try not to fret if you end up going a week or two without being accepted - I will accept your submissions as soon as I return.