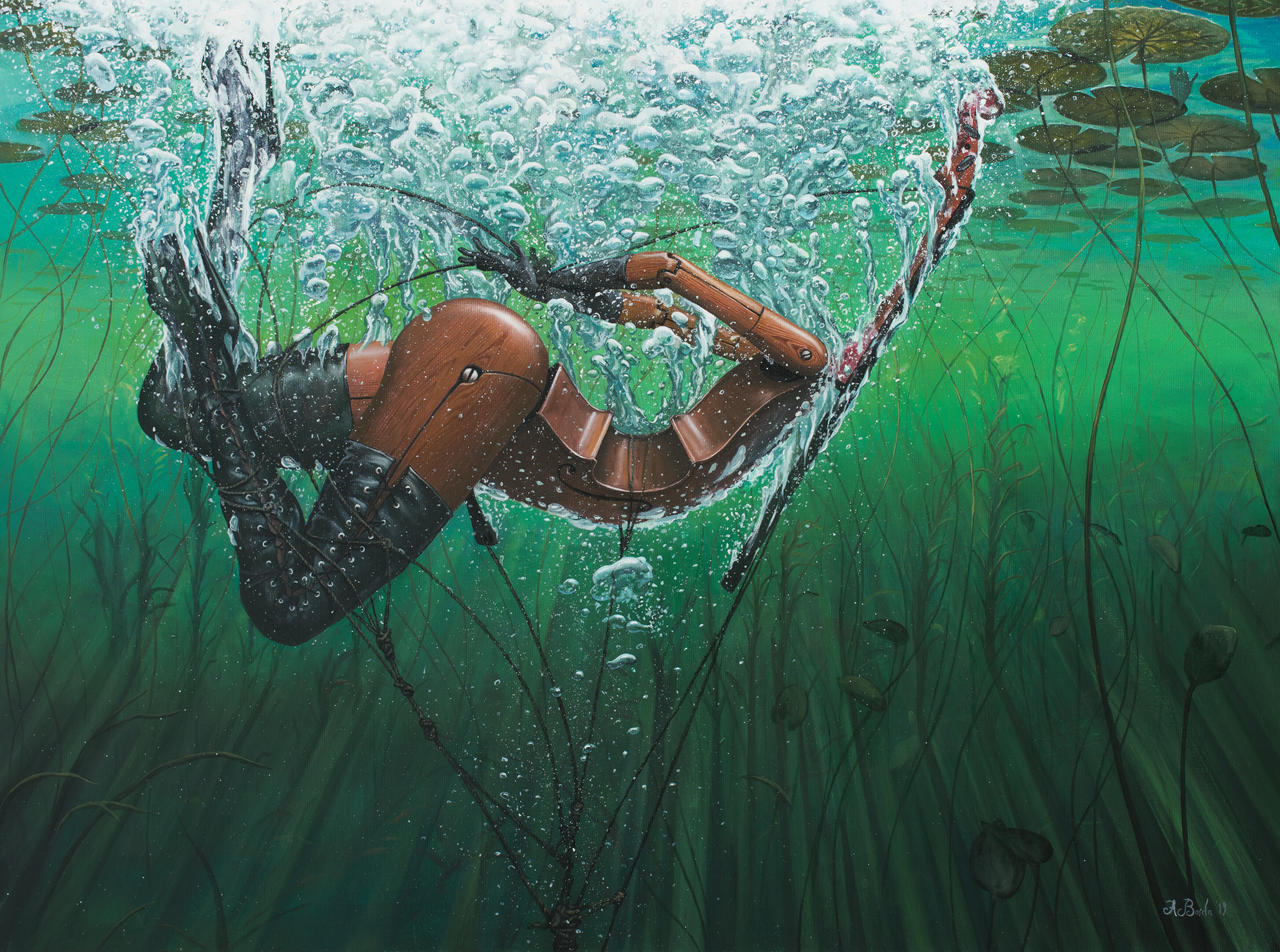 Watch
When an artist manages to overcome his level over and over again, he becomes an expert, and when I meet an expert, I can not avoid analyzing his work with a superior criterion. Once again I have decided to write a critique about the work of
borda
. One of the main reasons for this critique is the use of Musical elements in his new work. This artist knows how to transform the sensuality of the instruments into visual representations of the sound. This wonderful piece has an atmosphere capable of abstracting the viewer to this underwater world. The perspective with which this work has provided an unparalleled observation point for the public. The color scheme of this work is exquisite, an absolute domination of cold colors where the only warm tones belong to the element out of place, an instrument thrown in a place where it is not usually seen. An intercalation of opposing ideas in the same concept. I can also notice small tones towards a yellow on the line of the instrument that allow fusion with the environment in a better way. The depth of the water looks nice with the use of dark tones towards the depth where the light doesn´t reach completely and the vegetation reigns in the depths of the water. I like how the threads of light are represented. The strongest points of this work, beyond the colors, are in the texture of the bubbles that have an exquisite level of detail. Another strong point of the work, are the textures in general, each surface has its composition interpreted in a very pleasant way so that all play a role of uniformity. The reflection of the light in the instrument is very well achieved, together with the light that enters the bubbles are the strongest reflection points of the work. A point where it has lacked a little attention, it seems to be the composition. Everything happens in one area while the rest of the image only accompanies this action without much relevance, creating a slight visible void. I interpret this as a way to show the reason why the instrument is submerged, giving an ironic meaning to the title of the work, which justifies this decision. Beyond this, I consider this piece as a fascinating work, with an action portrayed in a precise way, all this highlighted with a pleasant interpretation of textures that give the work, the strength it needs to place this in a privileged place. Another great work by an ingenious artist like
borda
. Thanks for sharing
The Artist thought this was FAIR
6 out of 7 deviants thought this was fair.
Holy moly I didn't even think this was a cello at first you make it look like a person that I had to take a double look just to see the cello part! The way the body is awesome! I would say that there are a bit too many bubbles it makes it a bit messy that's just me tho. also when the cello would have hit the water and went in the lily pads would have been moving away from it and would still be moving with the waves. also, the hands look a bit messed up with the bubble right over it.
The Artist thought this was FAIR
4 out of 5 deviants thought this was fair.