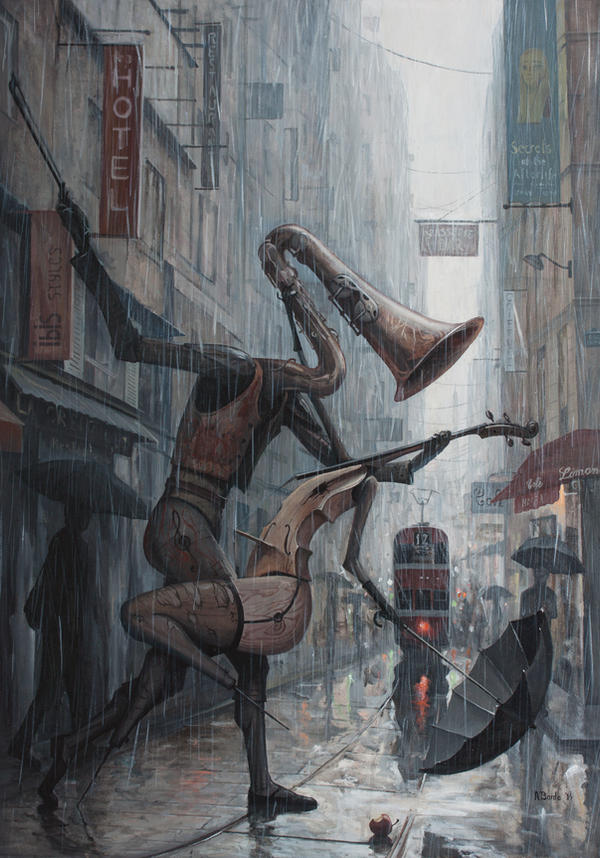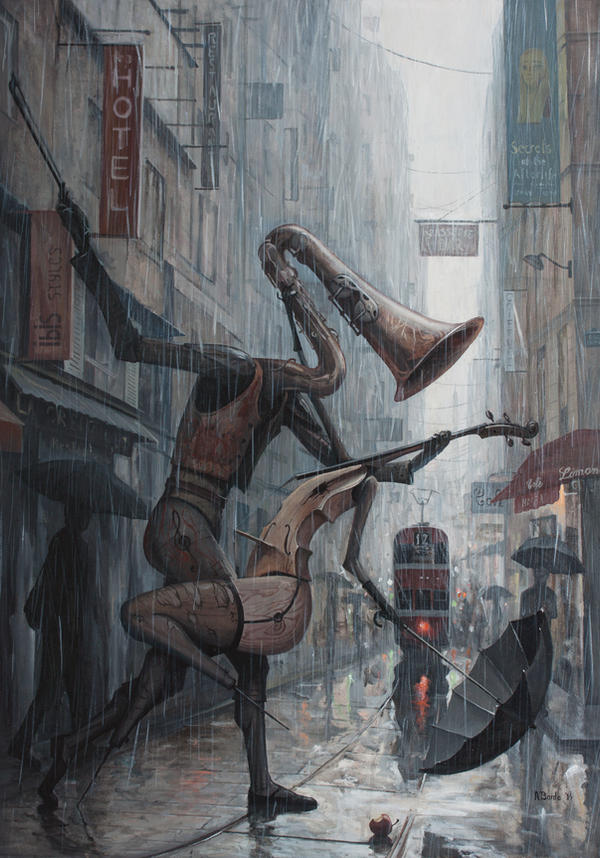 Watch
oil on canvas, 50 x 70 cm
Daily Deviation
Given 2015-05-03
First of all: HOLY COW!! Oil?!
You've done something marvelous, taking inanimate objects and animating them into such a familiar emotional and dynamic movement

You put SO much detail into everything, water on the pavement, the ripped stockings, the carve in the wood, signs in the background, and even though the people in the BG are merely silhouettes, you didn't forget about their shadows/reflections!
I adore the one dash of red light on the trolley, I get an even more dramatic flare~
The exaggeration with the body language for the instruments are phenomenal as well! I also love how you used all different colors in this illustration, reds, blues, slight hues of violet and yellow, and even hints of light green.
You've made something fantastic, and I can FEEL the tone you've portrayed here.
5 STARS ACROSS THE BOARD MY FRIEND. Applause you \(>,<)/
The Artist thought this was FAIR
321 out of 326 deviants thought this was fair.
This painting is like a good movie: you find something new everytime you watch it. Like others have said, there is so much detail it takes a long time to really see everything here, even though this painting is powerful enough even at a first glance.
The mood in the painting is very strong. I can almost hear the rain and the city life, and smell the wet wood of the violin woman; I can feel the wet pavement beneath my feet... It's hard to say what exactly makes this picture so vivid, but the soft colors, many details and blurry grayness of the rain at least create a very unique atmosphere for the wonderful characters to dance in.
I personally like the familiarity of this piece. It is surreal, yes, but with elements so common it is more interesting than alienating. To me surrealism usually means something absurd and posh, but this is simple, beautiful and very intriguing instead. This kind of art can be easily appreciated by connoiseurs and the common folk (like me)! Excellent work, and I feel honored to get to give this critique to you

The Artist thought this was FAIR
174 out of 177 deviants thought this was fair.