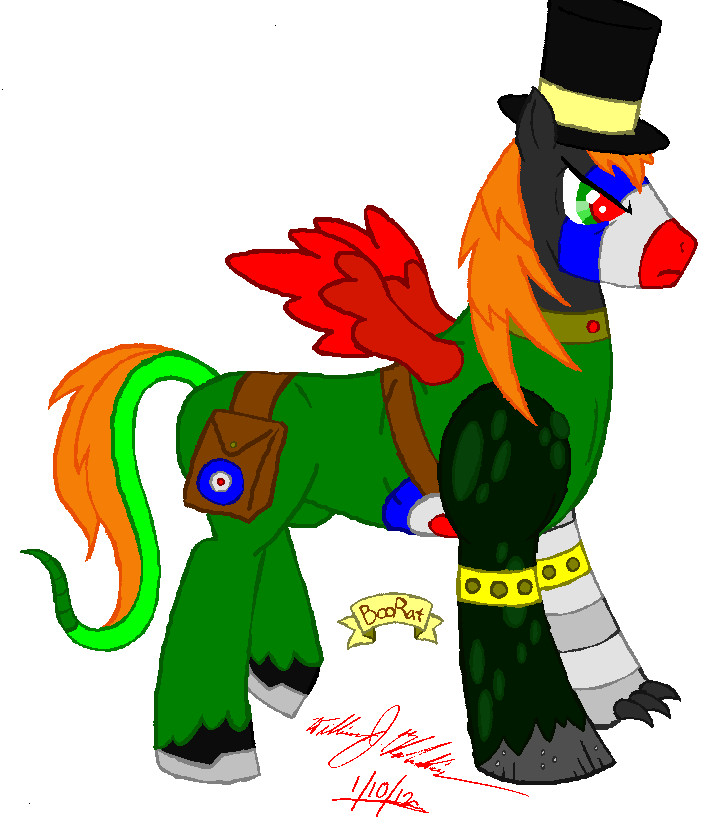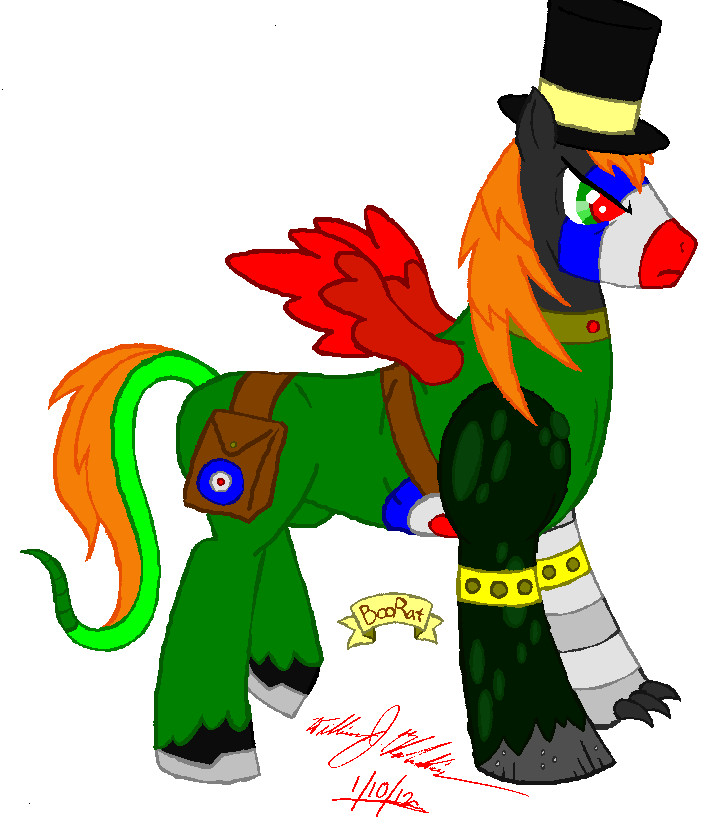 [link]
<---FA official made
[link]
Well, this might be my most embarrassing drawing to ever grace my account!
Yeah, I've seen the show thanks to

and I gotta admit I like the animation style.
So here's my OC PackRat
[link]
if made in the

Universe!
Ok, after debating it over for a while i decided to add a bio/character profile sheet here for this guy in this new form.

NAME: PackPony(nickname), Pac(for short), The War Horse(given title), real name unknown but when asked will just say Bob.

AGE: 900+

GENDER: Male

CM: ???(unknown! Always covered)

SPECIES: Alicorn(outwardly)/Draconequus(mutate)

DESCRIPTION/ORIGINS: In an attempt to recreate the "EoH" a select few(believing that evil might return at any moment) gathered samples from different creatures that showed the most capability for said element in hopes of creating a being that could wield them all. But, instead something went wrong and the creature disappeared the day of its "birth". By the time it was found again it had already progressed in age by 5 years living a loan in the yet to be inhabited Forest.
It turns out it was "born" with it's unicorn based abilities already active and it teleported itself way. Turns out the desired effects did happen the creature did have the ability for all 6 elements. It had all the basic abilities of his parent species. (Strength of the Earth, Flight of the Pegasi and Griffons, the Magic of the unicorn, the digging ability of the Diamond Dogs, Bravery of the Dragons, ect.) but it had also inherited all the negative elements from it's many parents. Most notably were Dragon's Greed, Griffon's wrath, ect. Because of its contradicting natures its mind was twisted and confused. He can go from being a cheery happy and kind individual to an easily angered and headstrong one with in the coarse of a day.
He was given the nickname of PackPony because of his Dragon like Greed he began to hoard items and treasure away in his hidden underground cave and is always carrying saddlebags full of different useful items he finds and is completely unwilling to part with them at any cost. His title as the War Horse comes from his constant need to show up at major conflict to release his anger and to possibly take what he can from both sides.
He wears a cloak and old top hat most the time to hide his unique nature(the cloak hides his wings and unusual tail and the hat his horn, but he does sometimes suffer delusions of grandeur). It is unknown if the weird marking of his face and head are part of a mask he wears or his natural skin colors.
His Right side front leg is larger and stronger than the rest of his limbs and covered in hard Dragon like scales. His Left side front leg is possibly a prosthetic but is more than likely just a high tech metallic shoulder length power glove that gives him an extending tendril like arm (think Stiltman or Doc Ock from Marvel). It also gives him something all ponies lack... fingers and an opposable thumb!

POWERS: Magic(mostly reactionary but has learned some stuff from practice mostly Electrical and Weather based), Flight, Superior Strength(naturally as much as an Earth Pony, but grows in-relation to the amount of stuff in his possession he currently owns thanks to Dragon's Greed), Fire Breathing, Digging and Tunneling, Fourth Wall Awareness, and Phoenix Regeneration once every 5 years.

GOALS: He wants the real "EoH" in hopes he can use them to "purge" himself of his dueling natures. He doesn't care weather it will turn him completely Good or Evil he just wants to be "Normal", but has trouble figuring them out because of a short attention span.
[link]
So!? What do Ya'll think!?



Alright gals, the only way we're gonna make it out of here alive is if we stick together, so...


My friends call me couch!


Coooouuch...


Fillyland!


Goddammit!
------------------------------------------------------------------


Ok, the saferoom is just a couple rooms away. When the doors open just run like Hell and we should be fine.


Alright, just let me get out my little Desert Eagle.








Perfect...


FILLYLAND!!!
-------------53,594 Dead Zombies Later...--------------------------


Ok, Everypony get in!!




That is the scariest fuckin' thing I've ever seen in my entire life!




Aaagggghhhhhhhhh!!!
-------------------------------------------------------------------


Oh baby, I use to here as a filly!


Hey, look AppleJack it's Fillyland!


Do I look like some sort of queer to you!?




Hey, I wonder what these things do...

Wooohh!!



----------------------THEN!!!--------------------------------------


Grabbin' pills!


Grabbin' puuuke!?


Grabbin' heroin... I mean adrenalin! *stabs needle into herself* GAAAAAAAAAHHHBLAHBLAHBLAAAAAAAHHH!!!
-------------------THE---------------------------------------------





Damn baby, there be like 3 witches over there!


Oooh that's ok. Those 5 chargers in a row 5mins ago made me relieve just how fucked we are anyway...


Hey, here comes another one!



------------------ZING---------------------------------------------


Thank Celestia, this is almost over!


Yeah, it looks like those plains are here to rescue us! Look they're droppin' us presents!

Why are they explodin'!?


I hope mine's a football!


GAAAHHH!



THE END!!!