Description

I FINALLY GOT THE SPEEDPAINT EDITED!
CLICK HERE!
It's mermay again! I made a piece for mermay last year, but even back then I didn't really like the finished piece, so I figured I'd see if I couldn't redraw it to make it better!
Feat. Caleb and Dan but as fishmen.
Take a look at the original, if you'd like! (And gawk in amazement about how I literally drew it a year ago what HAPPENED?!)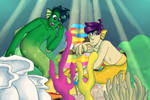 PATREON
|
COMMISSIONS
|
KO-FI
|
Toyhouse
|
Twitter
|
YouTube
|
Instagram
|
FurAffinity
|
Read My Webcomic!
|
My Website
Image details
Image size
3000x2000px 5.37 MB