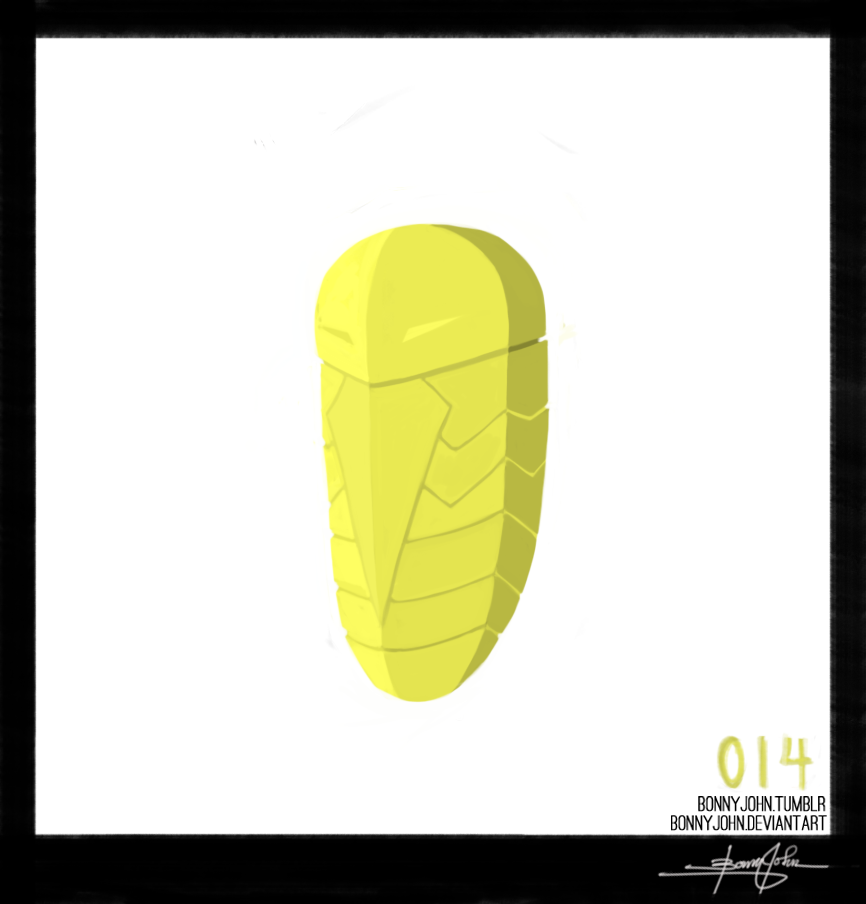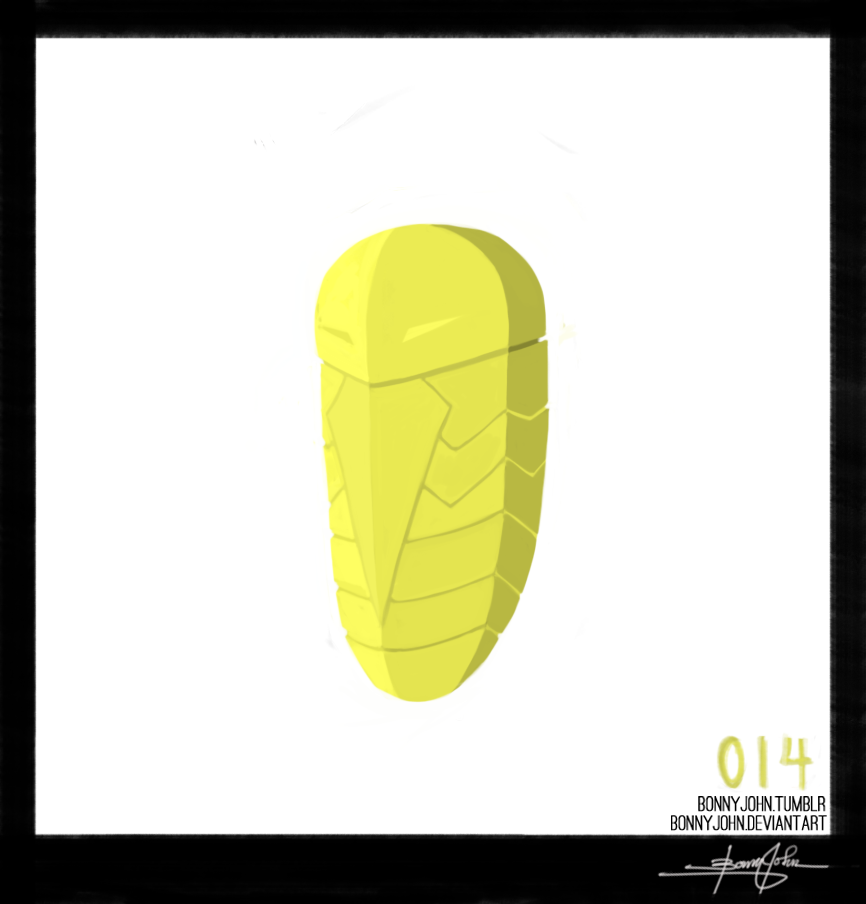 Watch
Kakuna...the cocoon Pokemon whose Japanese name is...Cocoon.
I struggled with this guy quite a bit! My first rendition of him was to show him in the middle of evolution, but as I did some some google searches of him for reference, I saw that there was a Pokemon card done in a similar fashion. I then realized I had seen that card quite some time ago so my original idea was a dormant memory of that image.
Obviously I had to drop that direction and I come up with something new. I continued to struggle to find a way to represent him. I tried out a picasso style that ended up looking boring and too busy, which goes against the still nature of a cocoon. Eventually, I started playing with basic forms, which I think is the best route to go when brainstorming ideas. Everything is made up of forms that when simplified and can be represented as basic shapes. I found a rectangular prism shape and starting etching into it, like a sculptor. I kept the blocky feel but touched up with curves where appropriate as you see the shape of the head is represented with an arch.
And there you have it, Kakuna!
P.S. I changed up Weedle's design so go back and take a look at it. It's bascially the same as yesterday but what you see now was my first first rendition of it before I added more detail to it. Weedle so far has gotten the weakest response of the project, and I wondered if it was because the design/style was weak or because he's simply not a popular Pokemon. I took it as a combination of the two. But those days are bound to come, so its all good.
-Bonny
+ Pokemon One a Day is a series illustrated and curated by Bonny John in an effort to represent the entire catalogue of characters from the world wide phenomenon that is known as Pokemon. The idea is simple - to draw and share one new Pokemon a day (weekends off!) until every Pokemon is completed. This project is an exploration of fine art styles for learning and leisurely purposes.
+ Support me at these other links at your discretion:
YouTube: Subscribe!
www.youtube.com/user/streaming…
FB Fanpage:
www.facebook.com/mrbonnyjohn?r…
Twitter: www.twitter.com/mrbonnyjohn
Tumblr: www.bonnyjohn.tumblr.com/
P.S. Please if you want to share this art on Tumblr, reblog it from its original source:
bonnyjohn.tumblr.com/post/6105…

You are not getting the attention you deserve, have you thought about posting these on reddit?

Reply

I have, and I've posted some stuff before on there and didn't get any kind of response...But this is a whole new level of a project, so I will really try to make an effort and share this with them!
Reply

Haha you're too kind, I shall definitely get on it! Since the Pokemon one a Day series takes off on the weekend, I'll try on Monday when I release Pidgey, so any new followers of the project can enjoy the week without having to wait say if i told them about it today or tomorrow! Wish me luck!
Reply

But this is pokemon! It'll be like cats for them: irresistable!
Reply

Hey, I took your advice (and another buddy said the same thing) and posted it on Reddit.
www.reddit.com/r/pokemon/comme…
In case you might want to throw an upvote!

Reply