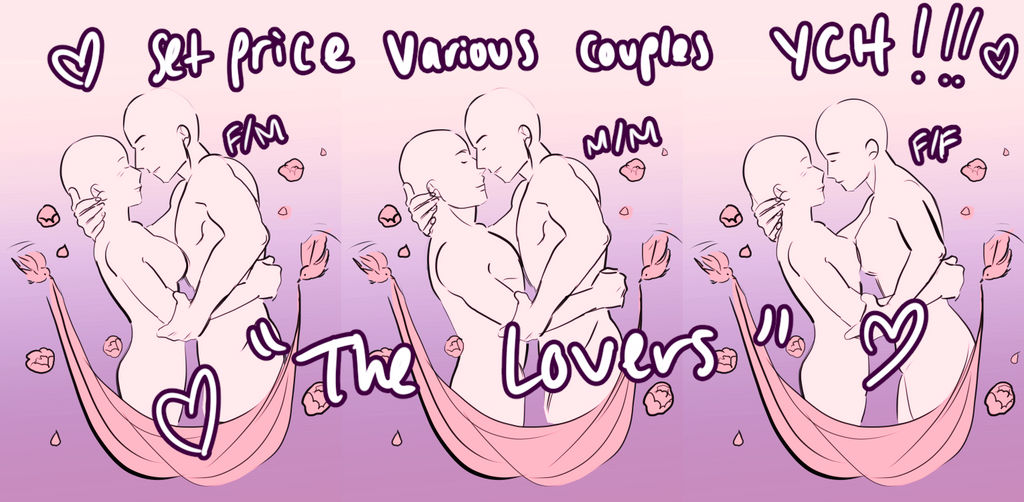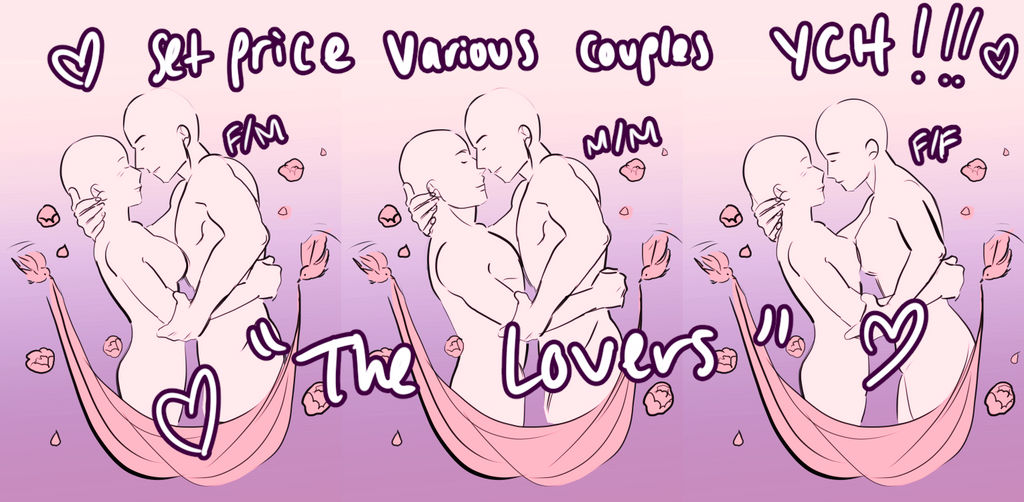 Watch
Lines with one color underneath:
$12
Flat colors:
$17
Full color with shading/details:
$25
* Upfront payment in USD (paypal)
* This YCH will be colored with flat colors (no or very minimal shading).
* The bird/ribbon detail is optional! The finished piece doesn't have to have it, if you prefer.

* NOTE, this is
NOT a base!
Please do not use it as such.


View all my other YCH
To order:

Which couple:Color preference (lines, flat, full color):Ref(s):
Notes on facial expressions, details, outfits and etc:
Slots:
1: Taken by ShadowAxe
2: Taken by CodeHeaven
3: Pending by @
mai-anjelle

4. OPEN
5. OPEN

Ahhhim at work about to start my shift so I can't fill out the form or get links until I'm home, but would I be able to claim a flat colour slot for $17 so I don't lose my chance? ;v;
Reply

Welp, here again... Scrambling because I'm a Valentine Softie. I think I'll go for speed, since I've only got a few days before the big day.
Lines with one color: Pink
F/F
Ref(s):

Becca will be the shorter one:
Gtro: Rebecca Coleman at your service (update)
Ayra will be the taller one:
GtRO - Auntie Ayra by roiielsquall
,
GtRo: Ayra Kazunari

Notes on facial expressions, details, outfits and etc:
Becca appears anxious, waiting on her kiss and hoping she doesn't mess up; Ayra appears amused at how girly Becca is being.
Once confirmed, I'll sprint to PayPal as quick as I can.
Reply

Haha, wooohoo, welcome back!

Thank you so much for your interest again! (Ikr, I didn't expect V-Day would be here so soon already!) Your refs and info are perfect; whenever you're ready, you can send the payment ($12) and I can start on it right away!

Reply

Reply

Thank you so much for the interest on this one too!

Would this commission also be flat colors? If so, it'll also be $17, and you can send the payment over to: sevitachan@gmail.com whenever you're ready. ^^
Reply