Ladies and Gentlemen of Castle Drachenfels,
It is my honor to introduce to you an artist, who has become a beloved Star of the Castle Drachenfels community in a very short time.
He is a talented rigger and photographer, very well known for the excellent quality and aesthetics of his artworks.
Please welcome:
SilvanusArt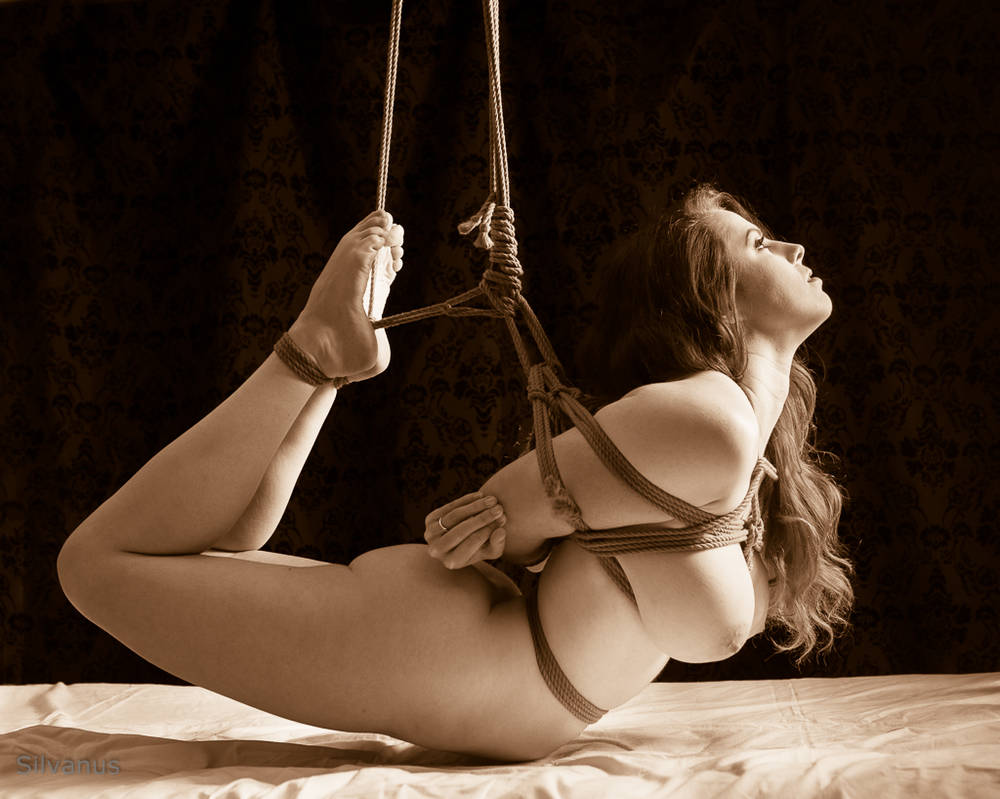 Toshi81: Great to have you with us today, John! Please introduce yourself to our members.
SilvanusArt: Hello my fellow Castle Drachenfelites. Thank you for this opportunity to share a little about myself and my work. I hope you find it interesting, informative or inspiring in some way.
I have been taking photographs of people for 40 years and while learning about technical matters (cameras, lights, locations etc) and learning about my subjects, I was surprised to also discover things about myself. My photographs are a window into my soul.
Toshi81: Please explain how you have become such a great artist. When did you start being creative as a photographer in the first place and how did things evolve from there?
SilvanusArt: Looking back over 40 years, I can see how certain events brought me to this point.
With my first manual camera, I used transparencies/slides rather than prints. (I will leave google to explain what transparencies are for those who are not familiar with that term.)
The significant factors are:
- exposure had to be exactly right in camera (there was no post processing)
- framing and composition was fixed (there was no cropping)
- slideshows enabled my photographs to be shown to others (I had two projectors so I could dissolved from one photo to the next and could automate it with a backing track)
With my manual camera I used a chart with sunny/cloudy/overcast for Aperture and Speed settings. Despite my next camera had a built-in spot light meter, my exposures ended up worse. That taught me to be careful to meter the right surface.
I was living in different cities and so candid portrait photography was something I could do on my own and candids meant I had to look and wait to capture that special expression. Every frame cost money but Expressions were key.
After 30 years, I became a professional Portrait and Wedding Photographer and needed to learn how to use studio lights. I could not find anyone to pose for me so I hired models and that introduced me to model sites where I could choose the models I liked. Looking at my models indicates what appeals to me and that was experience, attitude, expressions, body shape, elegance, creativity, personality etc.
I thought that Art Nudes would be best to learn about lighting but social stigma made that inappropriate and so I went for lingerie shoots. Unfortunately, I found that lingerie was very expensive and models just did not turn up with lingerie I liked. Locations and sets were also important but expensive.
I was not particularly pleased with the results but then, one day a model (who never shot topless/nude) started to show more and more skin, eventually becoming topless. She explained afterwards that she had always wanted to do a topless shoot and felt safe with me. It meant a lot to me that she trusted me and it was a very special moment for her to see her body in pictures.
I had a 19 year old customer ask for a day's shoot and she wanted the whole range from clothes to sexy to nude. She actually hated having her photograph taken because of her appearance but her fiancé kept asking for photographs. This was her treat for him. After seeing the results, she said that they made her feel so much better about herself. That shoot gave her confidence and she booked a second and a third shoot. She grew bolder and bolder each time and became much freer.
I realised that nude photography can play a very special role in people accepting themselves and it was even better when they realised that they did not need to be airbrushed!
A key moment was when I decided to do what I wanted despite the stigma of 'dirty photographs / porn' so I started booking art nude models. I kept it simple; just a plain background, lighting and a naked model. The Model and Lights were my clay and Lines, Shapes and Expressions were the result. Simple!
Lines and shapes brought pleasure to my eyes and expressions connected to my heart and imagination. Combining these quite different elements was key.
So that's how my photography became what it is today.
Toshi81: At some point in your life you must have decided to become a rigger, too. How did you find out about your love for rope bondage in art and when did you start learning these skills?
SilvanusArt: After a few years of producing art nude photographs that I particularly like, I was finding it hard to come up with new ideas. I saw some impressive decorative ropework and decided to try that. I tried to design and create my own lingerie. Gestalta was my first Rope model except she insisted on doing her own ropework. Afterwards, she arranged for me to shoot a Japanese Shibari Master Rigger tying her in suspension.
While I enjoyed the artistic challenge of the shoot, I realised that I wanted to control and create the ropework myself, not just to shoot it. So I arranged a shoot with Jo Paul and did all the ropework myself. It was a lot harder than I thought and it kept falling off her. I had learned knots as part of sailing as a teenager but tying on a live human naked body was a very new experience. I was also very aware of the major rule in every shoot, "Don't touch the model!"
I decided to take Rope lessons and ended up having 30 hours of 1-to-1 Japanese Shibari lessons. Rather than being taught how to create Rope patterns, I ended up learning something much more interesting. For hours, I tied the same chest harness, again and again and again. It was reminiscent of Wax On, Wax Off.
What I learnt was Rope handling, flow, tensions, body handling, communication, interaction, engineering, consistency, safety, muscles, nerves, and veins etc. This greatly increased my technique, ability and confidence which enable me to put another person in bondage that was a pleasurable experience for them. It's the process and not so much the end result.
By the end of the training, Rope bondage felt more like ballroom dancing with flair, intense thrills and moments of profound peace.
I arranged a second shoot with Jo Paul and she immediately noticed a change for the better. She was fantastic to work with and accepted that it was not practical to tie without body contact. She helped me to overcome my hesitation and grow in confidence.
I continued lessons and practised at Rope clubs. It was a long time before I knew enough to do suspensions safely.
With models on shoots, apart from remembering how to tie the intricate Rope chest harness, I had to consider their pain levels, the dangers to nerves and blocked circulation. I had to work out the sequence of ties to support the whole body and also the sequence of letting the model down safely and also immediately in an emergency. Avoiding lasting marks was a major concern. This was on top of setting up the suspension rig, the lighting, background and helping the model to relax.
The rest is history and on show in my gallery.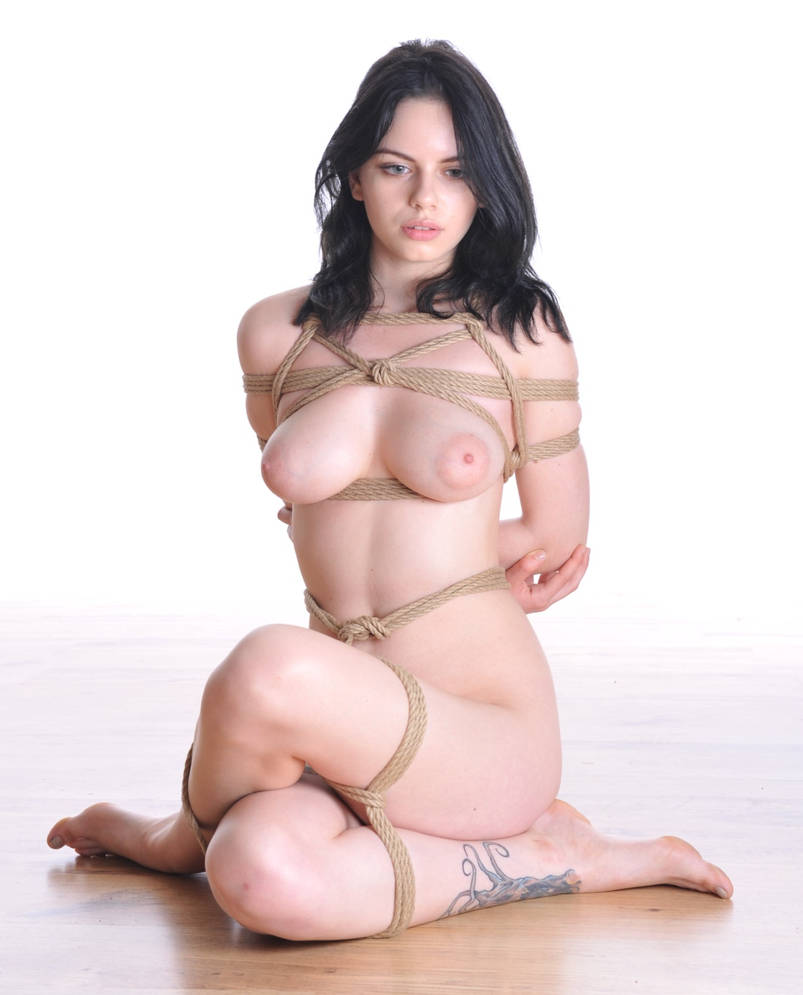 Toshi81: What does bondage in general mean to you?
SilvanusArt: At one of the Rope clubs I found a young woman who really wanted to try being suspended, so I obliged. She loved it so much that she agreed to meet monthly. She was an ex-gymnast and was used to being physically pushed; her attitude was No Pain, No Gain. There was certainly plenty of pain with suspension but she wanted even more, but it had to be the right sort of pain.
I therefore designed ties which would maximise the strain on her muscles and placed rope on parts of the body that created pain if she moved etc. We spent 5 hours a month doing this and she would leave very high on endorphins each time.
I particularly enjoyed the creative design and engineering aspects as well as the personal interaction. Each set of ties had to be designed to give the right type and level of pain at the right time. It was like a movie or book that has an introduction, builds up the tension to a climax with twists and surprises and closes.
This rope play was very different to photoshoots with models who could not afford marks and did not want any pain.
I grew to enjoy the Rope bondage process for its own dynamics more than the photography.
I then found two other women with some rope bondage experience and began tying them for pleasure. Each was very different and so it was an interesting time for me.
This bondage dynamic was about using Rope in a way to create experiences for the model. The end result can be restraint, pain, decoration and beautiful, however it was the process that was very interesting and enjoyable. Rope can caress, bite, sting, pressurise, burn, flow, frighten, reassure etc. The language of Rope conveys all sorts of feelings and meanings which the model appreciates.
Rope play can be a little like Massage; it can be pleasurable in its own right but sometimes is a prelude to sex. None of the Rope play that I did ever included or led to sex. It was pleasurable in its own right without sex.
It was at this stage that I realised that the pleasure of Rope went far beyond the photograph. I wanted to photograph myself doing Rope but realised that both Photography and Rope Bondage needed 100% of my attention and I would never be able to do both at the same time.
Toshi81: Where do you take your inspiration for your bondage artworks from?
SilvanusArt: At first I searched the internet for bondage photographs that appealed to me. I then used these to show the model before the shoot. We would then choose a selection together and that would be what we would do that day.
As time went on, I would have my own ideas which could be improvements on what I had already done or new ideas that I had not tried.
My aim was generally beautiful lines and shapes. Occasionally I would create the impression of pain or strain. My art nude experience fed into this as did my portraiture with expressions.
Toshi81: I have learned that you are a highly professional and responsible person, who is very protective of his models. Is that the reason why these beautiful women dare to join sophisticated bondage shootings with you, which could even be slightly painful at times, when there is rope pressure put on very sensitive body parts?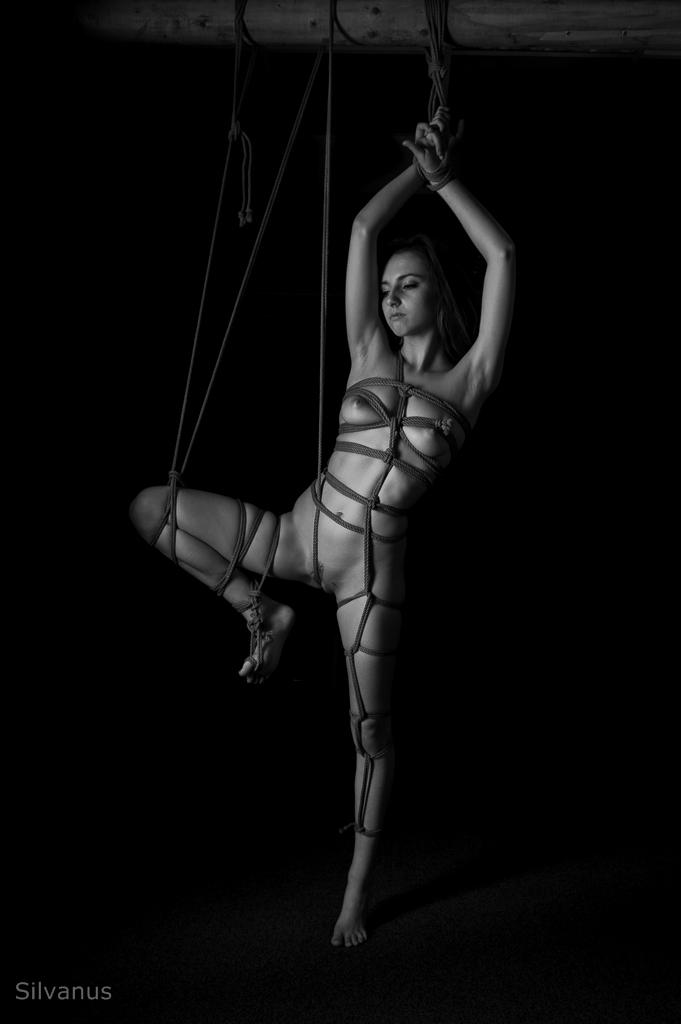 SilvanusArt: No doubt my online reputation reassured models. It's a small world and I know that models talked to each other.
Some models did have some bondage experience but most did not. However, trust is key for every nude model and 10 times that trust to be tied up and suspended. My reputation on the websites certainly helped and then the photographs appealed to enough models who agreed to shoot with me. A good number were not interested.
There was not much discussion about where the Rope would go as they had seen my work, and the ideas before the shoot. I would simply ask if it was ok to put the Rope on 'that place' or if they would prefer to do it themselves. Invariably they asked me to.
No one was actually in any serious pain. The results were all acting for the camera.
Toshi81: Personally, I am a great fan of your art and I hope for many more artworks to come! Please tell us more about your future plans as an artist.
SilvanusArt: Each shoot is costs about £500 and my personal circumstances have changed and I can no longer afford it.
Also, my love of Rope has grown and I want to photograph real Rope bondage without any acting. I believe that would be intriguing to capture the real connection between Rigger and model as well as the model's true reactions and feelings.
Toshi81: I am very sad to hear that! I wish we could find a solution, so you could carry on with your amazing art. Would you possibly accept applications by models, who want to be photographed in bondage by you?
SilvanusArt: My ideal body shape is petite with toned curves. You can see examples of my preferred models in my gallery. Well rounded larger bodies while lovely in their own right, are not my first choice for Rope. They create larger bulges when tied and more weight can make suspensions particularly painful or dangerous as well as needing more Rope to mitigate against this.
- Ability to endure some pain is necessary. Some skin types are very sensitive which prohibits this kind of rope play.
- Stamina and flexibility is preferable as Rope bondage can be surprisingly tiring and strenuous.
- Commitment to regularly attending clubs is ideal so we can practise and experiment. This entails being tied in front of others. Some clubs are clothed only and others allow nudity. I have been to clubs in London and Bristol, UK.
- Tying full or partially nude women is preferred. Clothes can snag the rope or hinder the tying process and also prevent sensations on the skin from the Rope. I also prefer the cleaner lines of rope on skin. I find that most clothes break these lines.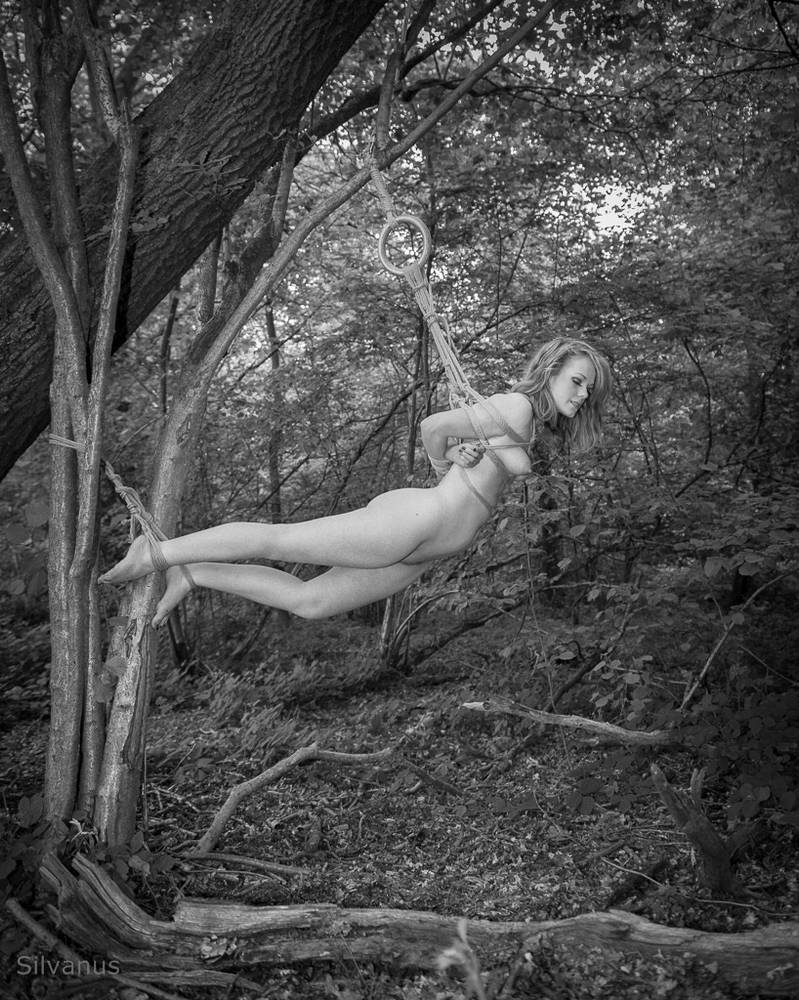 Toshi81: What do you like about the Deviantart Community? Do you enjoy the comments and feedback your receive online? Do you also like the inspiration when you are watching other artists works? Please name a few artists or commentators of this community, who deserve to be mentioned because of their great skills or their work in the Online Community.
SilvanusArt: I have not particularly interacted with this community but do appreciate comments. I find it interesting to see how people describe and categorise my work. I aim for beauty and emotional connection for the viewer. It is reassuring when others react this way.
I also try to avoid typical sexy, glamour, pornographic images (although I do recognise that this is in the eye of the beholder). I would be disappointed if this was all that was seen in my work.
Since I am no longer shooting, I hardly look at other artists work. I do sometimes look at the work of people who comment on mine but not very often.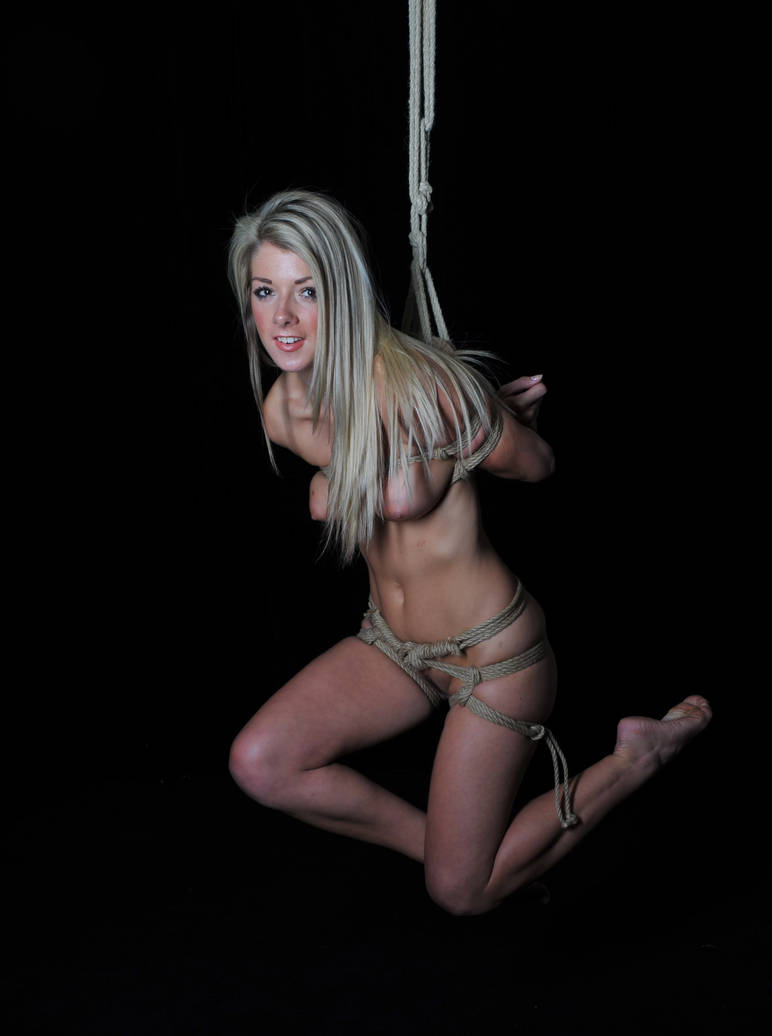 Toshi81: Last but not least.... would you like to say something to your fans, right here at Castle Drachenfels?
SilvanusArt: Thank you for all your interest and support over the years and I hope you continue to enjoy my work and can take something from it to inspire you to create your own art.
I am very happy to answer any questions and share what I have learnt over the years.
----------------------------------------------------------------------
Credits: All photos belong to
SilvanusArt