Ladies and Gentlemen of Castle Drachenfels,
it is my pleasure to introduce a very talented photographer from Germany, who is very famous for his outdoor BDSM artworks.
Despite being a long-time member, he has just recently started presenting his fabulous photos.
Please welcome:
Carnifex68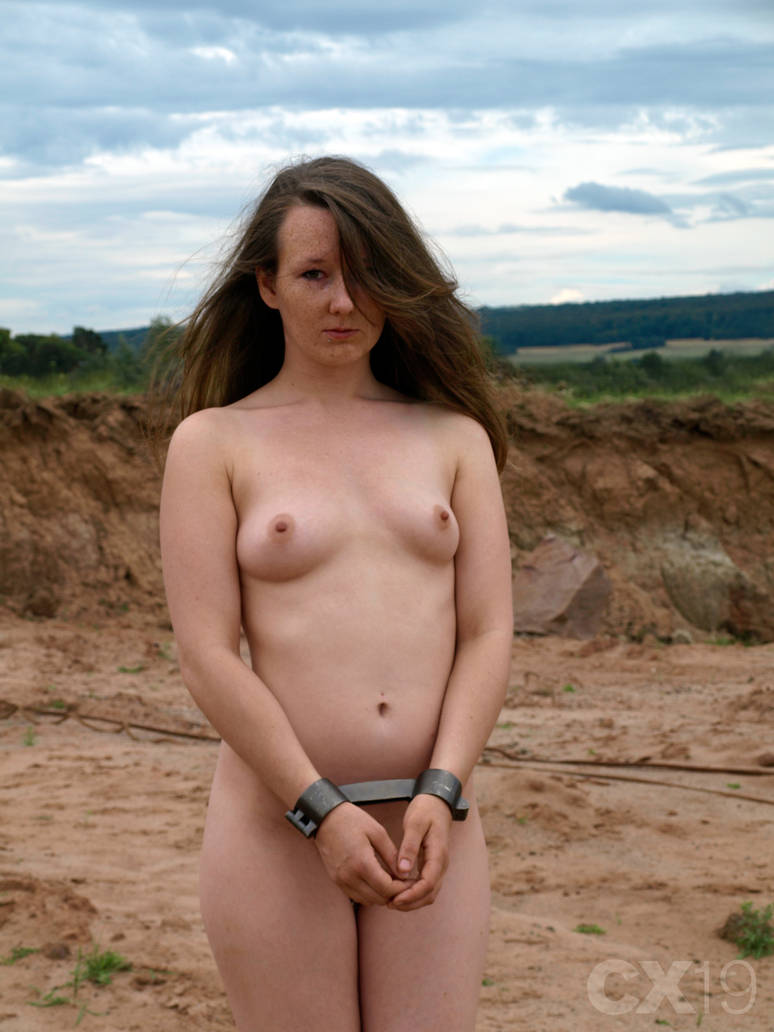 Toshi81: Thanks for joining the Show today, Phil. Please introduce yourself to the members of Castle Drachenfels.
Carnifex68: Salvete, amici. I am Phil, graphic designer, 50 years old. Also interested in literature, art, cinema, music, architecture, history, cuisine and cooking, beautiful women and BDSM.
Toshi81: Let's talk about your background as a photographer first. How and when have you started your journey into the creative world of photography. Do you still remember your very first camera?
Carnifex68: As a child. I got my mother's Rollei 35 and started to take pictures. Later an OM 10 followed, and so on. On the art school i learned photography on a more professional level, although i wouldn't call me a professional photographer.
Toshi81: Your gallery reveals, that you have created a lot of BDSM artworks in exciting outdoor environments. A great scenery seems to be an important part of your compositions. How come? Is this actually a part of your storytelling? Or do you just dislike working inside a building?
Carnifex68: Especially when it rains or there is lousy weather outside, i really love to be inside a building…
No, first i saw BDSM imagery from other people than artists when the internet grew up, but soon i didn't want to see no more other people's living rooms, decorated with a certain lack of style and a tied up person in it.
Also an image should tell a story, and a background has to be neutral or it should interact with the motive. That's how i learned and like it.
Toshi81: Where do you usually hire the models for your shootings? Some of them seem to be very enthusiastic playmates in the BDSM context of your compositions. There are even some photos of actual punishments and whippings in your gallery. Do you know these models personally for the most part?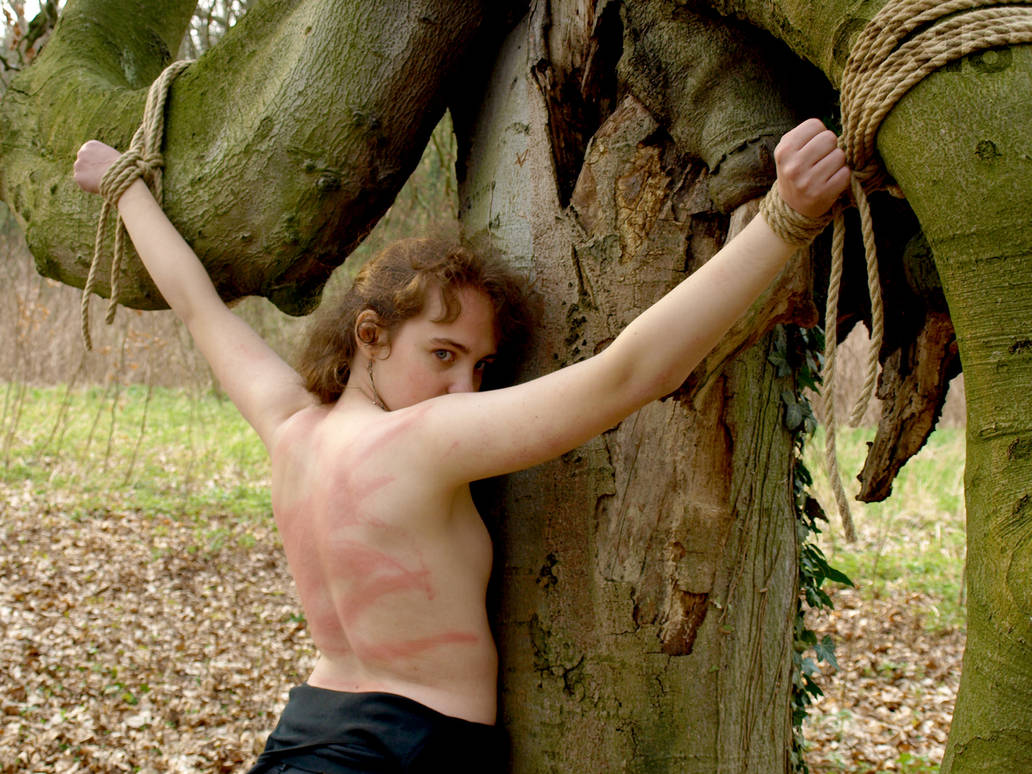 Carnifex68: I know them all. Mostly from a german BDSM community. Some of them i just met to do a shoot, others are girls i used or use to practice BDSM with.
Toshi81: When did you get in touch with BDSM for the very first time? How did you even notice your preference in the first place?
Carnifex68: This is a long time ago as well. When i was a teenager, i felt very attracted of damsels in distress in movies, art etc. In the coming of age phase i was still confused about it, but also curious. Quite early i read things like Elizabeth McNeills "9 1/2 weeks" or "l'image". Somehow later i started to do BDSM actively, with a certain focus on bondage.
Toshi81: Let's talk about your personal style for a moment. I think your art represents a rather clear and coordinated style, with very strong bondage aspects. There is usually just one girl visible. Medieval elements can be found in multiple shootings. Usually your photos seem to represent a special kind of storytelling. Can you please tell us more about the creative process? Do you always have an image or story in mind beforehand? Are there certain aspects, which you like to work out in your photos, such as the contrast of a soft female body against hard iron chains?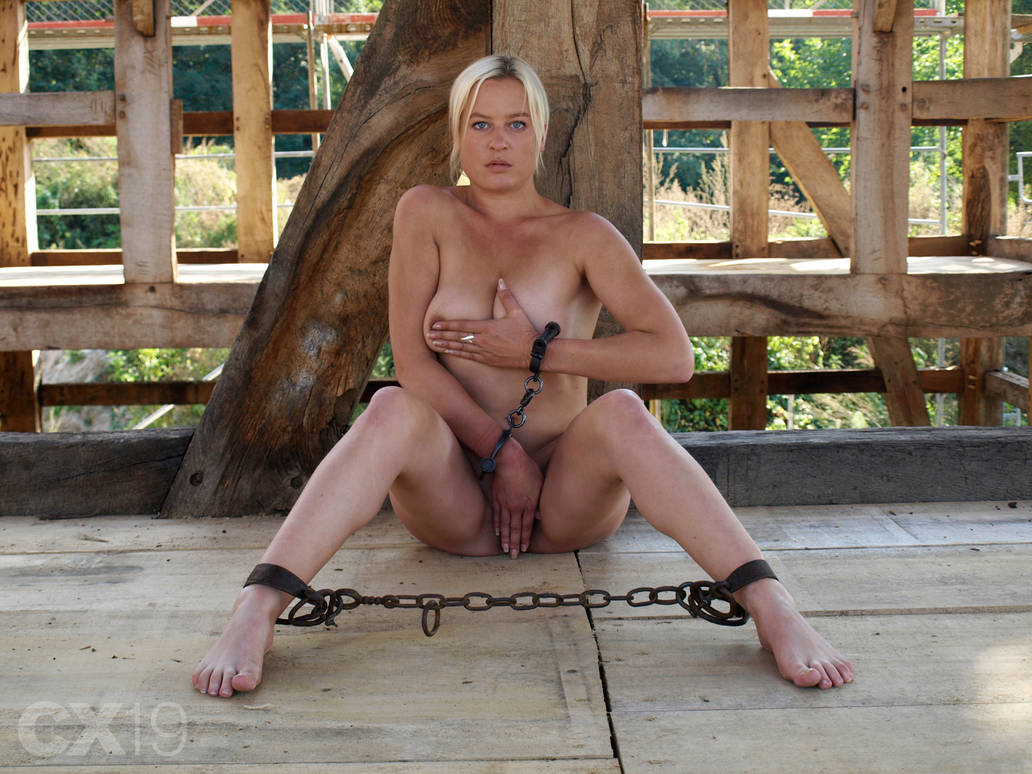 Carnifex68: The contrast of strong ropes, rusty iron and soft skin is one important thing. Contrast is necessary to create a strong image, an effect.
I create images as i do all design and typography, and this comprises discipline as well as imaginary. And it's the same style like in all my graphic work and imagination as well as a certain amount of… madness?
For the content of my photos - that's different. Sometimes i am inspired by the model, sometimes by the location, and sometimes i have something in mind and chose model and setting for this idea.
The medieval style elements are based of my fable for history and historical architecture and culture. I am an rather old fashioned guy, i think. For a while i lived in a house about 450 years old with even older walls, from the high medieval…
Toshi81: Do you enjoy the feedback you are receiving here? Have you been following other creative people on the Deviant Community? Please name a few artists you really like.
Carnifex68: Feedback on DA is mostly OK and helpful. I am very interested what other people think or feel when looking at my work, especially women (how men react i can imagine moor easily for i am one of them).
Artists i really like? A lot of…
calvato
,
DavidSamson
,
ilcato
, to pic some of them.
kindinov
and
Grigbertz
too.
Toshi81: What is your favorite bondage gear? Shibari ropes maybe? Plain chains? Or the famous Volkspolizei handcuffs?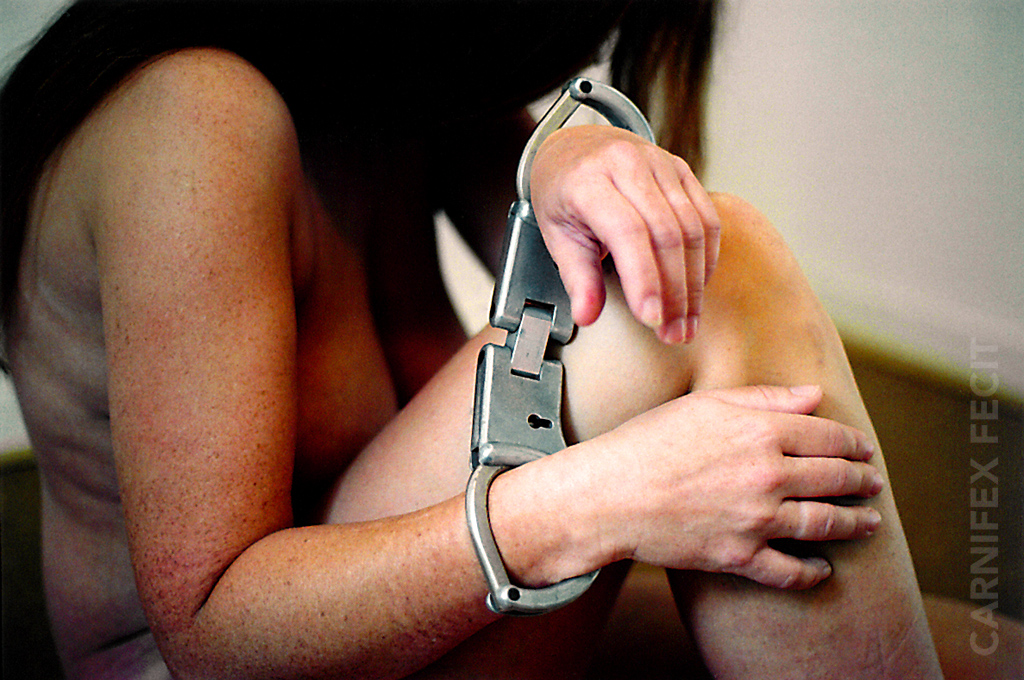 Carnifex68: Shibari ropes are beautiful, but i use thicker ropes in my images, for the effect. The problem is, that the knots are thicker too… Rope with natural colour. Wooden restraints. All kind of handcuffs (quality cuffs - not this pink plush stuff), vintage preferred. My VoPos (original german Weimar era, designed in the 20es) i like very much, but also my darbies. Leather when it's well designed (rare). Simple belts and so on. I like it raw, simple and effective. Tape i don't like for example, or white or red ropes. They look… cheap. Chchi stuff.
Toshi81: The following question has got a fictional context and it is all about the Castle Drachenfels group and its members.
Please imagine the fictional world of Castle Drachenfels, which is a medieval place, full of mystical characters, evil creatures and brave warriors. Drachenfels represents an independent territory, surrounded by different kingdoms, with the Castle itself being the central point of this anarchic area. The Castle is the one and only prison for women throughout all Kingdoms. Captured Princesses are being sent there, as well Criminals or enslaved Dancers.
What would you be, if you were a character in this world for just one day?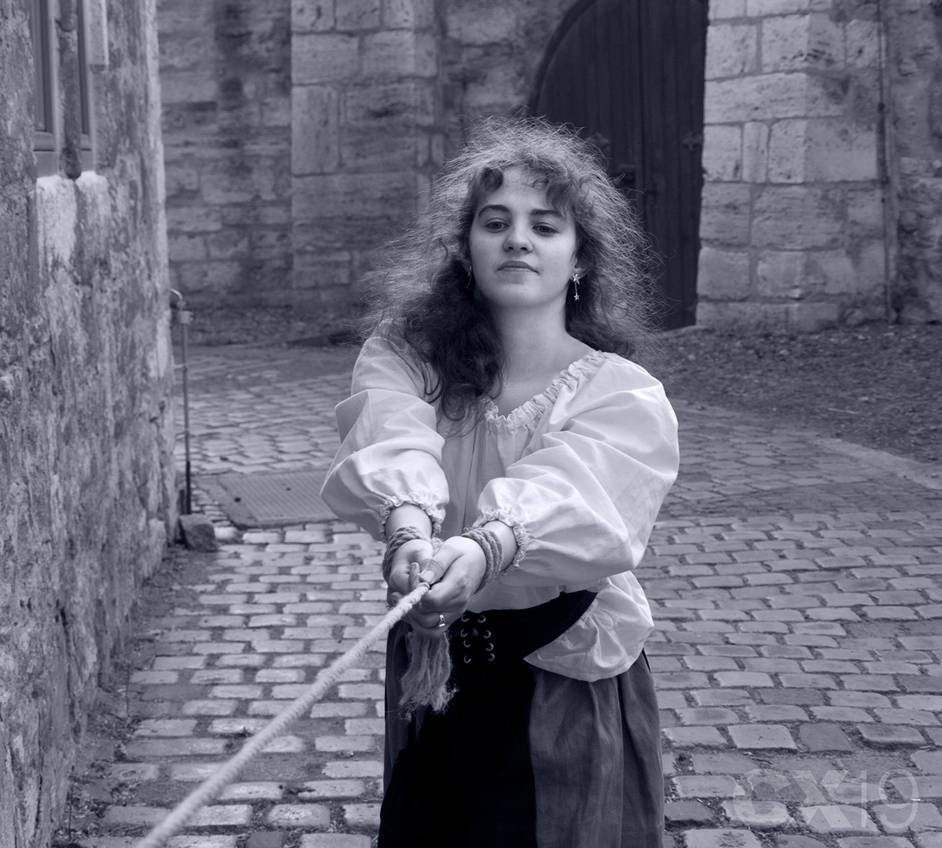 Carnifex68: I think my nom de guerre says it all…
Toshi81: What about the future? Are you going to stay with us in this Community, showing us more of your great art? Do you still have shootings going on?
Carnifex68: Still there's more to come, also some more graphic work some day. I'm not convinced enough of this work at the moment; i have to improve it before i'll show it to the community. I am short in time, my job occupies me very much in the last years, but i hope to find some time and new girls to carry on.
Toshi81: Thank you for the interview and for your great work, as a Knight of Drachenfels! The people of this Castle enjoy the beauty of your prisoners in ropes and chains, who are brought to the Castle's prison cells.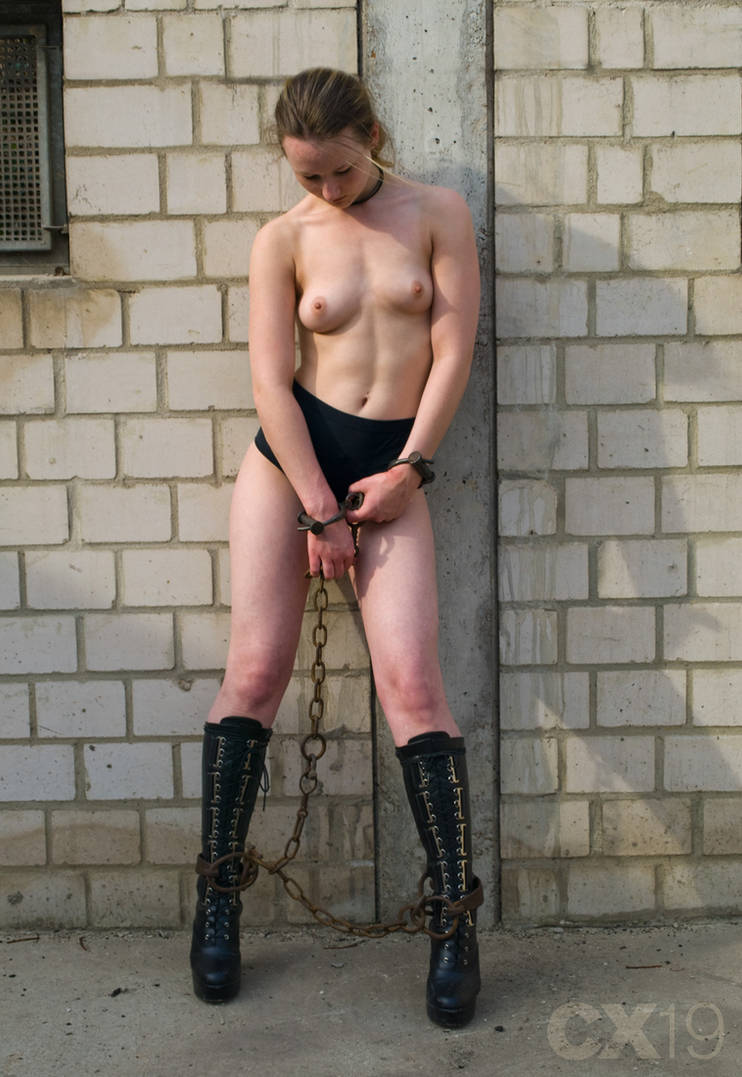 Have you got some inspiring final words for your fans at Castle Drachenfels?
Carnifex68: Inspiring… maybe an advice - don't hide or suppress your fantasies, enjoy them.
----------------------------------------------------------------------------
Credits: All photos belong to
Carnifex68