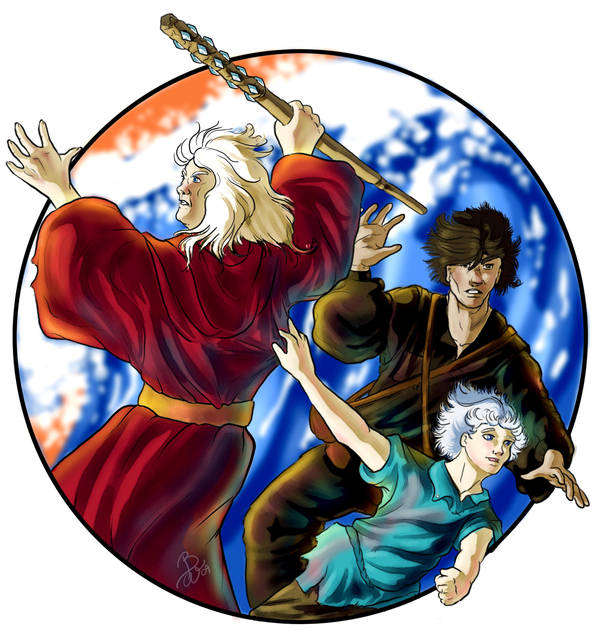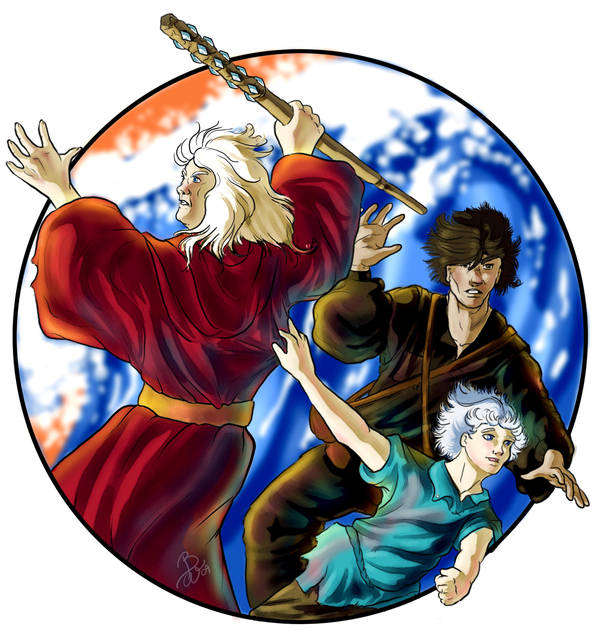 Watch
From left to right, characters Medallion (master mage), Blackavar (master thief) and twelve-year-old Keith (main character), running from a wall of water breaking through the underground guild. The water, taken from a nearby lake, was used to tunnel between the walls for bathing, drinking, and washing. When the town guards discovered the guild, they tried to invade. The order was given for the water to be released. Thus, everyone must run for their lives...or drown in boiling water! There's a very touching death scene here as well. Can you guess who dies?

I didn't read your comment below and I thought it was the mage, hehe. I like the expressions on their faces. That wall of water seems seriously threatening there. They look like they could use some serious help.
Reply

Hehe, yep. It's really sad. I liked that character, and Keith looked up to him. We never see him do magic until the water scene, but it's a major turning point because it's when Keith starts using his own magic without realizing it. He just thinks it's Medallion all the while.
Reply

Awww, poor Keith. It's sad isn't it? Having to kill characters you really like.
Reply

I was sad...*cries* but necessary. Medallion will live on through the guild's new master mage! Yay! Reincarnated Keith! haha, just kidding. You know, before I edited that part, Medallion had a full backstory of how he became a magic-user. Very similar to Keith's plight. But I scrapped it.
Reply

Aww, I like having backstories for all of my characters, no matter how small the role is they play. It makes them more human in my eyes, more complete.

Why did you scrap his backstory?
Reply

Well, it was too similiar to Keith's story. Crazy uncle hates his nephew and wa-la! Magic time! In Medalliona's case, his uncle threw a knife across the table and Medallion wisked it aside with a thought. Pretty cool, but Keith has the same problem, only his isn't knives but food at a slave auction. Basically, Medallion was telling the story to Keith, but I didn't like it so I threw it out. Since Medallion wasn't a major character, I didn't think I needed it.

Who knows really? Maybe some distant story Keith will time-travel?
Reply

Ah yeah, too similar. Time travel *giggles* I get a vision of my Warlands comics right now. When he was a young the mage Zeph had to watch his mentor Delezar die and how a powerful mage come forth right afterwards to beat the crap out of his enemies, telling him it would be alright. Later on he discovers it was himself as he was older, travelling through time.
Reply

Yay! That's great! The water looks very natural!
Hm... I'll try to guess... I think it'll be Blackavar.
Reply

Close...

Keith was lost in a maze of sounds and images. Though he ran with the rest to higher ground, the image played over and over in his mind. His fingers clamped the medallion tighter, imprinting the inscription from its cool surface into his palm. He could see the wizard standing outside the tunnel, knowing that he was dying. With the tunnel safely closed off, he opened his arms to embrace the warmth of death.
Reply