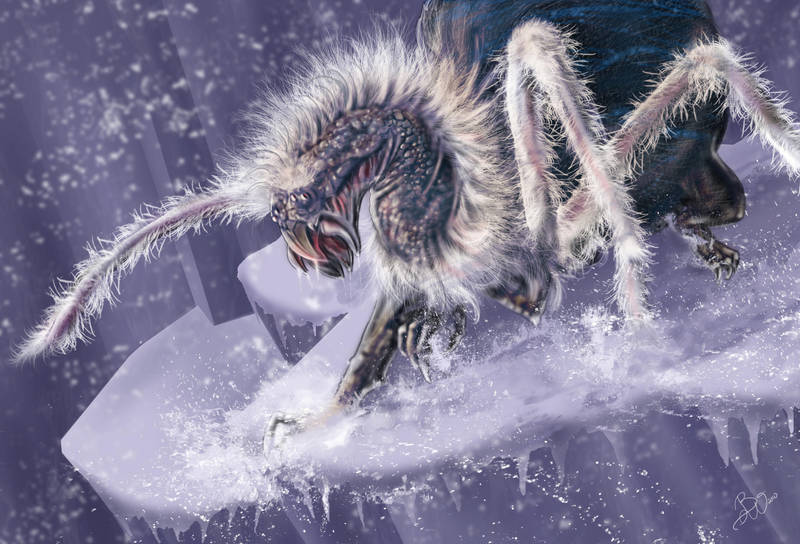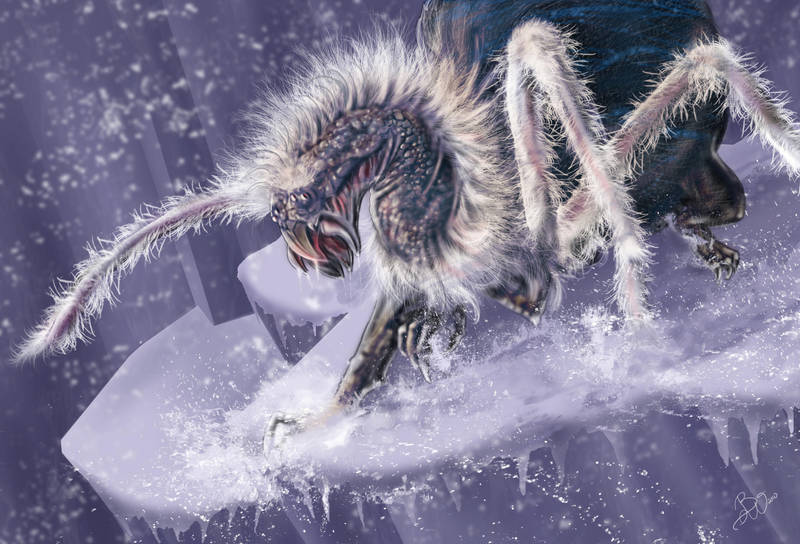 Watch
Contest Entry for "Dragons Around the World"

Many have reported the elusive "yetti" only because they survived, or have seen it in the distance. But that creature is snack compared to the Himalayan Ice Dragon. One glimpse of this and it's already too late. Supposedly, there is only one in existence. Its thick fur protects it from the cold, and the extra spider-like limbs help it climb the steepest cliff. Rumors claim the creature is responsible for avalanches that can spread miles around after settling. It is unknown whether it can actually spin web, since its backside resembles that of the spider abdomen.

Yes thats my favorit for the contest wonderful work my pleasure
Reply

....waaaaannnnnnntttttt i don care if it eats me i would be smiling and trying to hug it the whole time~ this is sooooooo well drawn. i love the furred legs, does it have 8 like spiders do? If there is only one is it male or female? why is ther only one? did they hunt each other cause food was so low? do they lay eggs? if they do how do they keep the eggs from frezzing? oh my..sorry for so many questions...i just like it soo much.
Reply

Well thanks!!! Yep, eight legs if you consider the two dragon claws in front and stubby legs attached to the abdomen. The spider legs keep it from slipping. I was thinking if it did have offspring, the spider legs would actually have webbing so glide from clifftop to clifftop. Then as it gets older, the webbing drops off, its butt enlarges and it ends up eating whatever it can find. I suppose in a place like a snowy mountain top, eating each other might be an option. Also guessing if someone took a photo like the one I drew, they'd be dead before they could figure out what gender it is.

That thing is dang creepy. I wouldn't be hugging nothing that had jaws that could open three ways, lol.
Reply

sweet so how do they have kids? if they lay eggs what keeps the eggs from frezzing?
Reply

That's debatable. In terms of spiders, the male is smaller than the female. Perhaps in this scenario, this could be female since she's HUGE! I'm also thinking she just keeps the eggs inside the abdomen and they explode out or something when they hatch. Of course, she would probably die in the process, so the offspring can use her as their first meal.

(the mother giving herself to feed babies actually happens to a type of spider we have today) Crazy, huh?
Reply

Woooow. I can see this being concept art for a kickass monster from LOTR or something. Keep pushing that envelope!
Reply

OMG! this is amazing ! I am breathless looking at this is WOW! I love the stroy behind it! WOW this is deffiantly going on my fav.
Reply