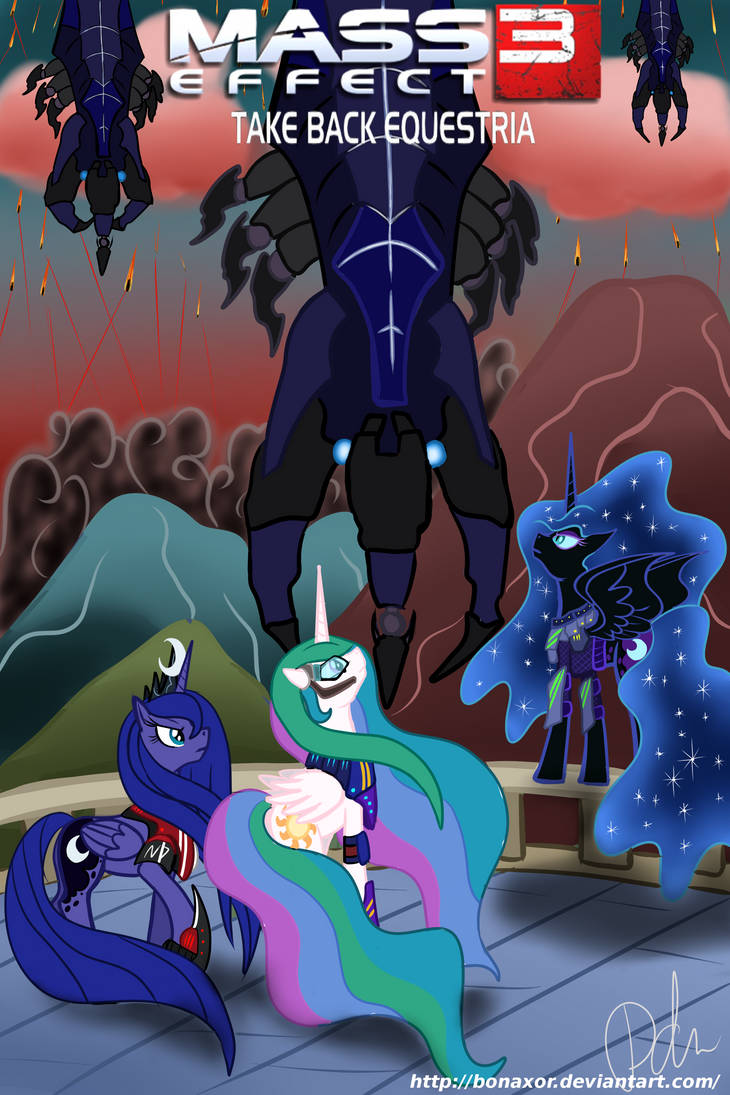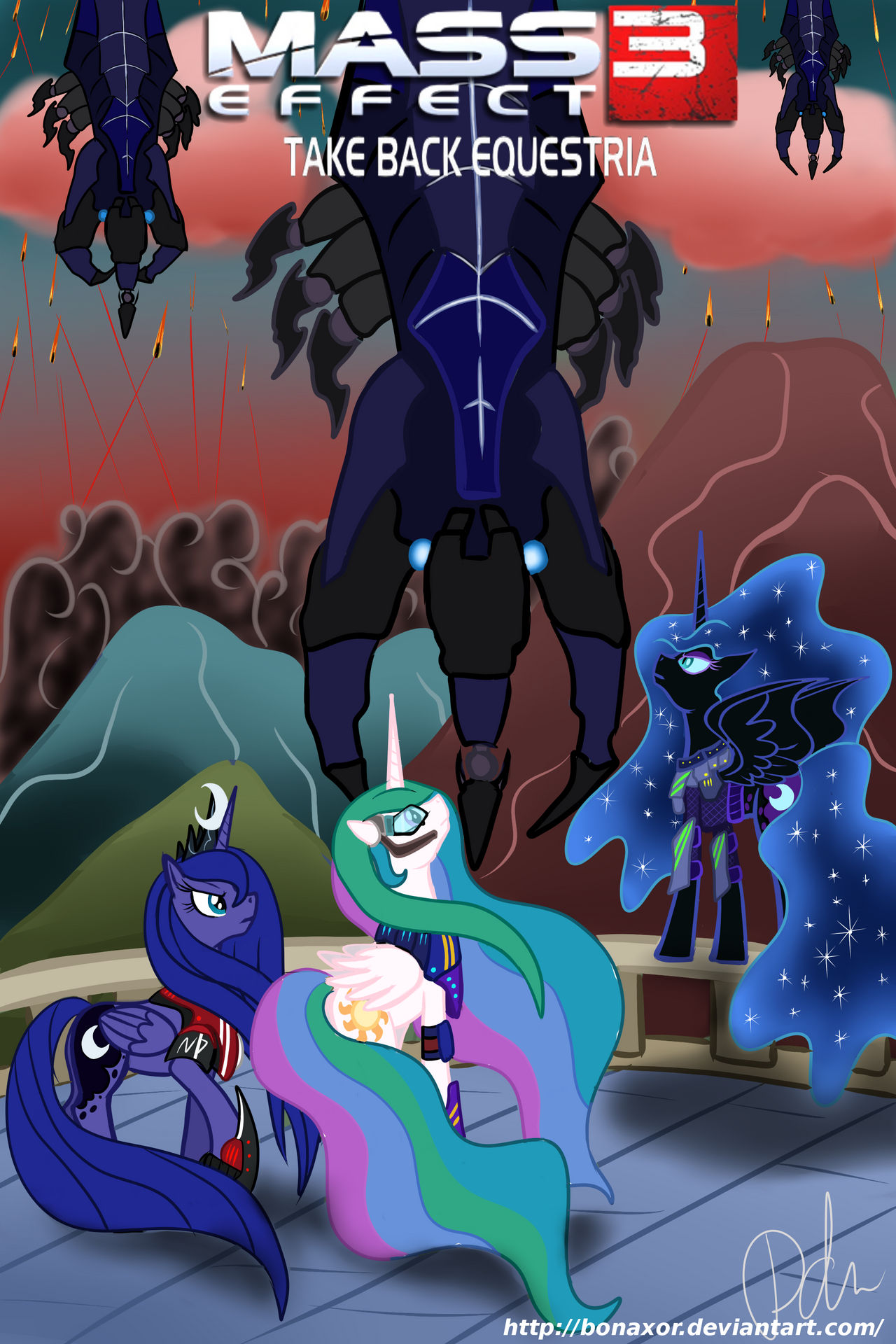 Watch
A fan art for best game of this year. Mass effect 3, the end of great trilogy. Of course here ponies are heroes ( ponies would make this game 20% cooler) and they have to fight against the reapers.
Also this pic is somehow fan-fic of my The Team Awesome. In far future, where Dream is back, Luna took over throne of Equestria to give Celestia some rest, and ponies are able to build starships, the ancient machines are back to bring destruction to all living things.
A little story for this pic.
Three princesses went to the balcony to witness the destruction of their precious Equestria. Monsters from deep space attacked whole world leaving only ashes of ruined cities.
Celestia - Such power. How we are supposed to fight against them?
Dream - I have no idea. We could try to use Elements of Harmony but there are too many of them. One mistake and we are dead.
Luna - Sisters! We have to get out of here before they launch the attack on Canterlot!
In this moment deep, terrifying roar echoed through the air. ( If you want to hear that go here
[link]
)
C - They are already here. - said Celestia looking at massive Reaper that was preparing to land inside Canterlot. Machine moved his legs starting to power-up laser cannons.
L - GIRLS! MOVE THAT ASSES OF YOURS! WE MUST GET TO... - Before Luna could finish Reaper fired his lasers, cutting few Canterlot towers. Princesses took to the skies and flew away, avoiding next reaper attack.
L - Quickly! We must get to our ship and get off this planet!.
D - And were we will go?
C - We will go and find some allies. And I know where to start.
L - Fine. Team Awesome GO!
If you would like to meet The Team Awesome go to their Tumblr
[link]
Mass effect belongs to EA and Bioware.
MLP FIM belongs to Hasbro
The Team Awesome and art in my.
First I wanted to say that I really liked the way you made the scale of the entire image it makes it look like box art. Especially with the text at the top. My guess is that you went for that on purpose and if that's the case you did it right.

Something I don't like however is the fact that all 3 reapers are clearly copies of one and each other. Yes the one on the left has it arms a bit more up and the one in the front has more detail but still not too impressed. (I am sure you had your reasons but that is how it looks to me.) However this must be said: they might be pretty much all the same but they look really good. Lines are tight and just right. Also the proportions are how you would expect them to be. Too bad you cut them off at the top. Why is that? Also the two balls they all have seem to glow ever so slightly. A great detail that I can really appreciate.

For the ponies: Found some bleeding lines/colours. You can see this the most when you take a close look to their manes and tails. Which I find especially noticeable because in the rest of the image it's not a common sight at all. But the overall design off Luna and Dream is great. expressive poses, high detail, and they all have a shade(which is not as common as you might think so good job on that) Celestia looks just a bit off, for instance I got a question mark with her wings I don't know what it is just looks off.(sorry that was not helpfull at all) But I do really like the part of her mane that goes from her horn to infront of her neck and further. Great use of such a small part and it's something we don't see all that much.

The armour they are wearing looks really well done. A lot of detail and I especially like what Dream is wearing. It looks good, natural and very fitting to both her and mass effect. (also her mane looks amazing.)

For the background: The hills do their job as background filling but nothing more. They just don't look that good. But the small dots of invading reapers draw your attention away from the hills and are on there own a nice touch. Also the amount of them is great. Seems like you found a good balance on how much you should fill the sky without it looking overcrowded.

Vision: I can clearly see you went for something big and it takes some guts to actually make it. And overall the finished project might not be what it could have been yet the important thing is that it's still great and get's the message across. (:sh*t is going down, full panic mode enabled)

Originality: Not the first mass effect, pony crossover but still pretty original. I never saw Dream(big surprise) in any other image and the reapers actually landing is also something uncommon. The fact that this picture has a small story behind it also doesn't hurt.

Technique: Some parts felt sloppy or rushed while others really stood out. The overall good design and some nice attention to detail are good enough to carry the image so to say, but I also saw more small mistakes then expected. (altough you can't really see those if you don't look at it for so long and zoomed in, which is what I did.) Also the background needed more attention.

Impact: This image makes me want to play mass effect and gets me somewhat engaged in the small narrative you have given. Which is more then some of the actual art from the mass effect team did. Do I need to say more?

Now as a final note I wanted to say the following: Your image is good, yeah there are some flaws but you only see them when you go looking for them. You show some great potential in this piece of art and I am sure that with a bit more time this would have blown me away completely. Thank you for creating it.
The Artist thought this was FAIR
16 out of 16 deviants thought this was fair.