name: Bombtails (you can call me BombtailsTheFox)
requests : nope.avi
Hello, i'm Bombtails, and this is my account of blah blah blah...i post screenshots because i dunno, and i forget to edit my infos...




favourite TF2 class : i guess Demoman, cuz demoknight randomness
Loadout in Spiral Knights: a Skolver suit with a Barbarous Thorn Shield, for main swords.
Favourite Youtubers: too much to say all in this one...

Get a FREE visitor map for your site!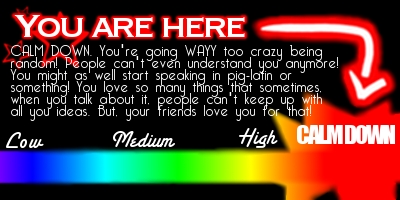 What Is Your Level Of Randomness?
Hosted By theOtaku.com:
Anime
Rules(star he tell his active,empty star is not)

i don't usually like chain comments, so i don't reply after my 7th comment.

don't try to stole my art, my characters aren't named after my nickname for nothing.

i'm not doing request, i'm not that good at drawing...and certain screenshots are such pain to get it.

i like search for favs, but rarely i accept WG and inflation in the list.

please don't spam with me, i don't give a spam...oh god, that was a bad pun i made...

If you have a problem with my art, with my comments or with me, just politely talk with me about that or get out.

If you're interested in my Spiral Knight's Oc Bombtails-The-Fox, or in my Roblox's OC, BombtailsTheFox, for a certain appereance, you can use them, just give me credits. If you have no idea who iare Bombtails-The-Fox or BombtailsTheFox, go here:
bombtails2.deviantart.com/art/…
bombtails2.deviantart.com/art/…

so lazy.
that's all.
BTW, here's some links for my other accounts, you already know steam...lel:
Twitter:
twitter.com/BombtailsTheFox
Roblox:
www.roblox.com/users/120148102…
Deviantart: You're already here, aren't you?
more link coming soon.