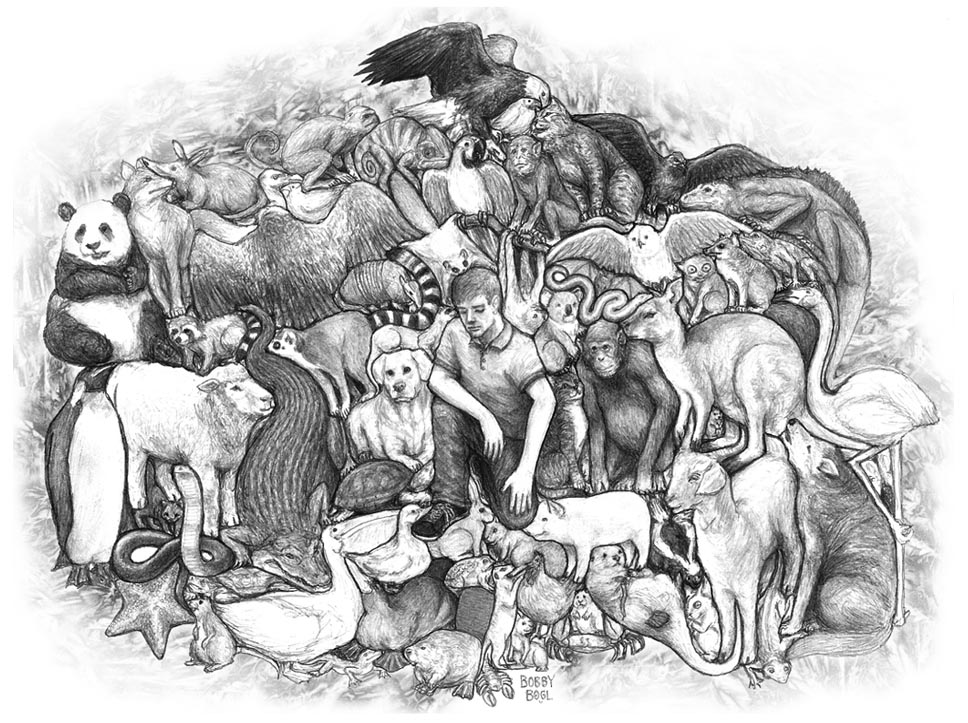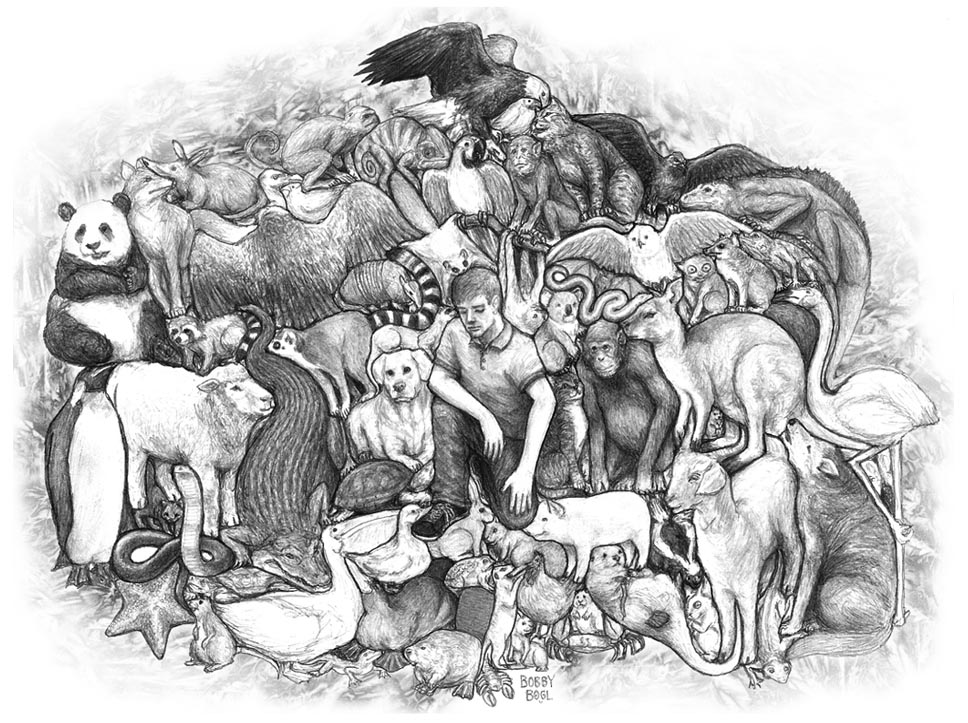 Watch
A new interlocking drawing that I completed in just over a week, making this my fastest interlocking drawing ever completed. I originally started this while on a ride to Cedar Point, and instantly became obsessed with getting it finished in a timely manner. It was MUCH easier to do than some of my more recent works, but that is thanks to the fact that everything in this drawing is 100% organic subject matter.

This basically means that I have much more flexibility in how I can manipulate and fit the creatures together, since there are very few solid edges to restrict me as seen in my "Everything" drawings. The way I see it, you can't pose a toaster or guitar as easily as you can pose an animal. Hopefully this "All-living" drawing holds up as well as my earlier interlocking drawings.

Made on Cardstock with .5mm Mechanical Pencil.

Reply

Wow that is all kinds of awesome

Reply

Do you think about it or sketch out the animals/objects beforehand? Is this all just.. free-handed?

ALSO CEDAR POINT WOO! How'd you like it? Isn't it awesome?

Obviously I'm biased...
Reply

This is more or less all free hand occasionally using references from google images. Once I think of an animal that could possibly fit where I would need it, I would look for the closest possible pose through an image search of that particular animal. And if I couldn't find an appropriate pose, I would have to examine multiple angles from many pictures of said animal to manually pose the animal based on the general body structure. Once an animal is placed, I end up with a new edge to work with, and the process of thinking of a new animal/shape repeats. It can be fun though, because it's almost like a game in itself.

And Cedar point is always awesome (aside from food prices of course), but my last trip wasn't as fun as it usually was, since this time I had to chaperon some younger teenage group members who didn't want to ride on some of the bigger rides. Plus we had to leave early that day, so we didn't get much riding done. But it was still enjoyable nonetheless.
Reply

Reply

thats so awesome. probably one of the best for a fast time too! wow!
Reply

Thanks! I didn't want it to feel rushed, but I also felt there wasn't much else I could add to it. I tried my best to keep ground level and/or semi-aquatic animals towards the bottom of the picture and all the tree-climbing and flight-capable animals towards the top. When I got to the top, I figured 12 different birds would be too redundant, so I stopped at the Eagle.
Reply

Anytime! It looks like you took you forever still but i was glad to hear it didnt take you as long as it normally does and that shows that your drawing skilld are getting faster. Fair enough. Just as long as everything fits in!
Reply

Ohmannn. This is absolutely gorgeous. I love interlocking images like this. You did such a wonderful job!

And this is all mecha pencil? Truly amazing.
Reply

Thanks for the feedback!

And indeed, this was done in mechanical pencil, which is my preferred drawing tool. I just love that they never have to be sharpened, allow for great detail, and they have great erasers. I only wish that they'd invent colored mechanical pencils....

Reply

Your welcome.

Yeah, I do love mechanical pencil aswell. It's a pain to have to sharpen a pencil over and over, especially when you're in the moment with a piece of your art. Although when I want a really, really soft shade I go back to the blunt no.2 pencil, because i always seem to get grainy shading when i use the mecha pencil.
That sounds like a great idea, coloured mechanical pencils. I never thought of that!

Reply