Stage 1 - Final Story Script - 100%


Stage 2 - Character/Scene assembling - 100%



Stage 3 - Posing - 100%

Stage 4 - Rendering - 100%



Stage 5 - Story Final Review - 2 from 2 done.



Stage 6 - Assembling the Main project file + Proofreading - 100%



Stage 7 - Post work and text placing - 100%



Stage 8 - Final Revision/Final fixes - 100%




Stage 9 - Exporting, Packing and Uploading - 100%
Internet is slow


Stage 10 - Secondary Assets 100%
Base character reassembling, final height check for script, height chart, product promo assets, etc

Release date: July 24

.

Pictures rendered = 420 renders (finals + partials + fixes + tests and resource renders)


Final Render count: 290

Workflow:

Awaiting -

Working on it -

Done -

Uploading -

Story release date
Stages: 1script - 2Assembling - 3posing - 4rendering - 5scriptreview - 6proofreading - 7retouching - 8revision - 9upload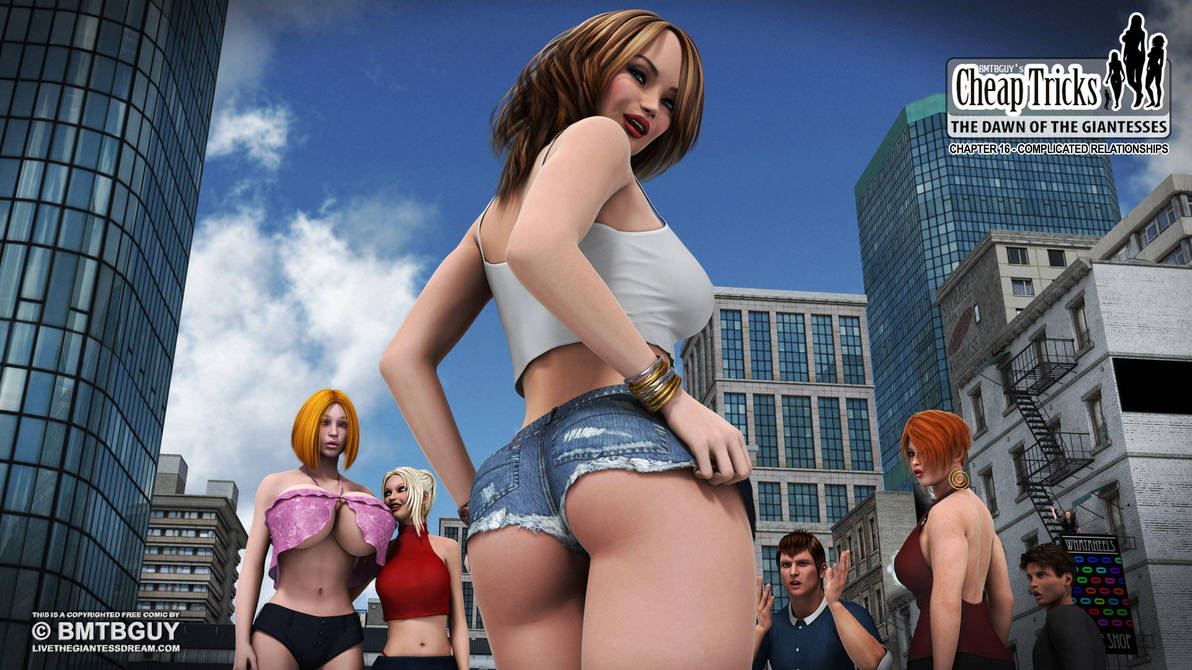 Relationships are complicated, and today wouldn't be different.
About a week after rediscovering herself and embracing her new sexuality, Audrey finds herself in a living dream. Not letting even her mother out of her circle of targets, only to find out that real life is not a dream and it was time to awake. Looking for advice, she catches Karina unintentionally revealing a secret behavior buried over a decade ago, her aunt put herself in a complicated situation that incited one of their clients to run away to avoid that uncomfortable discussion.
At the same time, Mona proposes a partnership with Debra, a conversation abruptly interrupted when the ever-growing Natalie comes back from her vacation to steal her man's attention. While the boys realize their luck, and destiny, as companions of growing giantesses who are jealous of each other! While on the other side of the block a curious photo shoot culminates at the end of a relationship and a couple of girls finding out new cheap tricks!
Click right there and support my work

->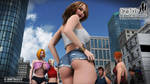 or
Read it for free at GTSartists.com gtsartists.com/gallery/cheap-t…
or
Follow the post at Giantess City
giantesscity.com/forum/viewtop…

10 HOUSTON, WE HAVE A PROBLEM :S
Sometimes we feel like something is wrong, then, surprise surprise, there is: one of the characters size is wrong. All my fault, I've found out only when mounting the height chart. So, to avoid all the stress I'll publish it partially on my Google and post the rest only when I finish the gym scene. Sorry


*edited

9 It's complicated
Good news, most of the work is done, bad news, ain't 100% ok, new old sickness, I'm going into a slow treatment, just medicine and follow up cause it is "under control" but, shit, sometimes it hurts and it bothers me a lot, at least now I know what it is, so, guys, when u suspect something is not ok just go to the doctor or u can pass months hurting your health for nothing. Back to the good news, this weekend was really productive, I managed to finish Aud's scene part 2 and invested on the city scene for closing the chapter and man, it went sweet and nice! Now I'm finishing the scene review for the final rendering, then, if everything go the way I'm planning we might see the next chapter this next Sunday's night. Hooray, gaining speed in my workflow, finally!

8 Here's another 100 (plus one)
Health is better, I'm not that good for real but, I feel better and, this means that my creativity is back at my R7 giantess station for forging giantess stories at full will (or lust or whatever I fell when I make this, lol)! Said this, I could finally focus for a long time in this chapter and I must admit that Ron's scene proved a great stage for the development of the chapter and even helped me to get rid of the old crap I scripted, I mean, I cleared the path for scripting the rest of the plot in the right way. From now on only fresh scripted chapters relying on the base time line with simpler points to follow so I won't waste so much time weaving the plot. Ah, some good news, I worked a lot in Ron's scene, there are 101 pictures being rendered right now, 203 final renders when it finishes, remaining only a little visit back in scene 5 (Audrey's) for Karina's stuff and I will finally go back for the main scene with a more mature script for what I plan to be the climax of the plot, though, some will think the climax was somewhere else in the chapter, hope you guys like this part of the plot. I wish I could answer some comments but I would spoil the plot... Talk to you again soon, we might have a 8.5 update tomorrow night if everything go the way I'm planning.



8 ACHOO!
Still busy IRL, health is not collaborating at all but I was able to decide what to do and script and pose part of the scene that happens in the middle of the chapter. This is a critical chapter, it opens the end of the season 'cause, you know, this season is all about what happens to the girls on their rise to a "stable" life style as giantesses in society, and will reveal some interesting strings of characters behavior before what I believe to be the last chapter of this season (17), very interesting in my opinion because they (and we) will question some of the weird things that happened. The pre scripted complicated chapters are now kinda shattered, I'm thinking about these next 2 chapters for closing the series, plus 1 for whatever happened to them OR an epilogue for season 4. There's so much for thinking and rebuilding for a 4th season that ain't sure of it's need, sometimes I'm afraid this series is getting too large, just a thought. Anyway, Ron's gym receives a nice update and the path is clear for posing the rest of the chapter for I have already 50% of the growth posed, still need to pose the animations of those who behold the growing ladies plus a discussion and, finally, the photo shoot, one of the most important scene of the chapter in my opinion. Talk to you guys again as soon I have something new.


7 Waiting
I didn't do much this week, rendered what I have posed, tested some stuff, played some games, read all the chapters again and slept. I had to be sure of some stuff before I can pout it in the story - remember I'm rewriting the scripts I had for a more objective storytelling and I left a lot of important stuff behind. I still have this small scene to finish, another new scene to script from scratch and pose the 2nd part of the city scene, these last 2 with growth while the first ones are more about plot and comparison. My health is behaving weirdly these days and I have a ton of extra work, I'll try to concentrate a bit more in order to speed up the story. I wish I could render it faster but my tests with hair didn't work well on hair, I'll need to keep with the actual shader for a bit longer.


6.5 For the boobs!
I have a dream. One day the light shall pass through the girls clothes making some natural transparencies, allow the boobs to look nicer and I won't need to do thousands of tests every comic... Wait, I've done this today, lol, I've found a good way of doing it, I was making some mistakes in the last tries.




6. Ain't doing my work...
After seeing some nice animations I had to give it a try. Good news that I finally managed to render something on iRay after fighting a bit with the basic configs and loosing 2 whole renders because I can't save movies, only frames... no problem because I can assemble and color correct them easily before coding the way I want directly on Photoshop. On the new computer animation works better and, if you ignore the glitch in the eye, she looks natural, at least for me

. The cover for the this chapter has been choose and another scene assembled.
.

5. Ryzen from the ashes!
AAAAAAAAAAAAAAAAAAAAAAAAAAAAAAAAAAAAAAAAAAAAAAAAAARRRRRG! WHAT A MONTH! Freaking hard month!
There is still stuff to be done but I managed already to do a ton of important things in my life for this year, also, I've been configuring my new computer for over a week because it was simply not stable enough, I mean, it wasn't rendering shit, but now, it's FINALLY rendering!
It doesn't render as fast as I wished but it is certainly twice as fast as the old one and gives me a better experience for posing and other tasks that were bothering me a lot in the old system, now, I might be going back to the old pace of works, slowly, but I might become faster than before for sure.
Now, let's place our honors to the "old blue warrior" that rendered the giantess dream for the last 7 years, he is retiring as a backup system that will be cleaned and formatted so we can count on him again if necessary.
About the next chapter, I managed to assemble this small scene and finish it in the new computer, it's rendering right now stable for the last 5 pictures, so it's looking really good to me! Talk to you guys again soon.



4. Overly attached stepdaughter
I'm still going really slow, I'm working as hell in real life but, at least, important achievements are beign done, I mean, despite of having a reeeally hard week I posed scene 2a and left scene 2b nearly ok for posing, prepared a character for a "joke" picture needed in scene 3 and I continued the study of environment techniques for cities in DS for making some scenes work faster, like I did in DV forest scene backgrounds, now I want to build some backdrops with cities in my stories, unfortunately this ended up consuming a lot of my time becuse I've found out that working with giantesses makes impossible to use simple backdrops in the surrounding, for cities at least, I must use them far and have 3 textures to exchange during the shots because of the height of the camera and I still need to decide into planes, cilinders and planes for making them... I'll have to continue this research later. Anyway, even doing my best to avoid spoilers I can't help showing this picture of Audrey that I just loved! Sorry for the delay, I'm just working too much for giving CT the time it deserves


3.Some love for Erika
This weekend I managed to find some time for assembling characters and carve some details of next chapter in the main storyline and, as you guys can see, it is time to show some love for Erika and bring her back into the story in a chapter that will come with a ton of characters because, you know, it's time to begin the conclusion of this season, then, we shall see a lot of them on their last moves as the world watch a city changing with women growing way taller than average and our giantesses rising their litle empire surrounding themselves with smaller giantesses that will follow their lead to whatever is needed to maintain the new status quo: towering women way over 7 feet tall!


2.Freaking slow start
Real life is, well, being real life. As I told you guys earlier, "extra work" was expected for this year and, despite stuff is going as expected, it is draining my time and energy for making stories. I managed only to do the first scene, a small one featuring Audrey on a dream. As you can see I reused the scene from the last DV because it suited it very well. I must make time available for investing it in CT, I'll post more Updates ASAP.

1.Preparing to 16
After complicated weeks and tons of stuff to do in real life, I finally revisited the characters, reorganized, adjusted and fixed a couple of little things on them. Unfortunately, I could only mature the script, I still need to write then rewrite this chapter before assembling the scenes. This chapter might show as flashback some moments I couldn't fit in the last chapter, fitting right in this chapter's subject. This month will be another busy one, as I said on the beginning of the year, then, I'll do my best to deliver the chapter A.S.A.P. with the most quality I can.