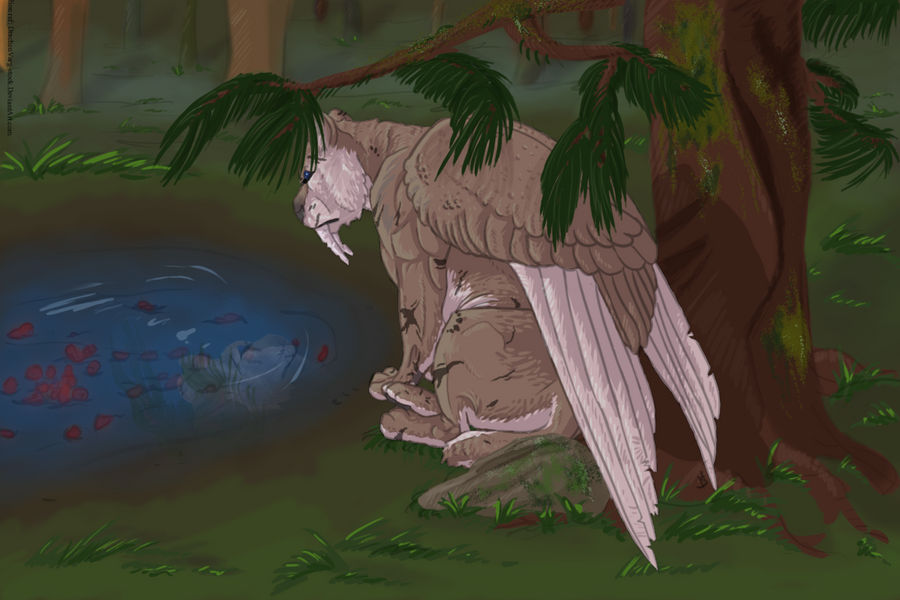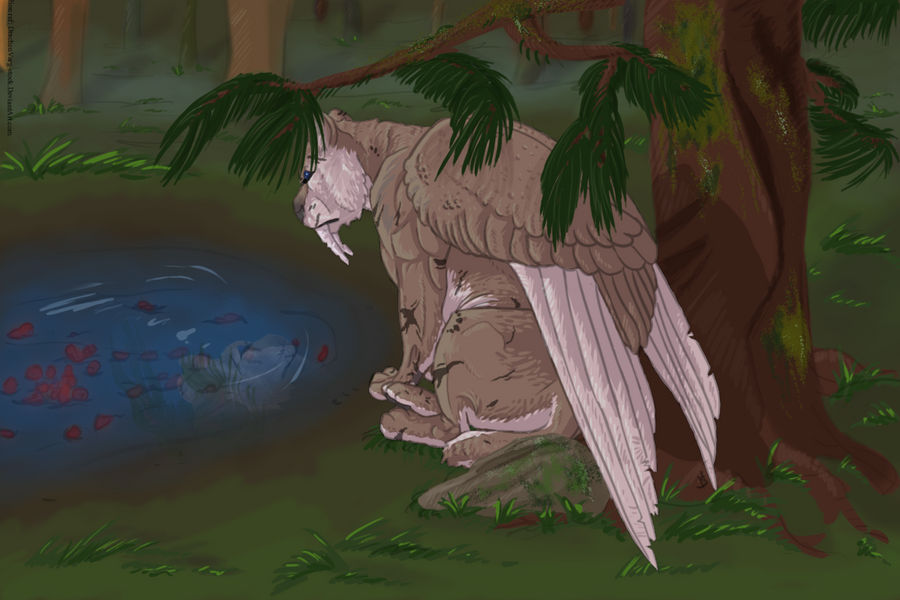 Watch
My half of an art trade with

This is her character Belilal, a winged smilodon who's gone through some rough times. Here he's likely contemplating his past in a deep forest~
Was determine to force myself to do a background, although I wanted to give up several times. I need a lot more practice with them if I want to improve! I'm not unhappy with this but I'm not super fond of it either, especially that pool of water. Well, moving on!
lion ref -
[link]

Hi blusl,
made my way over here via the da-speedpaint group and wanted to see how you were faring. I think the level of detail in the background on this piece is appropriate- it looks good. most importanly, the haze int he background helps establish depth and suggests an expansive background.

Having said that- i think you are overanalyzing what you are doing, trying to think about what you are painting and not what you feel. You literally are not seeing the forest for the trees! (sorry- just had to say it). Don't draw an individual leaf when a couple of scribbles will suggest a branch.

I highly recommend you paint some forest scenes from photos- and start playing with custom brushes.

I see it's been awhile since you've done a piece- hope you find time to do more!
Reply

Hi there,
I really appreciate the time you took to leave this comment, it's incredibly supportive and helpful

I have that problem with all of my art, I should learn to loosen up but ah I don't have enough time to devote to sketches and such so I feel everything I draw needs to be finished and exact.
I've been considering referencing random backgrounds. I always use a reference for the main focus and just make it up for the background, not exactly beneficial eh?
Again thank you! You definitely helped provide an honest and constructive support as well as motivation. Also lovely group you guys have

Reply

Gorgeous job, Blu! The detail is just exquisite, especially on his teeth.
Reply