Description
Once again my Lalafell character, gathering lavender near Little Solace

This time she's a botanist - my favorite DoH job. And the Sylphs are my favorite tribe since I love their design and whimsy nature, I maxed them out and got the minion. (Fun fact: in the English version, their speech pattern is like "this one, that one", but in the French version, that quirk goes to the Ixali. The Sylphs are made to speak in rhymes instead.) That pic was my first idea for the FFXIV contest, but apparently crafting and gathering jobs weren't allowed, so I saved the draft for later.
It turns out the pic follows the golden ratio to near perfection, while I didn't even meant it to. Seems like I developed an eye for decent composition at long last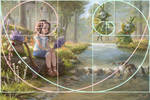 Artwork © Blunell. Characters and overall design © Square Enix.
Please don't use or repost my work.
Image details
Image size
1800x1200px 3.42 MB