Description
Once again my Lalafell character, gathering lavender near Little Solace

This time she's a botanist, which is my favorite job. And the Sylphs are my favorite tribe since I love their design and whimsy nature, I maxed them out and got the minion. (Fun fact: in the English version, their speech pattern is like "this one, that one", but in the French version, that quirk goes to the Ixali. The Sylphs are made to speak in rhymes instead.) That pic was my first idea for the FFXIV contest, but apparently crafting and gathering jobs weren't allowed, so I saved the draft for later.
I was supposed to repaint the water stream as well as the Sylphs during the week, but I couldn't find any time to do art due to some renovation work being done in my house. When I was home, the workers often needed my help, and I spent each of my evenings cleaning up the mess they left behind. Couldn't find the time or energy to work on the piece afterwards. Today I managed to spare a few hours to repaint the Sylphs and add the wind-up Sylph minion, but I'm too tired to even think about how I could make the stream look better, so... I'm giving up.
It looks a bit crowded on the left side of the image, but at least I know the overall composition is fine because I used the golden ratio (you know, that weird spiral):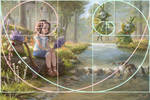 Characters and overall design (c) Square Enix, please don't repost, etc.
Image details
Image size
1800x1200px 3.4 MB

Aww i love sylphs. So rare to find fan artwork featuring them. This is a truly beautiful piece. Yay for lala. My character is lala too, though i've not played in a little while. Waiting for that island getaway to be added. xD Thanks for sharing this artwork. i love how happy the wind-up sylph minion is with the flower.