yes this guy is a fucking stalker. he been stalking me and my bf and it became so bad i really want to rant about him. my bf said i should do it which i might. i will also show you my bf post he put on facebook too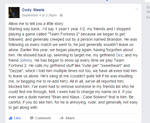 pretty must he now just stalking me and my bf for revenge tell us to burn in hell and such on tf2. hell other players and mods is like wtf with him. we even made friend with a mod and have him on steam. which he a really nice guy too. he even got a small banned on the server and still come back. so it most likely he will get banned soon. he act like a raging 5 year old he believe fictional characters is real and i ain't joking too. he bring in a Ace Attorney thing trying to say he have proof when really he fucking don't. when the admin heard both side he was like wtf is wrong with this guy.he pretty much want me and my bf to die in a fire. there a lot going on and i know this is still going to keep going because he won't leave us alone and we try EVERYTHING to get him to stop stalking us. only way i can really think of is that he get banned on steam for it to finally stop really... that about all i can say for now see ya guys.
if you comment on his video he will end up removing it that kind of showing something here.
(sorry for the bad typing and all. it kind of late and just knowing he going to keep stalking me and my bf really makes me uncomfortable)
other journal made on the same topic:

So, meet the 27 year old stalkerSo if most of you follow Dez, then you'll know exactly what I'm talking about. If you have no idea, then here's a great place to be informed. But for the hell of it, I'ma throw my two cents into this since I had to deal with him as well.
The guy is Bmurphy15 on youtube & Bran And Klaus - Case Solvers on steam. Basically for quite some time he's been stalking Dez & Tails on TF2, and to a lesser extent me & Zonic. Basically he wants 'revenge' because we won't give him a second chance for all the shit he's done about a year ago. What he 'forgets' is that we gave him more chances than he deserved. Hell if I had to estimate, I'd say we gave him at least 9-10 chances. But basically it was the same shit, so i'm not going to go to much into it. But basically for a while we stopped playing TF2 because of him. Later on down the road, we start it up again because why not, and then he joins us and then it's right back to what happened a year ago. He seems to have an unsettlin