American dollars version:
Please read the following

Animated version of one of the badges displayed above: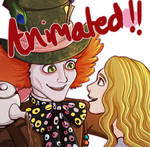 I only accept Paypal and you must provide payment before I start working. Once you have paid, your name will be added to my ''to do'' list.

I accept NSFW art
(Though it may cost extra and it will not be posted to my DA) but if you suggest something to me which makes me feel uncomfortable, I have the right to refuse it. If you would like to make an NSFW commission, please message me about it. You MUST be over 18 years of age to order an NSFW commission.

Prices may vary depending on the complexity of your character and what you want included

Prices are non-negotiable

Please do NOT repost the commission as your OWN work, if you do want to repost it, you MUST NOT edit my signature/watermark out and you MUST credit my DeviantArt name on your post. You MUST NOT use my work for commercial purposes either.

I am free to use the commission as portfolio work

I will provide regular updates on your commission to check if you want any changes made, any drastic changes may result in extra payment. I will always provide a sketch and finished lineart to you before I start colouring

I don't always do commissions in order, I usually switch between commissions.

I will provide a date when the commission will most likely be complete, this may be subject to change due to how many commissions I have and how complex your commission is

You must provide me with a front and side or a 3/4 reference of your character along with any important details you would like done

If you would like a commission, please message me through DA with a note or comment on this deviation I am willing to negotiate on Discord as well, as it is easier to communicate.

Previous commissions I have done
bluestripedrenulian.deviantart…
Thank you ^^
Image details
Image size
10371x4125px 20.87 MB