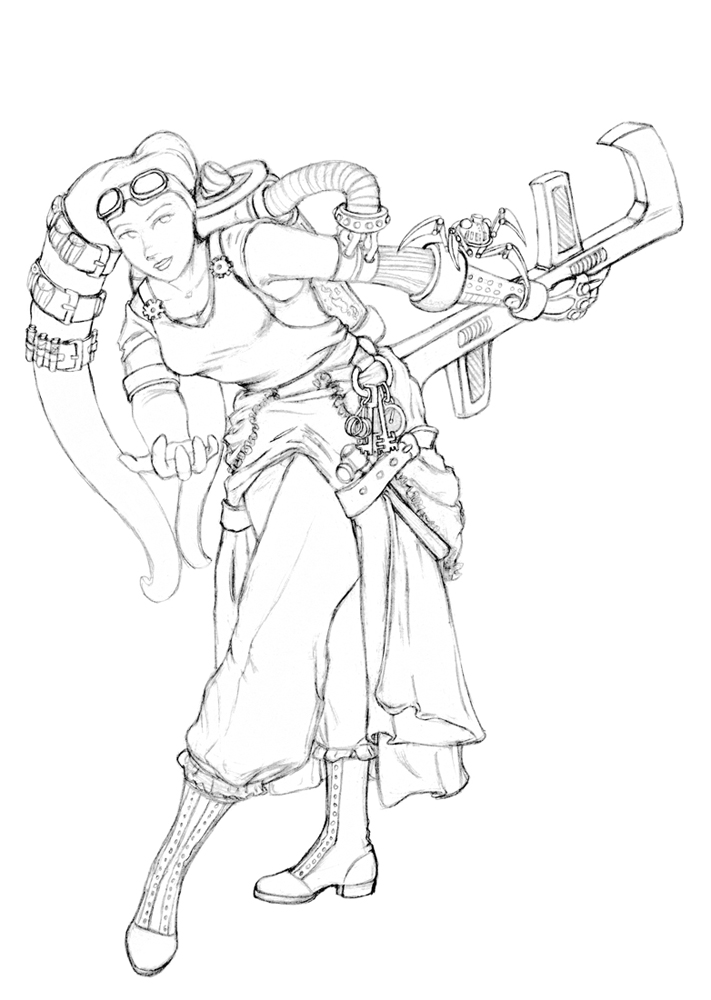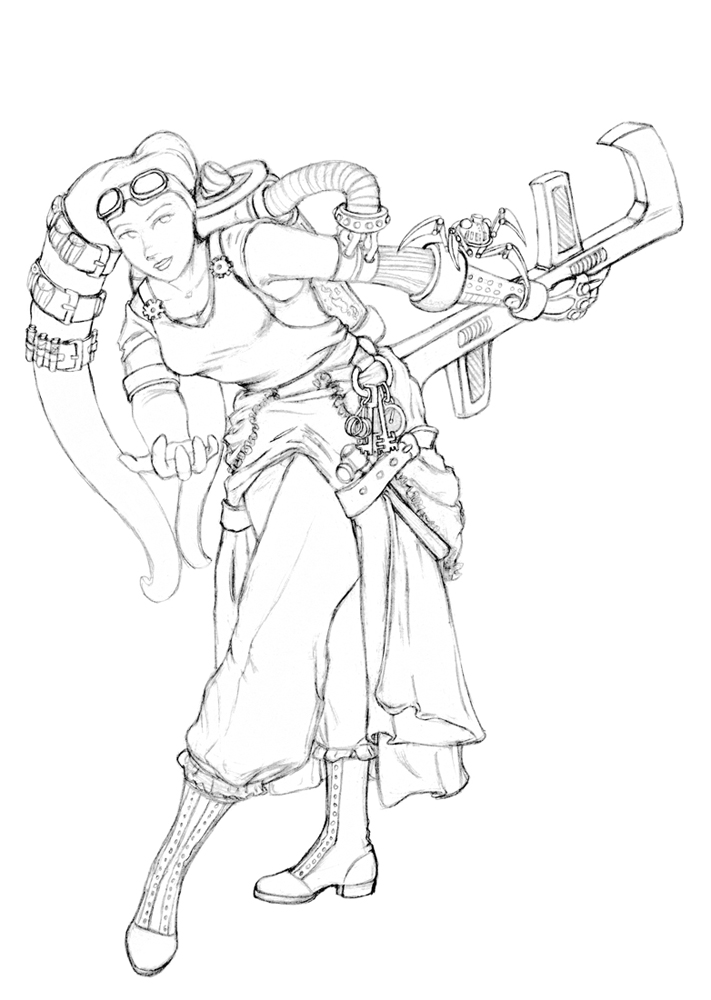 Watch
Well, there's a bit of that steampunk Star Wars going around, you know, and our particular group...well, we do like the Star Wars, and the steampunk, and our GM is just a sucker for a Victorian setting. So when my sister remarked one day how easy it would be, really, to have a planet where people tapped geothermal power and preferred the aesthetic of a simpler time, it simply became a matter of fate.

And of course I had to draw it.

The beautiful blue Twilek Oolan Tser is a deft hand with all things mechanical. And if you cross her, you'll learn the hard way that she always keeps an (explosive) ace up her sleeve.

Really cool. She is a bit, er, over-endowed in the lekku department.

But otherwise the anatomy and lineart tis excellent--what a fantastic array of gadgets. he tobes from her backack to the mechanical arm--great concept. Although I'm just beginning to explore it, I really like this steampunk Star Wars fad.
Reply

I like that spider thingy there.
Reply

Thankee! Her spider-thingees are little utility droids she carries around in her pockets when she's not sending them off on sneaky missions. I figured it would be a good thing to add to a steampunk picture.
Reply

Those are some big impressive lekkus!
Reply

I stumbled across and old Shadownessence thread on the Werewolf you drew awhile back and it brought me here.

And if you'll pardon the rabid fanboy-ism:

Between Steamy Oola and the Destroyer of Hope pic, I'm totally blown away. Great stuff.

I too admire both steampunk & Star Wars, though usually the combination strikes me as just amusing. But his sketch makes it look like the they were meant to go together.
Reply

Hey, thanks! Yeah, steampunk Star Wars is a fun exercise, but I'm not sure how I'd feel about trying to take it seriously. Still, it's fun, and definitely fun to draw.

I can live with the rabid fanboyism, I think.

Actually, I'm just pleased that you like it!
Reply

Ooo, cool! More of the steam-Star Wars!!

I love all the detailing and the huge jack-wrench. And she has a mechanikal familiar, too!

Is her left arm mechanikal or just getting a power-boost?
Reply

Power boost.

There is an NPC--the Jedi's cousin, actually--who has a mechanical arm, and I suppose that for that reason, I'll have to draw her someday.
Reply

Oh, she looks like great fun to play!
Reply

She's a lot of fun to watch, I can tell you that.

Oola might not have Force powers, but she's devious like a technological ninja.
Reply

Aw, it's a Twi'Lek. I had a Twi'Lek SIth named Oolala a while back; they're fun to play.

Reply