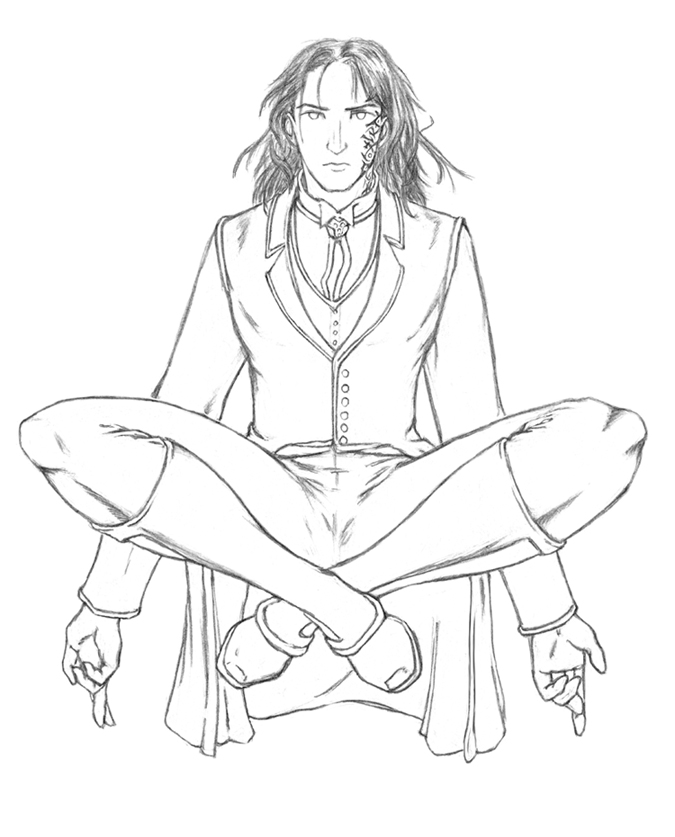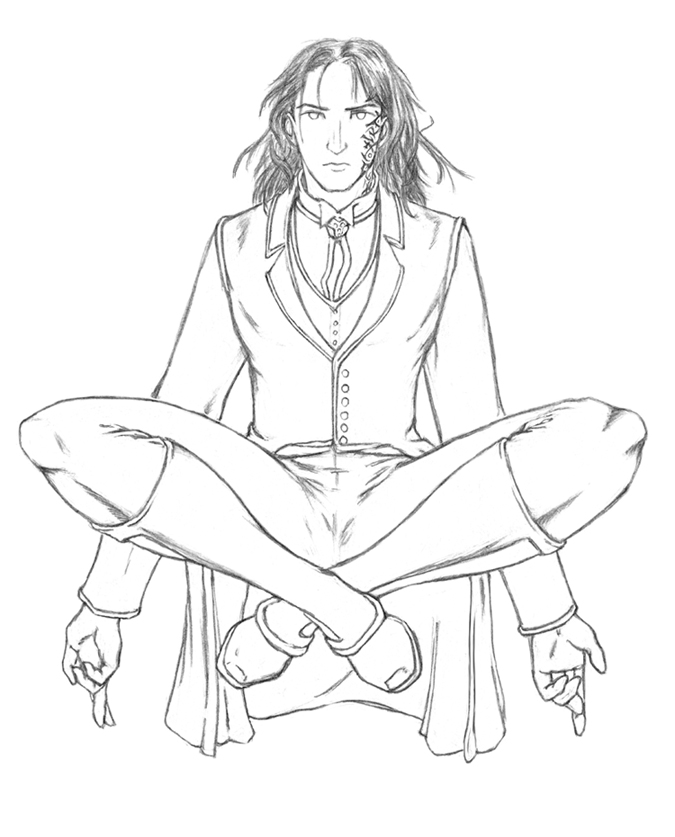 Watch
Well, there's a bit of that steampunk Star Wars going around, you know, and our particular group...well, we do like the Star Wars, and the steampunk, and our GM is just a sucker for a Victorian setting. So when my sister remarked one day how easy it would be, really, to have a planet where people tapped geothermal power and preferred the aesthetic of a simpler time, it simply became a matter of fate.

And of course I had to draw it.

And lo, my steampunk Star Wars series is finished. The final subject is Kedrihm'Val, who fits tidily into the classic niche of 'mystic primitive.' Wise in the primal ways of nature and the soul, he is a stranger to civilization and its technological trappings. Making his way through the modern jungle with the help of his friends, he fights loyally at their side with bare fists and athletic skill.

But they dress him up in a suit anyway. The native needs to look presentable.

Mmmmm, nice looking!

So, does he lose his coat and shirt in tatters every adventure? That is a requirement, you know... I'm waiting for the picture of him in tattered remnants of civilized clothes! GIVE!
Reply

I can't remember him ever losing his shirt in a fight, but now that you mention it, I suppose that's a picture that ought to exist.

I kind of feel like drawing him again anyway, so I have an excuse!
Reply

The native looks very good in a suit!

I like his tats, as well. Very cool-looking. Is he basically a Jedi mystic or Force Adept? Your linework just keeps getting better and better.
Reply

He's a Force Adept from a tribal culture--literally a primal mystic. Hence the tattoos and whatnot. I'm glad you like him!

I'm quite fond of him myself. I've got some other pictures of him in my gallery; he's one of my favorite characters to draw. Er. Even though I only notice just now that I forgot to darken his skin tone.
And thank you for the compliment on my line work. I feel like I'm making some progress; great to know I'm not just fooling myself.

Reply

I can see how the lineart has gotten better over time - you really are improving.

Kedrihm'Val is cool, I could see a primal mystic making himself quite at home in the Star Wars universe.
Reply