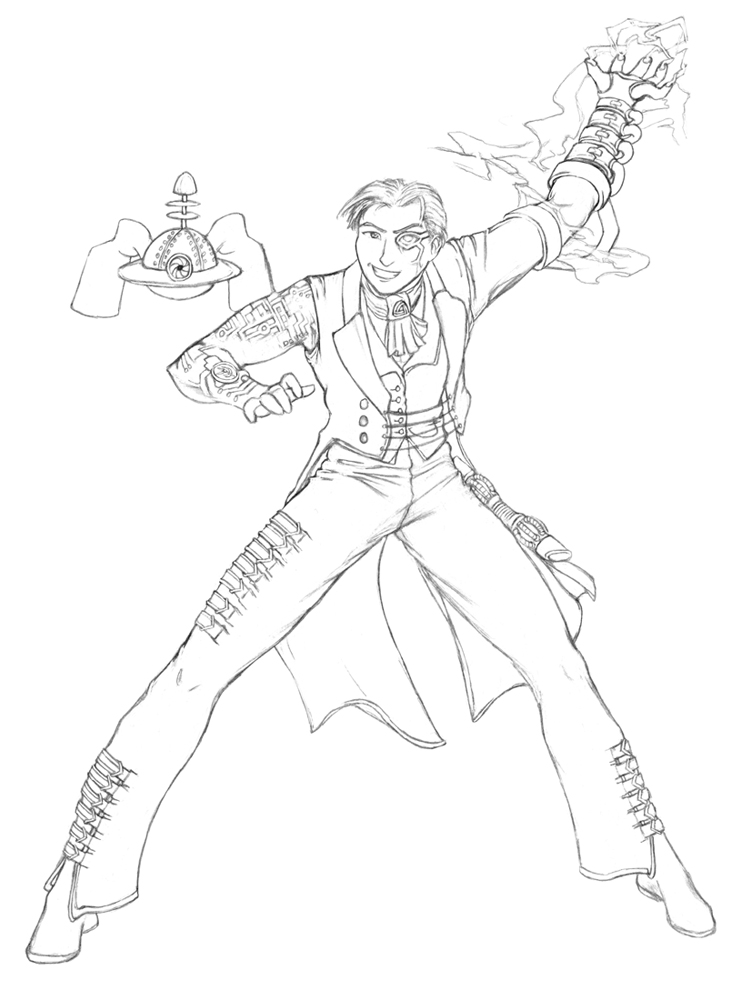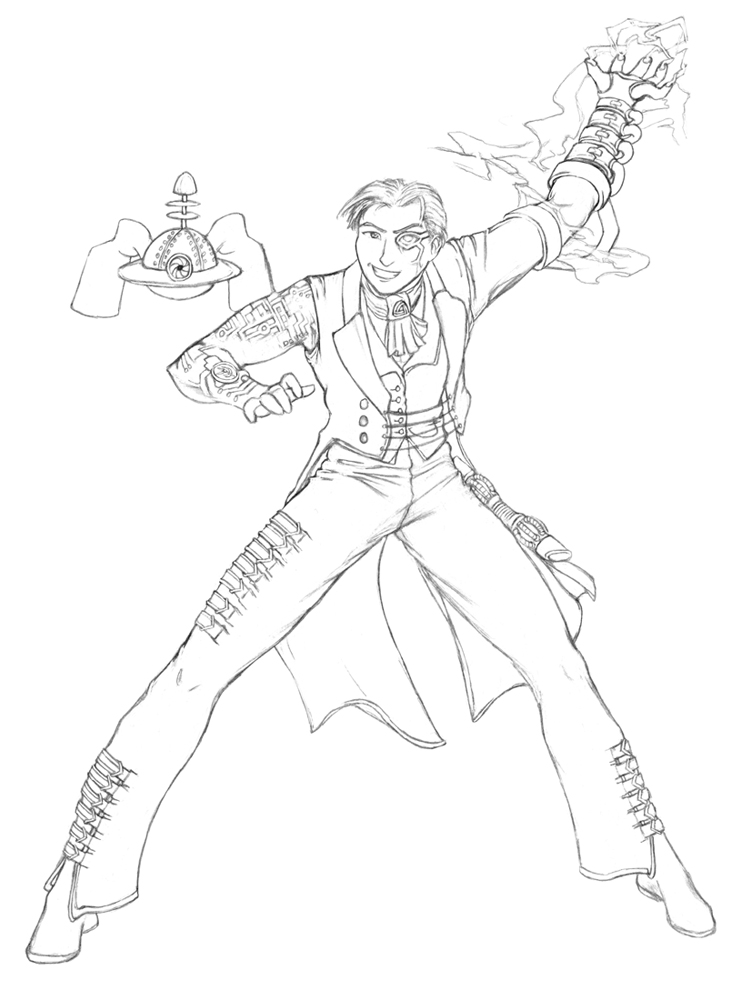 Watch
Well, there's a bit of that steampunk Star Wars going around, you know, and our particular group...well, we do like the Star Wars, and the steampunk, and our GM is just a sucker for a Victorian setting. So when my sister remarked one day how easy it would be, really, to have a planet where people tapped geothermal power and preferred the aesthetic of a simpler time, it simply became a matter of fate.

And of course I had to draw it.

Ezrek Dalt possesses a scientific mind without peer...and an ego to match. After being pulled back from the brink of madness by our intrepid heroes, he finds that the best medicine for his occasional instability is praise for his indisputable genius. Lots and lots of praise.

I LOVE his outfit! There's so much detail, especially in the pants (I loathe drawing pants for some reason). And I love his crazy expression. Awesome job.
Reply

Yay! Thank you.

Costume design remains difficult for me, so it counts for a lot to hear that. I'm glad you like his expression, too.

I had a lot of fun with that.
Reply

Good grief, this has *got* to be Nemo's little brother!! Or his grandkid.

I love the crazed expression and the shock-glove -- really cool! And is that a mechanical servitor floating behind him?
Reply

That is indeed a mechanical servitor floating behind him. If I color this, I'll add flame and steam coming out of its pipes.

Even in our regular Star Wars game (which isn't really steampunk, sadly; these are just reimaginings), Dalt definitely reminds us of Iron Kingdoms. On his bad days, he even leans a little Cryxian.
Reply

My current IK group is currently wading through a temple of Cyriss and having many close encounters with unhappy clerics of the Maiden of Gears. Dalt would probably love it... and be tempted to join the cult.

Reply

He could probably get behind Cyriss, yeah.

Except he's a bit too, um, unsubtle to successfully belong to a secret society for any length of time and would inevitably get himself in trouble by lobbing crazy inventions that shouldn't exist at people.
He has an interesting motivation: he believes that whatever agency was responsible for granting the Force to lifeforms was prejudiced and unfair in granting it seemingly at random, and wishes to find a way (through Science!) to allow all sentient beings to access it. Some of whom, of course, would then have to be dealt with because they'd go mad with power, but them's the breaks.
Not entirely surprising that he went nutty, with goals like that.
Reply

Heh-heh, it would be difficult to belong to a secret cult if he kept doing splashy, techno-wizardy stuff.

And he wants to be a Force Reallocation Specialist!! That's way cool!!
He's not *totally* nutty, is he?
Reply

Not anymore. These days, he's at least got a general sense of "It's bad to kill people in the pursuit of science." On the other hand, he does love to harass the bounty hunter with "Your mama" jokes, which may count as a latent death wish.

Reply


"Your mama" jokes would definitely be a bad idea if the bounty hunter in question had an origin like Boba Fett! At least he has moved up a notch in social conscience if he is trying not to rack up a body count in the pursuit of knowledge.

Reply

Oooooo! Just what your gang of heroes needs! A Gentleman Inventor! And I love how the backstory justifies "Mad Scientist!"

Very Suave. Very Classy. Very Sparky. I like him. ( GLOMP! )
Reply

Thank you! One of the funny things about this--and one of the reasons I did this series--is how well everybody pieces in to the typical roles of steampunk fantasy. The street urchin, the noble savage, the rich adventuress, the straight-up heroine, the tinkerer...and the mad scientist. XD I do adore Dalt. For a guy who used to be the villain of the piece, he works with the group incredibly well. Turns out he's also very witty, and oddly enough, an excellent chef.
Reply