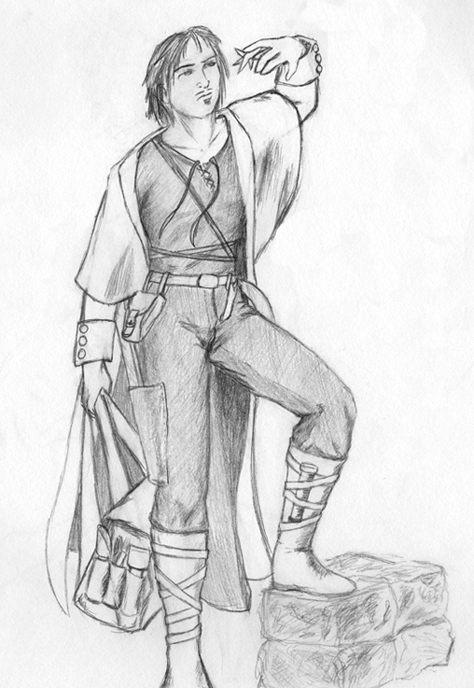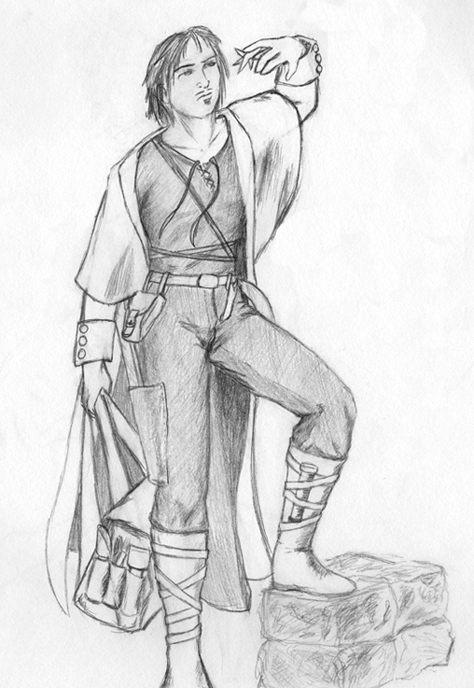 Illustration for a friend. Grigori's an archaeologist in an Iron Kingdoms game. You can tell it's fantasy because of the coat. I dunno what he's holding. I probably should've tried to make it look archaeological, but what the heck. And the bag can defy gravity. Just pretend there's some weighty thing making it swing to the side.

Well, I like it anyway. I spent less than an hour on this, so given that, I'm proud of the way it came out. I'm trying to sharpen my skills, get more familiar with forms and drawing so that it doesn't take me two days to draw a single person.

What I learned: Adding even a single environmental prop seems to make a picture feel better.

Whatever he is examining I like the pose and the expression, it says alot about him, he looks kind of dry and bookish perhaps in this picture. You're not sure if he is thinking 'what the hell ..' or catalouging it and remembring its latin name.

Reply

That's pretty much the impression I get from the character, and I'm glad I was able to get that across.

He's a slightly spastic, booze-loving ex-thief turned tomb-raider with conspiracy theories about ancient evil races he's convinced will return to destroy civilization. I think you'd like him.

Reply

"You can tell it's fantasy because of the coat" God I love the descriptions you use!
Reply
Iron Kingdoms...not familiar with that one.
Oh well...I like the pic just the same.

Reply

It's a D20 setting. I'd call it D&D, but it's so particular and self-contained that it doesn't quite apply. Steampunk, but in an odd way. It all reminds me of Etherites, except if they were set at the beginning of the 19th century rather than the end of it.
Reply