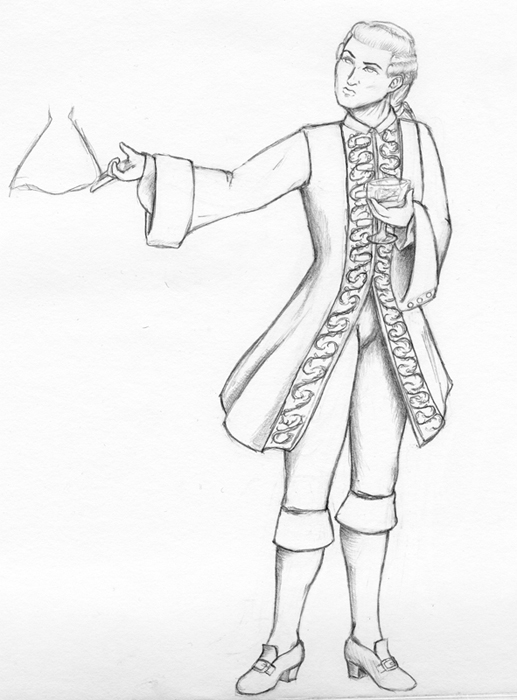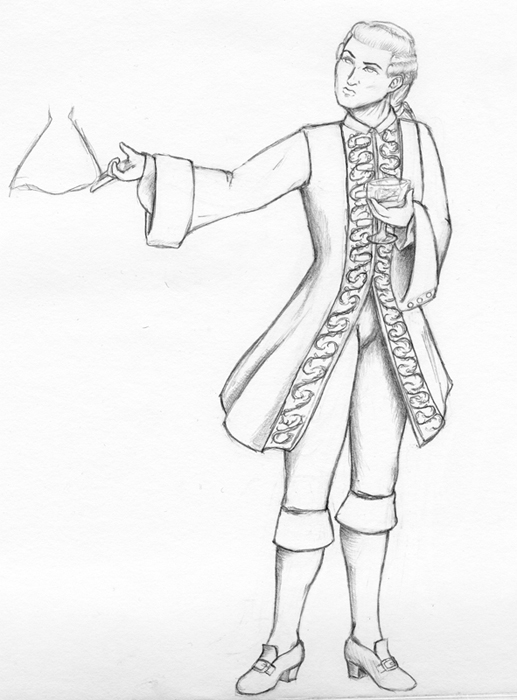 Watch
This is an attempt to illustrate an RPG character for a friend. I have no idea if I've succeeded; he hasn't seen it yet. The costume is more or less historically accurate, except that I screwed up--his coat should be open so you can see his waistcoat underneath. Ah well. Regardless, I'm sort of proud that I could make an outfit like that look attractive. They often weren't, at least to modern eyes. I hope I got across his personality, most of all. He was described to me as someone who takes pains to be perfect, who is a ham and who surrounds himself with beautiful and graceful things.

I gave up on whatever he's fingering. I tried a few different things, and it just wasn't coming to me. He collects dolls, though; that weird triangle thing was the beginnings of a doll's dress.

I like the detail work on the front of the jacket, especially.
Reply

You could always make the waistcoat peek out at the bottom there... Often, gentlemen did wear their coats closed... well... early, early, early in the 1700's...
Reply

It's either that or erase all the detail, which would be hard to do since I pencilled it in fairly dark.
I think I'll color this, though, and I believe I can Photoshop the coat open and add in a nice waistcoat then.
Thanks for saying so, though! I feel better knowing that at least it's in the right century!

Reply