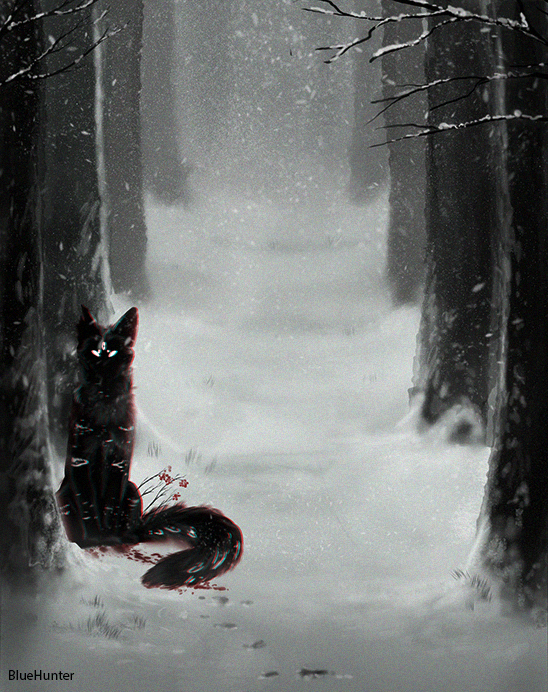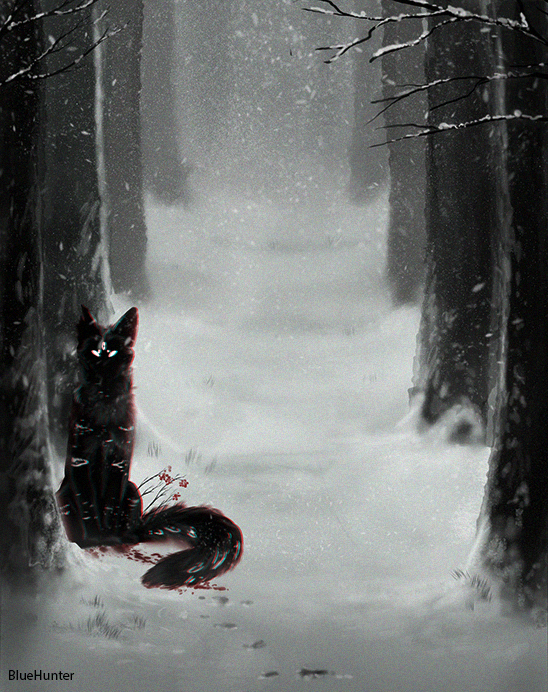 Watch

It is like you literally captured one of the deepest aspects of mind...
...That is amazing-as always.

Reply

This is even better than the last! So much atmosphere and your digital painting ability is incredible.

Reply

Ein großartiges Bild!
Mir gefällt diese dunkle, geheimnisvolle Stimmung.
Der Birkenfuchs wirkt auf den ersten Blick wie ein Teil des Waldes; ein Kind der Natur.
Doch dann - auf den zweiten Blick - kommt er mir eher wie ein Eindringling vor.
Wie etwas, das zwischen den Bäumen hin und her schleicht.
Etwas, dessen Ursprung ein weitaus dunkler Ort ist, als der Wald.
Und überall wo er hingeht, dieser Fuchs, verbreitet er Angst.
Auch wenn er einen nicht angreift oder beißt.
Aber er schaut einen an.
Und mir ist immer so, als würde er mir in mein Herz schauen, wo er meine Ängste sieht.
Uuuaah ... jetzt habe ich mir selbst eine Gänsehaut mit meinen Worten verpasst

Das Bild ist wirklich toll!
Und mir gefällt auch der Name sehr.
Der ewig Suchende ...
www.youtube.com/watch?v=wXh5Jp…
(Dein Bild erinnert mich hieran)
Reply

Hah.
Wieder zu passend geschrieben .... danke, danke, danke. Ich weiß nie, wie ich meinen Dank gebürend rüberbringen, ohne dass ich vor Begeisterung bloß auf die Tasten hauen.

Der Fuchs schaut lediglich, er gibt kein Geräusch von sich, ist dein stummer und rastloser Begleiter, ein Betrachter, lässt dir weder Ruhe noch Luft zum Atmen. Alles spielt sich in deinem Kopf ab und ist trotzdem ist es beklemmender als die Wirklichkeit - vielleicht macht das auch alles so viel bedrückender.

Und das Musikstück dazu ....
<3
Reply


Keine Sorge.
Ich weiß ja, dass du dich über meine Worte freust.
Das ist mir Dank genug (:
Ist dies nicht viel bedrohlicher und verschreckender, als jede reelle Gefahr?
Die Gefahr, die man nicht sieht, die man nicht hört.
Und doch weiß man, dass sie da ist.
Dass sie lauert.
Und beobachtet.
All das spiegelt sich in deinem Bild wieder.
Wenn ich es ansehe und dabei an unsere Worte denke, kommt mir eine Gänsehaut.
Hehe ich bin eigentlich überhaupt kein Wagner Fan, aber ich fand, es passte so treffend zu deinem Bild!
Freut mich, dass es dir gefällt.
Reply

Etwas das unsichtbares, nicht greifbares und unerklärliches finde ich erschreckender als etwas, das sich "beweisen" lässt. Und es heißt zugleich auch nicht, dass es nicht weniger wirklich ist.
Reply

Schön gesagt (:

Das geht mir auch so.
Ein unbekanntes Rätsel ist doch immer unheimlicher, als wenn man seine Lösung kennt.
Reply

Very nice, I like the idea of a shadowy watcher observing anything wandering through the forest. The red outlines on the right side sort of give me the impression that it might not be real, like it's just appeared in my vision for a moment, but it about to disappear (a bit like that flash of static you see in horror games). If I had to put a sound to it, it would probably be faint static or that high pitched whine you might hear after an explosion, but more steady. Otherwise silent. And like FieryMaze said, very ominously moody. I don't know if you really "enjoy" drawing this sort of thing, but you certainly do it well.
I hope 2016 is a better year for you.

And I've been meaning to ask, what type of berries are those that have appeared in a couple pictures with this guy? My gut says nightshade or yew, but I'm not sure.
Reply

I got so excited when I saw your name appearing in my inbox! Thank you SO MUCH for your spot-on interpretation!

As you assumed, this creatures is an illusion of mind. It seems to be able to manifest in this reality though to creep around the dark corners and drive you crazy enough. Static, this is the word, yes yes yes! This is the buzzing sound it causes to your ears if it approaches too closely, followed by that high pitched shriek, before it dissapears again.

I certainly do enjoy drawing darker mooded artworks as this. It's so relaxing but intersting to explore the gloomier nature of mind.

Thank you so much, I hope 2016 will be better for anybody! I'm glad somebody notices the frequent appearing of those rowan berries c:
Reply

I really enjoy this picture. Its got a mood to it.
Reply