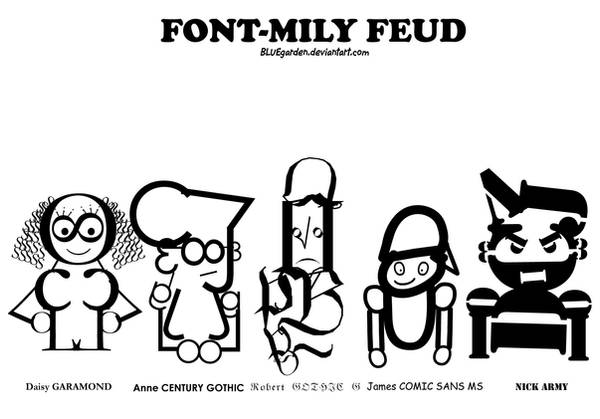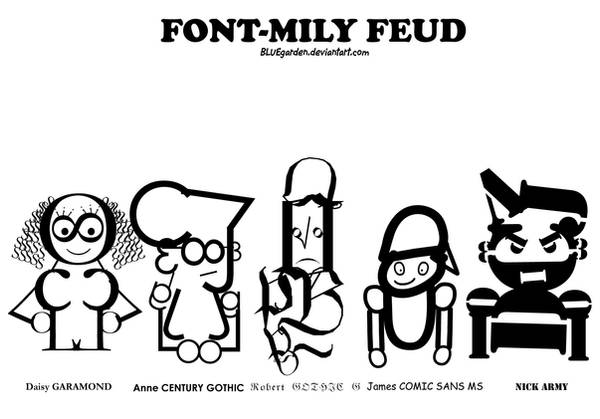 Watch
in a family quiz named FONT-MILY FEUD, Mrs Century Gothic, introduce her family before the game begin:
"From the left, is my daughter, Daisy GARAMOND, she is sexy isn't she? myself is Anne CENTURY GOTHIC, CENTURY is my middle name, and GOTHIC is my husband's name. next we have Robert GOTHIC G, my husband. He is 54th generation of GOTHIC empire family, which you know is famous. but he is not as famous as his brothers GOTHIC E and GOTHIC I. And then it's my son, GARAMOND's little brother, his name is James COMIC SANS MS. He was born on the train, that's why he has a long name like that. He is fat and clumsy but he's good at freestyle, you know, RnB boy. And last but not least, we have Nick Army, my youngest brother. don't mind his look and eyesight. he is a soldier, he trained to be like that"
and let the game begin...
LOL
ngakak guling-guling

----------------------------------------
note: FAMILY FEUD is one of US family quiz which is translated in my country, and maybe another country too,several years ago