Eyes and hair: If you like to draw me, both of my eyes and hair are brown.
Born: April 24, 1992
Fave colors: Pink and blue.
Fave PPG: Blossom

Fave couple: Blossom and Dexter

Place where in Wausau: On a farm.
Fave shows: Powerpuff Girls, Dexter's Lab, Samurai Jack, Sailor Moon, and Avatar.

My YouTube account:
www.youtube.com/user/BlossomWo…
My Facebook account:
My Twitter:
twitter.com/BlossomWolf24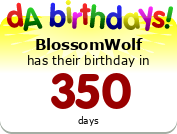 Current Residence: Wausau, WI
Favourite genre of music: Techno
Favourite style of art: Bleedman's manga.
Operating System: Windows 7
MP3 player of choice: GPX
Favourite cartoon character: Blossom, Dexter, Haruhi, and Konata.