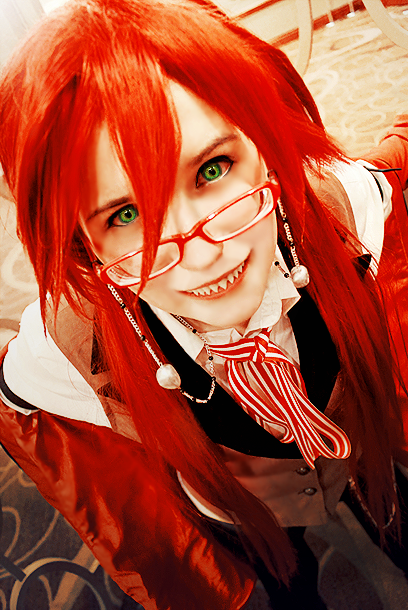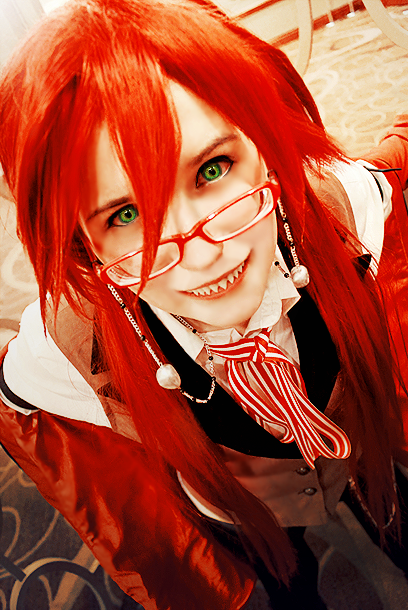 Watch
This is me in my Grell cosplay. I admit, my wig is a tad... trashed >.>.... but I was caught in the rain for over an hour and this was the result. I'm going to have a new wig for my next photoshoot. My glasses are inaccurate, but I'm very blind and these are the closest I could get in my prescription.
Photography and editing:

EDIT: Thank you so much for the DD! ;A; This is my first cosplay and I've wanted one of these so much. I hope to do more DD worthy cosplays.
MORE FROM THIS SET:
Daily Deviation
Given 2011-12-29
Amazing realism, and lighting. So much Detail, and nice depth of field. The Green of her eyes may be a bit too much, but then again, she is some kind of Vampire or Demon I assume, and if so then the eye color won't matter a bit. How did you manage her bow-tie? It looks super complex. To be totally honest, the realism is so amazing that if you were to change or at least soften the green eye color, and give her normal human teeth. I think the layperson would not know that it was digital.

What program did you use if you don't mind me asking?

Logan
The Artist thought this was FAIR
93 out of 139 deviants thought this was fair.
As a fan of Black Butler, I am very impressed with the level of detail you have given to this cosplay, and though the angle of pose does not allow for full view of the costume, what is seen is accurate. The expression with that creepy, Grell-like smile is spot on and the wig is done well, representing Grell without being completely over the top. The time and money that went into creating this cosplay shows you take your craft serious and that you are willing to give the best, you deserve your DD! All that is missing is some creepy Grell tongue!
The Artist thought this was FAIR
115 out of 119 deviants thought this was fair.