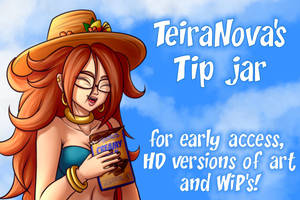 High Res Art Supporter
If you'd like access to HD versions of my artwork, early access, Work in Progress shots, and support the hard work that I do, feel free to subscribe! ^^
---

Mass Effect Lost Scrolls Chapter 4 - Cover
Description
Previous:
blood.deviantart.com/art/Mass-…
Next:
blood.deviantart.com/art/Mass-…
So to those of you that follow me, you will know that I find Jack's tattoos to be cumbersome. That was before I realised, today, Jack's tattoos are not symmetrical - her right arm tattoos are different from her left arm. They always looked like a smear and I couldn't make them out. Then, today, I was able to make them out.
I then made reference to this (
78.media.tumblr.com/tumblr_lzg…
) and found that that is apparently her gang family - her fallen sisters. When I made this out, I could see them and decided to really get in on that sh*t.
So there we have it: Chapter 4 cover.
It's weird because after I finished the sketch pose, and sh*t, I saw this picture of Nadya Anton cosplaying as Jack (
imgur.com/gallery/2cldva1
).
Full disclosure: I did not copy the picture but it is highly likely that it was sitting in my subconscious from previous occassions of getting reference photos for Jack from Google Images.
Ink flats used:
www.deviantart.com/art/Ink-Fla…
Blah blah all property owned by Bioware etc etc and all that legal jazz. Just let a man live his dream and live good in his world of make-believe.
Image size
1277x1806px 2.25 MB