WRITE TO ME:
Joeyblondewolf2
Po Box. 580060
Pleasant Prairie
Wisconsin 53158
USA
Network/Collab Email ONLY:
joeypacheco.network@gmail.com
~~~~
Bio: Hello there! I am Joey,
My DA is my random art work and Cosplay. everyday life.
I am very easy to talk to and can start up a conversation with people I just met. I act and say very random funny things at times.
Im a very easy person to talk to
Im a college graduate in Illustration
Im a gay rights activist.
Im a Disney kid at heart and can act very child-like alot.
I love watercolor landscape painting, and I also love the anime/manga style. and YES someday I would love to bring my story into a graphic novel and share with the world. I want to reach my goals & accomplish them to the fullest extent. I want to make something on this earth that will last forever by creating my own Neverland. My Story. My Manga.
~~~~~~~~~~~~~~
~~~
Tip on Becoming a Manga Artist: (since you guys always ask lol)
*Study other styles beside anime. I know you love it, but you got to keep an open mind about other styles and maybe somehow be inspired to make you're own.
*Study the Culture of Japan, don't be ignorant.
* For now till you make it in the art world, have a Plan B-Backup job. Not saying expect to fail but the economy sucks and it's smart to play your cards right and have some actually income coming in.
*Study EVERYTHING about art. anatomy, vanishing points, perspective, color studies, etc...
*DONT. EVER. GIVE UP. ON SOMETHING YOU TRULY LOVE IN LIFE. EVER. no matter what others words say.
~~~~~~~~~~~~~~~~~~~~~~~~~~~~~~~~~~~~~~~~~~~~~~~~~~~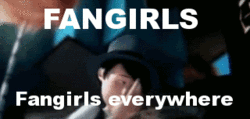 JOEY'S DA FANCLUBS:



FUTURE CONS 2018:
Anime Milwaukee, Walker stalker, Acen.