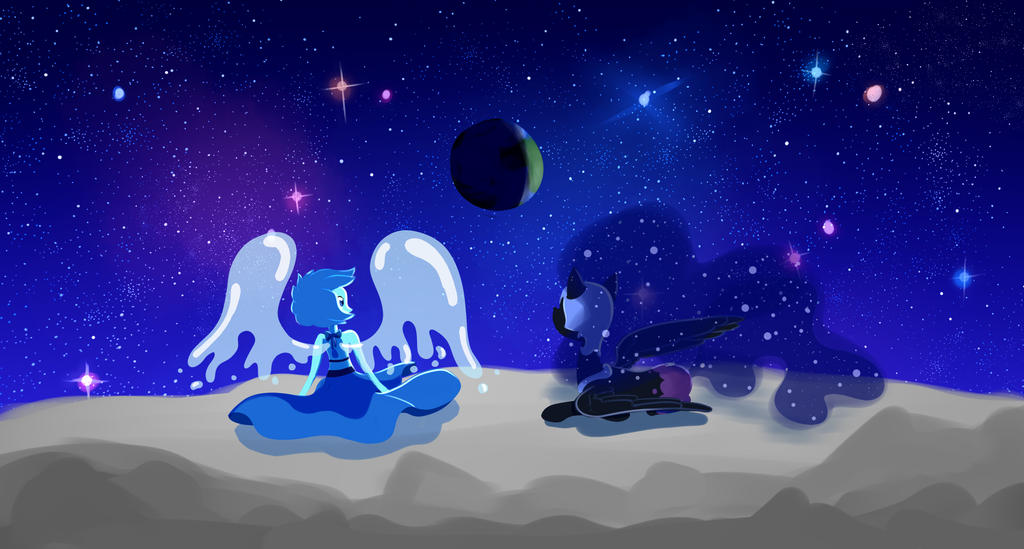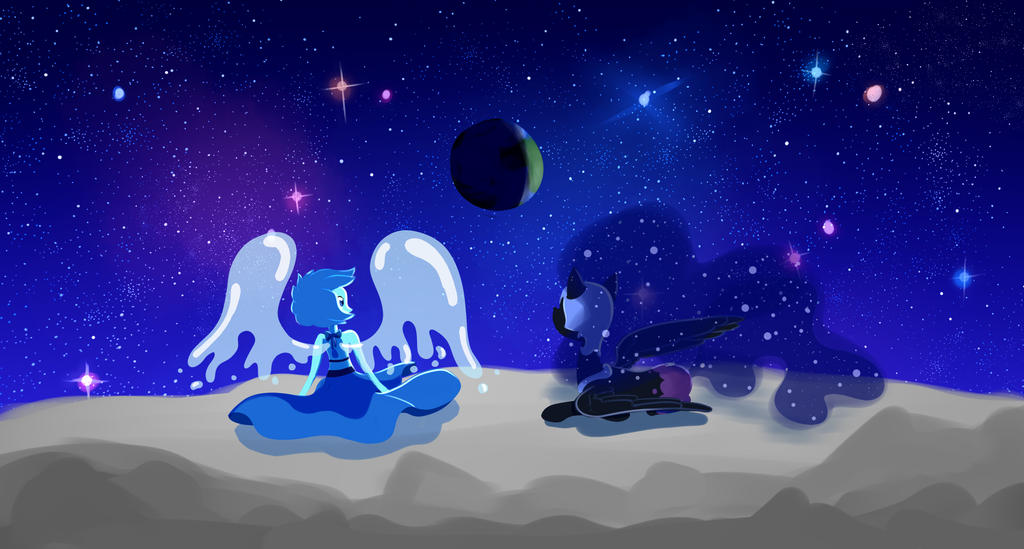 Watch
"How are you going to get back?"
"We will find a way."
"Is it really worth it?"
"Being stranded at home is an improvement to being stranded here."
~~~
Lapis Lazuli from Steven Universe decided to check out the moon in case living there was better than dealing with Peridot, and stopped to have a nice chat with the very bored Nightmare Moon she discovered while there.
Not sure where this idea came from, honestly xD But they're both pretty! And...uh...water...?
i honestly have no idea
Yay backgrounds! At first I liked how Lapis was looking better than Nightmare Moon, but now I like the pony better (of course) -- but, hey, I never draw people, so there's that.
Took me freaking FOREVER with Paint tool Sai and my Wacom Intuos!

These characters don't belong to me n' stuff, and they don't really belong together either

Comment and critique n' stuff!

Your art is so adorable! I love it! >w<
Reply

Reply

*Insert instantaneous EEEEEEEEEEEEEEEEEEEPing upon realizing the combination of fandoms in this pic.*
This is absolutely beautiful though. XD You really, really put a ton of work into just making the boundless horizons of space alone... Let alone Nightmare Moon's freaking mane. >:U But seriously, LOVE IIIIIIIIIT.

Reply

Don't tell anyone, but it's all in the magic of copy/paste xD
... >.>
<.<
shhhh
But anyway, thank you so so much ;D;
Reply

This is beautiful! It looks like all the time and effort you put in this is really worth it!
Reply

Awwh, I really like this concept! The atmosphere looks gorgeous xvx It really looks like you put a ton of work into this!
Reply